2022 MSU Tollgate Farm HomeGrown Gardening Series: Adaptive Gardening for Health and Wellbeing: Hybrid Workshop
July 9, 2022 10:00AM - 12:00PM
Zoom and Hybrid
---
Contact: koehle43@msu.edu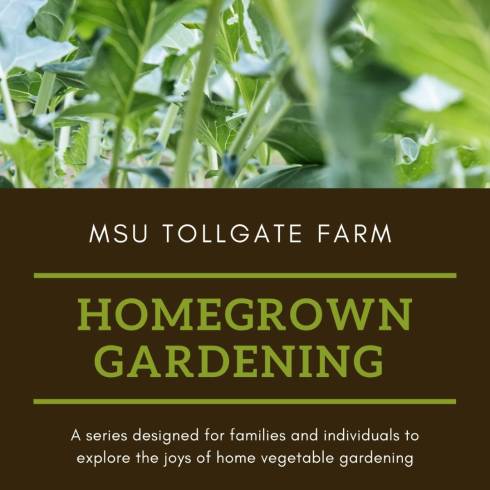 2022 MSU Tollgate Farm HomeGrown Gardening Series
Second Saturday Series, 10 - 11 a.m. ET

Join us for this interactive virtual and hybrid series on home vegetable gardening. Are you interested in starting a vegetable garden for the first time or are you an experienced veggie gardener looking to explore new ideas? All levels of experience are welcome at this series designed to encourage and support home vegetable gardeners!
July 9 - Adaptive Gardening for Health and Wellbeing, Special 2-hour hybrid workshop, 10 am - noon - Michigan Horticultural Therapy Association Therapists Mary Machon and Cathy Flinton
Join us for this exciting special hybrid HomeGrown Gardening session to explore adaptive gardening and tools and the positive effects gardening has on social, physical, and mental health. Learn from Michigan Horticultural Therapy Association speakers Mary Machon and Cathy Flinton as they lead a 2-hour workshop on the proper use of tools, posture, and other adaptive resources to help people with all abilities garden. Registrants of all ages can choose to visit Tollgate Farm or zoom in from home to learn about beneficial activities used in horticultural therapy that can help them or their friends, family, coworkers, or clients benefit from plants and gardening.
$12 per session for one household, $90 for all eight sessions
Preregistration required. Recorded lectures available to paid registrants. A link will be sent prior to the session.
Series will be virtual with select hybrid sessions (virtual and in-person combined). Non-refundable.

MSU Tollgate Farm and Education Center
28115 Meadowbrook Rd., Novi, MI 48377

COVID-19 UPDATE: We are planning for a mix of in-person/hybrid programming in 2022. All participants, regardless of vaccination status, are required to wear a mask while indoors on MSU property or any property that is reserved or rented exclusively for an MSU activity. Please do not attend any programs, meetings, or events if you feel ill.
Get Directions
---