Expert Panel on Forest Carbon Data and Modeling Integration and Evaluation
September 13, 2022 2:30PM - 4:00PM
Zoom: https://msu.zoom.us/webinar/register/WN_zxkkqiDyRdCGj0kMXP93dQ
---
Expert Panel on Forest Carbon Data and Modeling Integration and Evaluation
MSU Forest Carbon and Climate Program (FCCP) is hosting a virtual panel, comprised of experts from both academia and government, for 90 minutes of Q&A relating to state-level forest carbon inventorying, modeling, and linkages to policymaking. Attendees will have the unique opportunity to pose questions and gain additional insight on these topics. For more details and additional reference materials on key themes, please refer to the Resource Guides developed by MSU FCCP, which will be released weekly between 12 Aug and 9 September. The panel event will also be recorded posted to the FCCP ORL for those who are unable to attend.
Expert Panel:
Dr. Grant Domke (USDA Forest Service), Research Forester, Forest Inventory & Analysis
Dr. Ivan Fernandez (UMaine), Distinguished Professor, Climate Change Institute & School of Forest Resources
Dr. Alexandra Kosiba (UVM Extension), Assistant Professor, Forestry
Dr. David MacFarlane (MSU), Professor, Forest Measurements and Modeling
Dr. Raju Pokharel (MSU), Assistant Professor, Forest Resource Economics
The expert panel is a component of the Forest Carbon Data and Modeling Integration and Evaluation Project, made possible with support from the U.S. Department of Agriculture, Forest Service Eastern Region.

The Forest Service is an equal opportunity provider.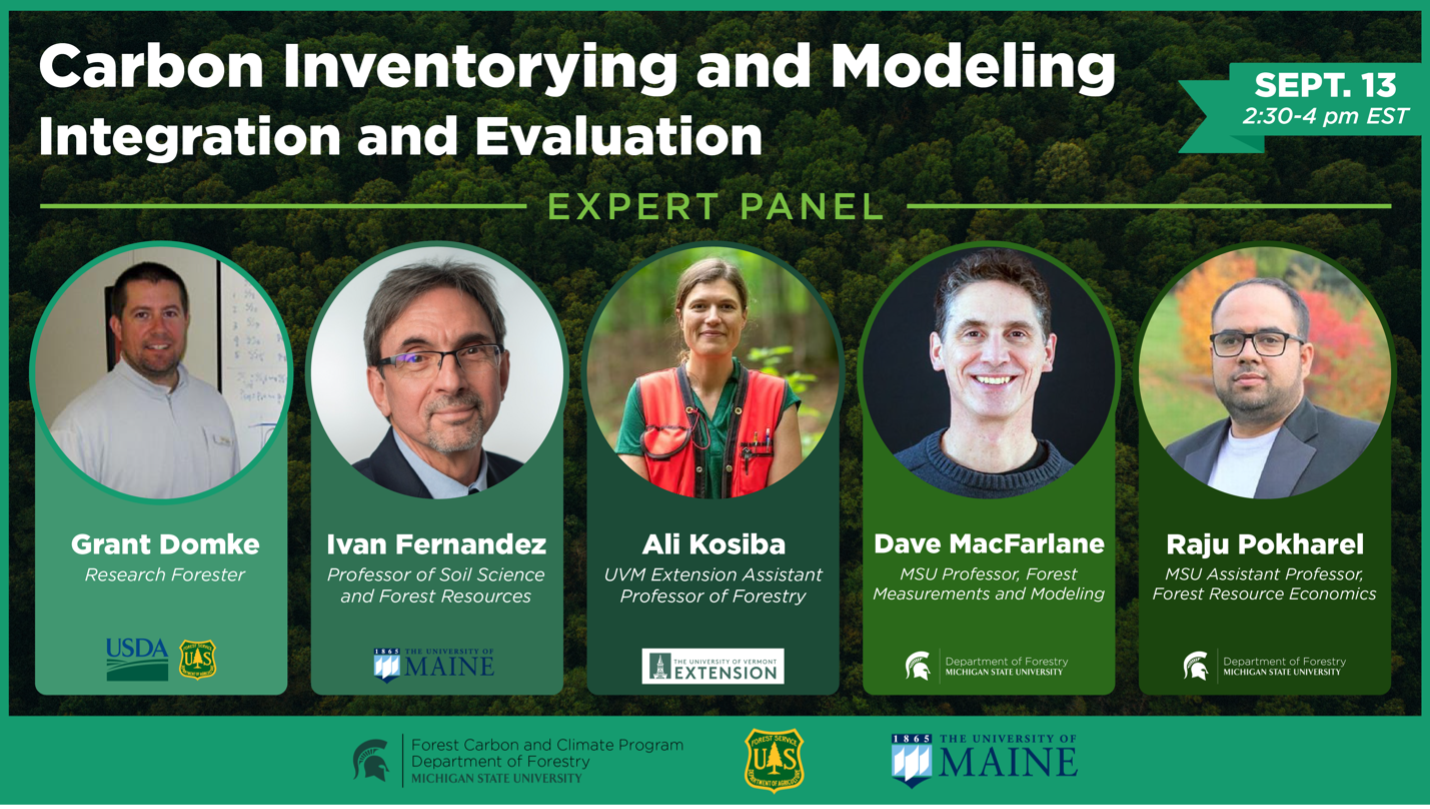 ---