MSU Tollgate Farm Stewards Teen Leadership Program Overnight Training
June 24, 2022 - June 25, 2022
MSU Tollgate Farm 28115 Meadowbrook Rd. Novi, MI 48377
---
Contact: koehle43@msu.edu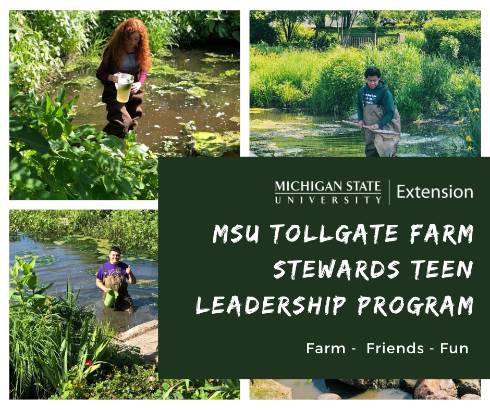 MSU Tollgate Farm Teen Stewards Leadership Program
What is a Steward? A steward is a person whose responsibility it is to take care of something. This experience offers teens a chance to enrich, mentor, and lead campers while gaining valuable leadership and life skills. In a positive educational environment, teens experience the responsibilities associated with potential career paths before entering college. The Tollgate Camp Teen Steward (15-19 yrs) and Tollgate Steward-in-Training (13-14 yrs) positions are for teens interested in gaining experience working with campers in the farm setting.
The Stewards-in-Training (SIT) program is the start of the progressive Tollgate Teen Leadership Program. Stewards-in-Training are 13-14 years of age and must have the ability to commit to one full week of camp and no more than 4 weeks. SITs serve as role models for campers during activities. Each SIT is scheduled to work with the camp group best suited to their age and interests. Stewards-in-training pay $180 per week for in-person SIT camp week.
The Stewards program is for teens 15-19 years of age as volunteer assistants to the educational leaders and role models for both SITs and campers. Stewards must commit to at least two full weeks of camp. Stewards develop a deep understanding and knowledge of the farm and our educational camp program. Stewards develop skills which can be called upon as they move forward through their academic and work careers. First year stewards are asked to submit a resume and complete a 20-minute virtual interview.
Important dates for stewards and stewards-in-training in 2022:
Mid-December Registration opens
Early May Steward Interviews (dates TBD)
June 24 - 25, 2022 9 am Friday - 2 pm Saturday Mandatory Overnight Orientation and Summer Camp Training
June 27, 2022 First day of camp season
July 28, 2022 4:30 - 9 pm Midsummer Celebration and Leadership Training
August 26, 2022 4:30 - 9 pm Camp Closing and Celebration
COVID-19 Update (updated Nov 2021): As always, our top priority during the pandemic is to protect the health and safety of our staff, guests, and community. We, as MSU Extension, recognize the important role that summer camp has on the lives of children-- including supporting their social, emotional, and physical development. However, we also understand the importance of taking action to lower the risk of COVID-19 spread.
At this time MSU is requiring everyone, regardless of vaccination status, to wear a mask while indoors. Additionally, we are planning for an in-person program June-August. However, we continue to monitor the evolution of the pandemic and how this might impact the event. We will decide as to whether it is necessary to postpone or change the format of the event prior to June-August. This decision will be based on the status of the COVID-19 pandemic and the recommendations/guidelines from MSU, the State of Michigan, the Centers for Disease Control and Prevention and local Health Department guidance. You will be contacted regarding any changes or updates through the email you use to register.
Get Directions
---