Perspectives: Culturally Responsive Place-Based Education Series: Incorporating Asian Principles, Practices, and People in Community-Based Learning
May 5, 2022 6:30PM - 8:30PM
Online
---
Contact: koehle43@msu.edu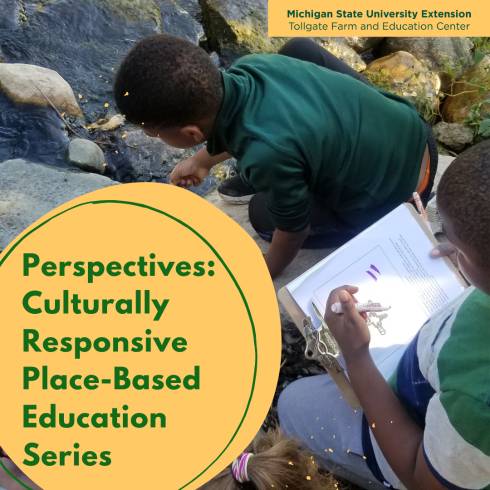 MSU Tollgate Farm Perspectives: Culturally Responsive Place-based Education Series 2021-2022
First Thursdays, 6:30 - 8:30 p.m. ET
Join other educators for this virtual series to explore ways to responsibly incorporate the perspectives, principles, and people of communities we serve through place-based teaching and learning.

MSU Tollgate Farm is hosting a professional development series for formal and non-formal educators about learning to better incorporate the perspectives of those with whom we work in schools and educational programs. Educators have a chance to deepen their teaching practice in a safe online space for open conversation and community.
Incorporating Asian Principles, Practices, and People in Community-Based Learning
How can formal and non-formal educators better incorporate Asian perspectives and voices? Where are the intersections of action-oriented place-based education and the Asian community? What can we learn from the diverse Asian communities we work and learn alongside? Join us for a panel discussion moderated by Will Matsuzaki, Dean of Curriculum and Director of the Tad Bird Honors College, at All Saint Episcopal School, with panelists Soh Suzuki, Board member of the James and Grace Lee Boggs Academy and founder of the Detroit Asian Youth Project, and Marie C. Vea, Assistant Dean for Student Services and Staff Development at the University of Vermont.
Series will be virtual. Preregistration required. A link will be sent prior to the session. Recorded lectures will be sent to paid registrants. SCHECHs will be available. To receive SCECHs, participants must be on the zoom during the session.
Group discount available for groups of 10 or more who register at the same time. Email koehle43@msu.edu to arrange for group discount. Financial aid process is available. https://events.anr.msu.edu/financialaid2021/
Event Location
28115 Meadowbrook Road Novi, MI 48377
248-347-3860
Get Directions
---