Understanding Forest Carbon Management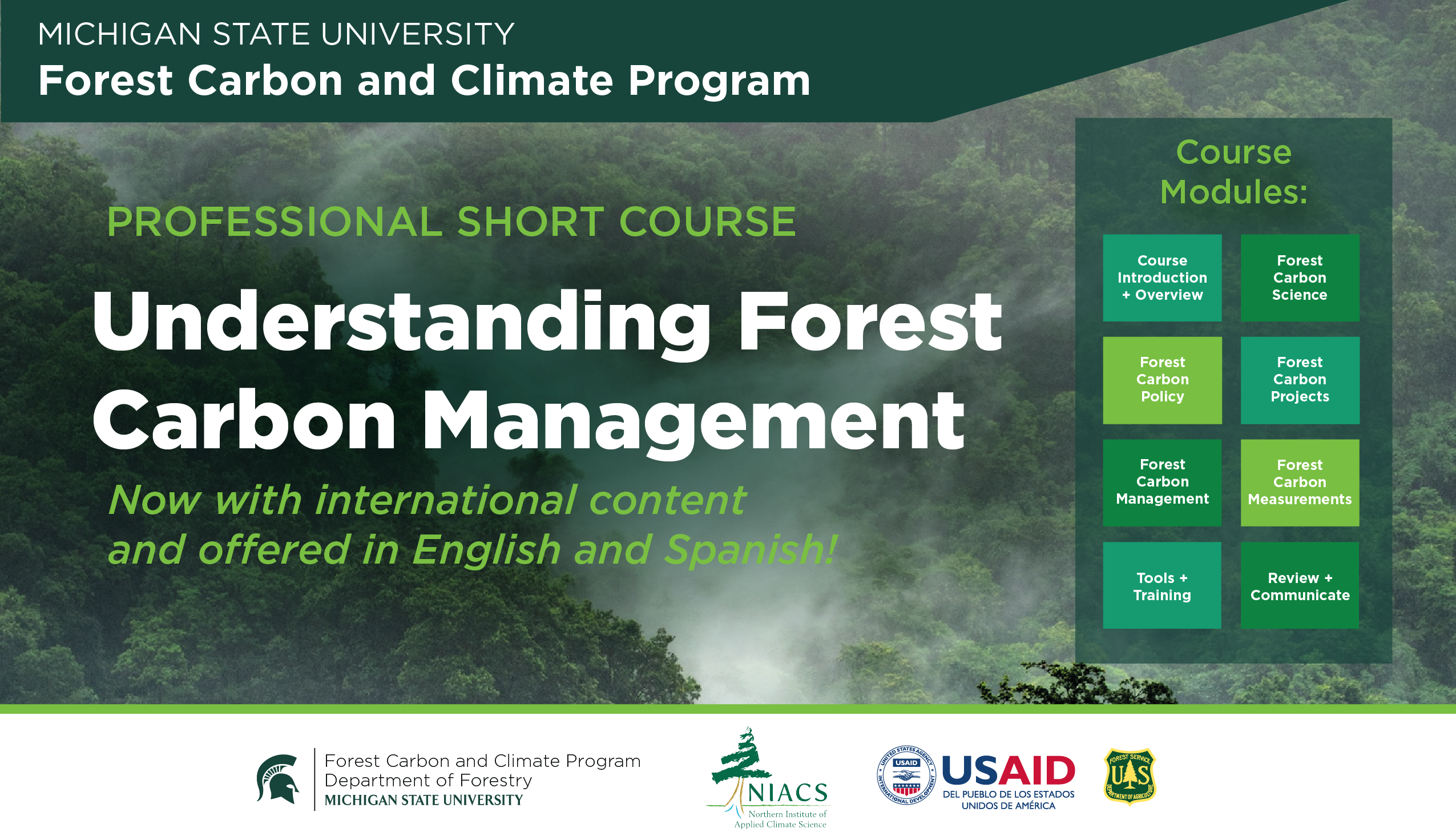 Description
This in-depth short course provides a robust overview to the connections between forests, climate, and human decision-making. The course builds confidence in foundational science, unpacks land management specific to carbon (including carbon crediting and other initiatives) and offers action paths for various decisions. The content is highly interdisciplinary and strives to build shared understanding for diverse professionals.
Topic areas include carbon cycle and storage science, domestic and international policies, forest carbon credits and initiatives, management considerations, carbon measurement, and available tools and support.
New in 2022: UFCM has been completely refreshed and includes breakout learning opportunities for deeper assessment into key domestic and international contexts. The course is also now available in English and Spanish!
The course runs asynchronously, allowing learners to work at their own pace and includes structured modules, downloadable handouts, and guided assessments. A practical approach allows participants to build an intuitive understanding of the main components of this increasingly important topic.
In October of 2021, 91 Peruvian environmental professionals began our course with scholarships provided by USAID and USFS to better equip participants in leading initiatives for the preservation of the Amazon forest and in facing the effects of climate change. Learn more about the spotlight here.

Registration and Enrollment
The course will be offered throughout the year according to this schedule:
Start date: May 9, 2022 (available for 3 months)
Start date: August 9, 2022 (available for 3 months)
Start date: January 9, 2023 (available for 3 months)
Participants can register at the MSU Department of Forestry official storefront. Click the 'Register' button below to be taken to the storefront to purchase the course.
Note: There is a 20% discount available to eligible participants. View this PDF for eligibility guidelines. To receive the discount, ensure that the criteria are met and the appropriate proof can be submitted. While purchasing the course on the MSU storefront, enter the code FCCP20 on the page after payment information is collected. Once payment is submitted, we will send a survey to submit proof of eligibility. Those unable to provide the required form of proof will have their payment refunded and will need to purchase the course full price.
You will receive communication from an online education specialist within 1-3 business days of your course purchase. This message will include instructions to create your course login and password. To learn more about the onboarding process and for a preview of what to expect upon registration watch this video or review this PDF.
Participants must complete the course within their selected course period in order to receive a formal Certificate of Completion from MSU Department of Forestry. Students are eligible for a full course refund if requested within the first of the course opening date barring that a significant amount of the course has not been accessed.
Partners and Collaborators / Con apoyo de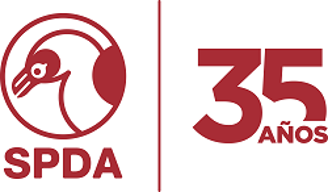 Comprendiendo la Gestión del Carbono Forestal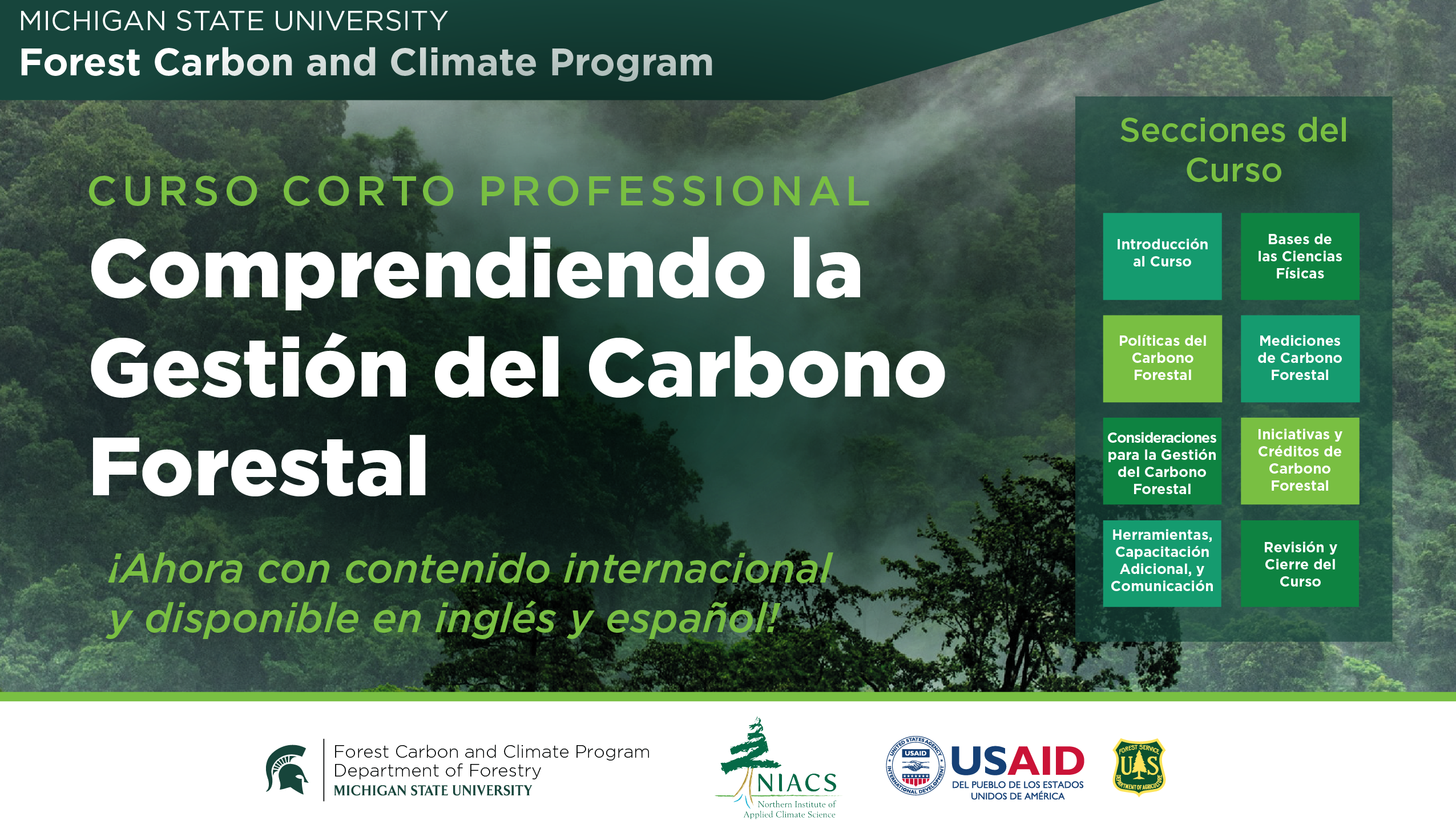 Curso Descripción (español)
"Comprendiendo la Gestión del Carbono Forestal" es un curso corto, intensivo y diseñado para brindar una introducción sólida de los beneficios en la gestión de las áreas forestales, con un enfoque de carbono y en un marco internacional.
El curso tiene como objetivo construir, en un período corto, un entendimiento intuitivo de este espacio interdisciplinario, lo cual incrementa la confianza y comprensión sobre el conocimiento del carbono, los bosques y el cambio climático.
El curso se ejecuta de forma asincrónica, lo que permite a los alumnos trabajar a su propio ritmo. El curso incluye módulos estructurados, folletos descargables y evaluación guiada. Un enfoque práctico permite que el curso desarrolle una comprensión intuitiva de los componentes principales de este tema cada vez más importante.
A través de un enfoque práctico, el curso le permitirá́ adquirir una comprensión intuitiva de los componentes principales de este tema, el cual se está volviendo cada vez más importante en la agenda global.
Registro e Inscripción
La inscripción está actualmente abierta para los períodos de curso que comienzan el 9 de mayo, el 9 de agosto y el 9 de enero y esta disponible por 3 meses después.
El registro está abierto en nuestra tienda oficial del Departamento Forestal de MSU. Haga clic en el enlace a continuación para ir a la tienda y comprar el curso. Hay un 20% de descuento disponible para los participantes elegibles, vea este para ver si es elegible.
Languages Offered
Dates
The course will be offered throughout the year according to this schedule:
Start date: Jan 9 (available for 3 months)
Start date: May 9 (available for 3 months)
Start date: August 9 (available for 3 months)
Please specify during registration which course period you would like to join.
Cost
Location
Time Required
6-8 weeks, ~20 hours
Self-paced
Intended Audience
Natural resource professionals; Extension agents
All interested individuals are invited to participate
Additional Certifications
SAF: This course is approved for 17.5 category 1 hours.
More Information
Email forestc@msu.edu for more information.
Interest Form:
If you are interested in learning more about this short course and would like an invitation to register once opened, please submit your information below. (* indicates required)