Understanding Forest Carbon Management (UFCM) - International (Spanish language)
[nota: Español esta abajo]
Understanding Forest Carbon Management is an intensive short course designed to provide a robust introduction to the benefits of forest land management specific to carbon. With a Latin American focus, the course aims to quickly build an intuitive understanding of this interdisciplinary professional space, supporting quick comprehension and confidence in the fundamental concepts, data, and rationale of carbon, forests, and climate change.
The course will run asynchronously with new content launched every week. The course includes structured modules, downloadable handouts, and guided assessment. A practical approach allows the course to build an intuitive understanding of the main components of this increasingly important topic.
Note: English version of this course will launch in Spring 2022.
Collaborators

/

Colaboradores
Lauren Cooper (MSU FCCP)

Evan Beresford (MSU FCCP)

Kathryn Maloney (technical expert, consultant)

Em Esch (MSU FCCP)

Melissa Chang (translations, consultant)
Partners: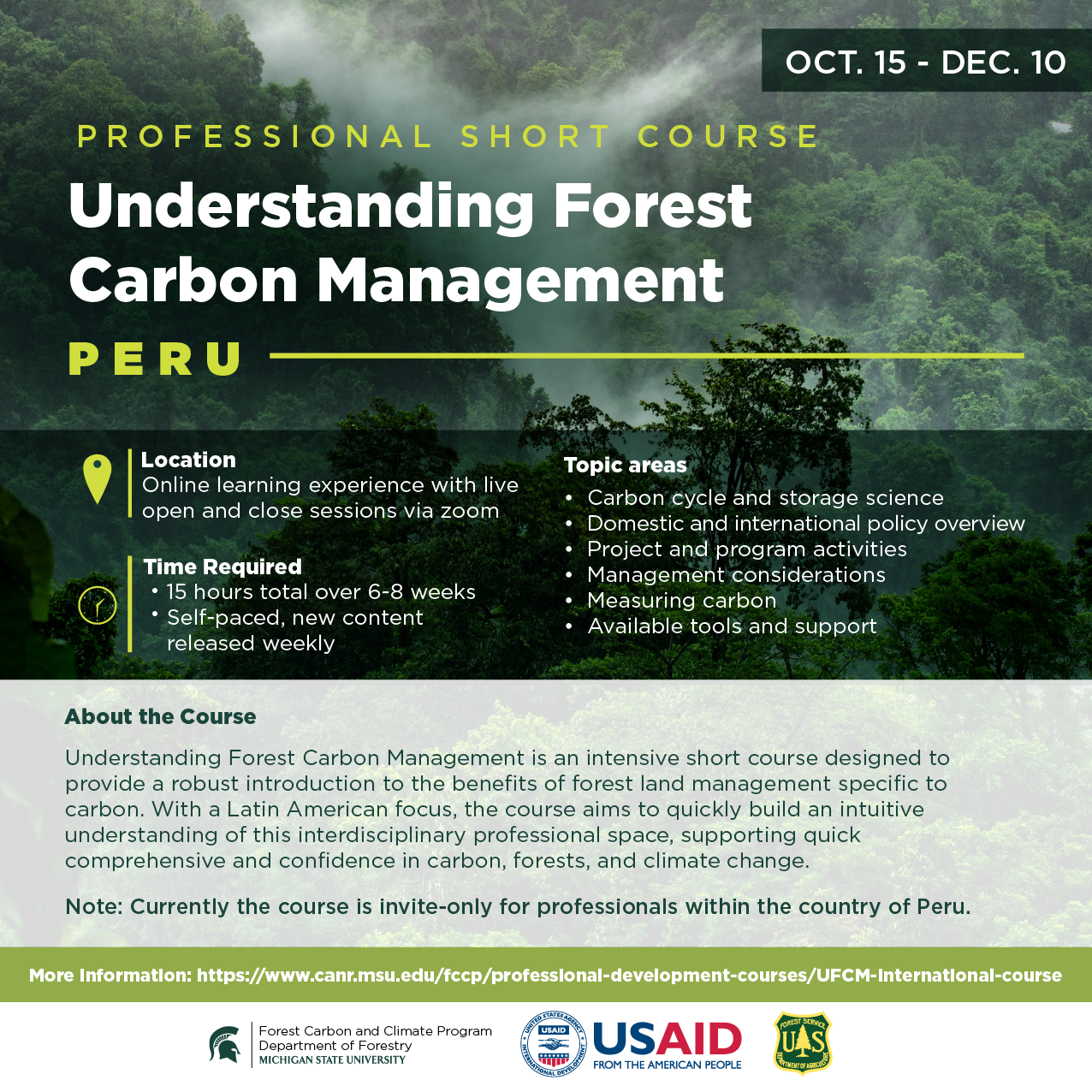 Corto Descripción (español)
"Comprendiendo la Gestión del Carbono Forestal" es un curso corto, intensivo y diseñado para brindar una introducción sólida de los beneficios en la gestión de las áreas forestales, con enfoque en el carbono y en el marco de Latinoamérica.
El curso tiene como objetivo construir, en un período corto, un entendimiento intuitivo de este espacio interdisciplinario, lo cual incrementa la confianza y comprensión sobre el conocimiento del carbono, los bosques y el cambio climático.
El curso se ejecutará de forma asincrónica, con publicación de nuevo contenido cada semana. Incluye módulos estructurados, folletos descargables y una evaluación guiada.
A través de un enfoque práctico, el curso le permitirá́ adquirir una comprensión intuitiva de los componentes principales de este tema, el cual se está volviendo cada vez más importante en la agenda global.
Atención: si usted es un profesional peruano, contamos con el apoyo de los Programas Internacionales del Servicio Forestal de los Estados Unidos y USAID / Perú para ofrecer becas completas a un número limitado de profesionales. Por favor regístrese su interés aquí y será contactado si es elegible: https://forms.gle/q261SXiLoeNV9Bma9