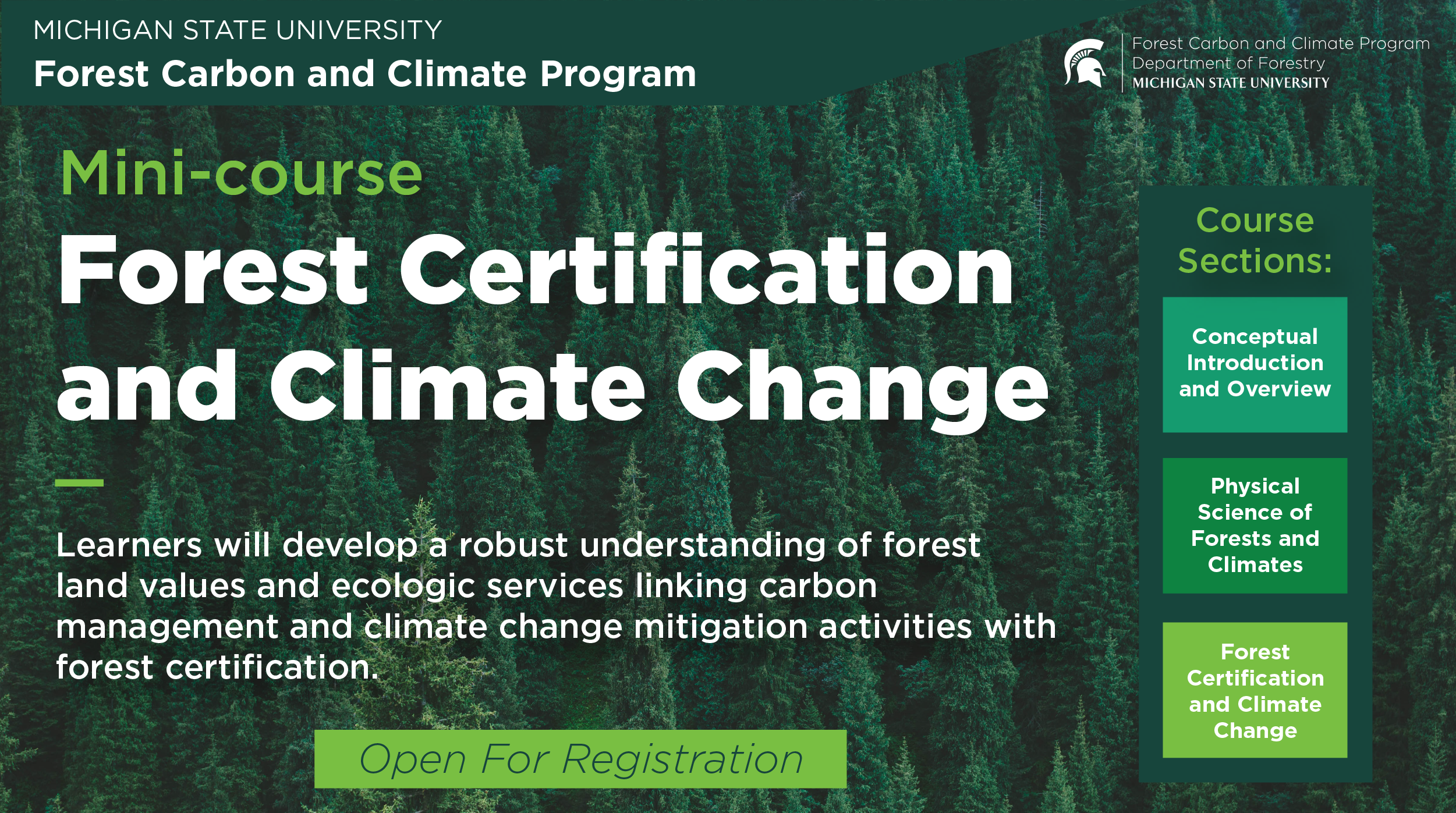 Professional Mini Course
Forest Certification and Climate Change is an online mini course designed to provide learners with a robust understanding of forest land values and ecologic services linking carbon management and climate change mitigation activities with forest certification. Graduates will develop expertise in:
Valuing working forests for carbon sequestration
Climate change adaptation and mitigation strategies in forest certification standards
Climate benefits for forest certification in wood products
Distinguishing climate benefits in chain of custody standards
Ensuring climate values of harvested wood products (HWPs) through certification
This course was designed with landowners, natural resource professionals, conservationists, educations, and extension agents in mind. However, all interested individuals are invited to register.
This course is offered by the Michigan State University Department of Forestry Forest Carbon and Climate Program (FCCP) in partnership with the Sustainable Forestry Initiative (SFI). This training may be used to fulfill annual SFI continuing education training requirements in participating states. If you are eligible, indicate "yes" on the prompt regarding SFI continuing education requirements, select your state, and share your SFI ID. FCCC is currently pre-approved for SFI continuing education (CE) credits in nine states, and is pending pre-approval in many more. To see if your state has pre-approved this course for CE credit, view this PDF. Submit any questions regarding SFI continuing education requirement eligibility to forestc@msu.edu.
Registration and Enrollment
The current course is offered multiple times throughout the year. Registration for this course period is open at our MSU Department of Forestry Official storefront. Click the link below to be taken to the storefront to purchase the course.
Note: There is a 20% discount available to eligible participants. View this PDF for eligibility guidelines. To receive the discount, ensure that the criteria are met and the appropriate proof can be submitted. While purchasing the course on the MSU storefront, enter the code FCCP20 on the page after payment information is collected. Once payment is submitted, we will send a survey to submit proof of eligibility. Those unable to provide the required form of proof will have their payment refunded and will need to purchase the course full price.
You will receive communication from an online education specialist within 1-3 business days of your course purchase. This message will include instructions to create your course login and password. To learn more about the on-boarding process and for a preview of what to expect upon registering for one of our professional development courses watch this video or review this PDF.
The course will be offered throughout the year according to this schedule:
Course period 1: May 9 - August 9
Course period 2: August 9 - November 9
Course Period 3: January 9 - April 9
Students must complete the course within their selected course period in order to receive a formal Certificate of Completion from MSU Department of Forestry. Students are eligible for a full course refund if requested within 14 days barring that a significant amount of the course has not been accessed.
Informational Session Recording
Register:
Dates:
The course will run throughout the year during the following periods:
January 9 - April 9
May 9 - August 9
August 9 - November 9
Please specify during registration which course period you would like to join.
Cost:
Location:
Online
Time Required:
2-3 weeks, ~6.5 hours
Self-paced
Intended Audience:
Landowners
Natural Resource Professionals
Conservationists
Educators
Extension Agents
Additional Certifications
SAF: This course is approved for 6.5 Category 1 CFE hours.
ISA: This course is approved by ISA for CEUs in the following categories: BCMA Science (2), Management (5), Certified Arborist (7), Municipal Specialist (7).
SFI: This course is pre-approved for SFI continuing education credits in various states. View this PDF to learn more.
More Information:
Email forestc@msu.edu for more information.
Interest Form
If you are interested in learning more about this short course and would like an invitation to register once opened, please submit your information below. (* indicates required)