Online Home Food Preservation
It is important for individuals to stay up to date on the latest research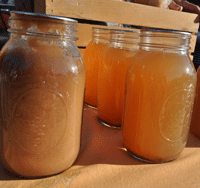 for home food preservation, recipes and processing times, as they are constantly under review and updated. Michigan State University Extension's Online Home Food Preservation course is a self-paced program that instructs up to date science-based recommended methods for safe home food preservation, regardless of a person's experience with preserving foods.
Online Home Food Preservation course will help home food preservers avoid dangerous, life-threatening contamination of foods. Individuals will feel confident in processing their produce and feeding their families safe, healthy foods. Home food preservation stimulates the local economy by encouraging locally grown and purchased foods and for individuals and families to grow their own gardens.
The course includes a variety of preservation methods and skills from drying foods using a dehydrator, to freezing and blanching which requires little time or equipment, to a more advanced pressure canning. Each of the seven segments discusses the equipment and tools needed to safely processing foods.
Cost: Registration is only $10.00
Register for a class:
Go to campus.extension.org and look to the left to find a login box.
Click Create New Account and fill in the information requested.
Search for MI-Food Preservation and register. You will be asked for the $10.00 fee.
If completing all topics, you can print out a certificate of completion.
Lesson topics Include:
Preservation – the Basics
Jams and Jellies
Pickling
Preserving High-acid Foods
Preserving Low-acid Foods
Blanching and Freezing
Dehydrating