Online Home Food Preservation
It is important to stay up to date on the latest research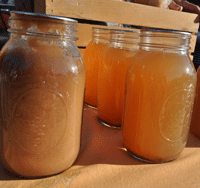 for safe home food preservation including approved methods, recipes and processing times, as they are reviewed and updated. Michigan State University Extension's Online Home Food Preservation course is a self-paced program that provides up to date research-based recommendations for safe home food preservation, regardless of your experience with preserving foods.
The Online Home Food Preservation course will help home food preservers avoid dangerous, life-threatening contamination of preserved foods. Individuals will feel confident in processing their produce and feeding their families safe, healthy foods. Home food preservation cuts down on food waste, encourages gardening as a way to stay active, allows you to have control over the ingredients and preparation of your own food and stimulates the local economy by supporting locally grown foods for individuals and families.
The course includes a variety of home food preservation methods from blanching and freezing which requires little time or equipment to drying foods using a dehydrator, to a more advanced pressure canning. Each of the seven segments discusses the equipment, tools and resources needed to safely preserve food at home.
For any questions about this course please contact Laurie Messing at lmessing@msu.edu.
Cost: FREE
Lesson topics Include:
Preservation – The Basics
Jams and Jellies
Pickling
Preserving High-Acid Foods
Preserving Low-Acid Foods
Blanching and Freezing
Dehydrating
REGISTRATION INSTRUCTIONS
To register for this course you will need to create an account, sign in with your email/password, and complete the registration process. To watch a video tutorial, demonstrating an overview of the registration process, click on the following link: Online Course Registration Video Tutorial. Step-by-step instructions are below.
Create your MSU Guest Account and Password: Create Your Account.
Login to the registration system with your Guest Account and Password: Food Preservation Online
Follow the instructions to register for the course. Upon registration, you will receive a receipt and instructions for accessing the course.
Technical Assistance
If you have any technical problems, please contact the Michigan State University IT Service Desk from 7am-12am Monday through Friday and 10am-12am on Saturday/Sunday, any day that the University is open.
Phone: (517) 432-6200
Phone (toll free): 1 (844) 678-6200
Frequently Asked Questions
What is my username/NETID?
Your username (or NET ID) is the email address you used to create your account during registration (you use the same email address/password for registering and for taking the course).
What URL do I go to for logging into the course?
Go to: https://d2l.msu.edu/. You will see the Michigan State University at the top of the page. Login with the email address and password you set during the registration process.
I received a "not authenticated" response when trying to login – what do I do?
A "not authenticated" message is typically an issue with a password not being entered correctly.
I forgot my password – where can I reset it?
If you need to reset your password at any time go to https://auth.msu.edu/ and select the option for "Need help Signing in."