Evaluation of the Marketplace for Nutritious Foods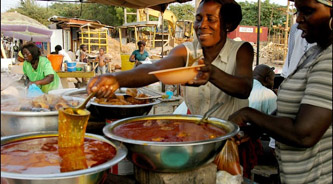 The rapid rise of obesity in developing countries is a new challenge for developing countries and has important health and economic consequences. This problem is arising even as the long known problem of undernutrition continues to affect important shares of the population in these countries. The objective of the evaluation of the Marketplace for Nutritious Foods program (MNF) – run by the Global Alliance for Improved Nutrition (GAIN) – is to increase the capacity and willingness of consumers, especially low-income consumers, to acquire and consume more nutritious foods.
Photo: Market vendors serving traditional prepared food away from home
MNF focuses on different ways to increase the availability of nutritious foods and promote their consumption in developing countries:
Generate direct increase in the availability of nutritious foods in the market through the launch of new products as a result of the information sharing, network building, and idea generation that occur within a community of practice, with the Program providing technical and financial assistance. The availability of nutritious foods can be increased indirectly through a demonstration effect (DE). This DE could take place among processors who observe the success of new nutritious products and develop or more effectively market their own; and from retailers who see consumers purchasing such products and demands from them.
Relationships between processors and their distributors (wholesalers and retailers) may be strengthened as a result of the launch of new and innovative products that anticipate and meet rapidly changing consumer demands, resulting in more resilient and sustainable supply chains, reducing transactions costs, and promoting increased availability in the market.
Consumer knowledge of and desire for nutritional attributes in foods can be enhanced in at least two ways: effective nutrition messaging can do this directly; and greater availability of attractive and nutritious foods in the market can enhance awareness. This latter effect can interact with MNF-sponsored and exogenous messaging (from firms wishing to sell their product) to enhance the desirability of foods with positive nutritional attributes and thus increase consumer demand for them.
Finally, greater availability of nutritious foods, if it comes from multiple firms, can increase competition and lower prices, leading to increased consumer purchase.
The evaluation of MNF will collect new data in Kenya. The scientific team made of researchers from the US and Africa brings years of expertise on this topic.
This evaluation of MNF is funded by The Global Alliance for Improved Nutrition for 2.5 years, starting in July of 2018. The consortium is led by Michigan State University Food Security Group with partners from Innovations for Poverty Action-Kenya (IPA-K), and the University of Michigan School of Public Health. In addition to generating rigorous information about the impacts of the MNF program, the evaluation is expected to make new conceptual and methodological contributions to research in the area of changing food environments in Africa.

Lead Principal Investigator
David Tschirley, Professor of Agricultural, Food, and Resource Economics (AFRE) and co-Director of the Food Security Group, Michigan State University (MSU)
Co-Principal Investigators and Key Personnel
Related publications
David L Tschirley, Jason Snyder, Michael Dolislager, Thomas Reardon, Steven Haggblade, Joseph Goeb, Lulama Traub, and Francis Ejobi. 2015. Africa's Unfolding Diet Transformation: Implications for Agrifood System Employment, Journal of Agribusiness in Developing and Emerging Economies, 2015, Vol. 5 Iss: 2, pp. 102–136.

Tschirley David, Thomas Reardon, Michael Dolislager, and Jason Snyder. 2015. The Rise of a Middle Class in East and Southern Africa: Implications for Food System Transformation. Journal of International Development, J. Int. Dev. 27, 2015, 628–646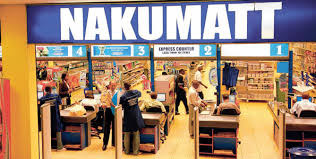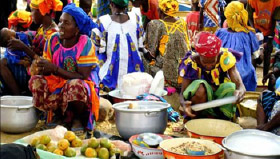 Photo captions: (1) Nakumatt, a modern supermarket chain now present throughout East Africa; (2) traditional food vendors in an open-air market. These two systems – modern and traditional – continue to function side-by-side in Africa's transforming food systems.