Examples & Outputs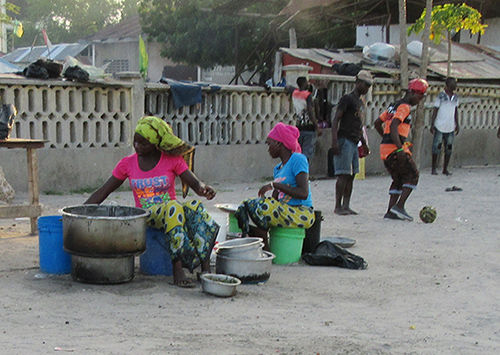 While continental trends are clear, there exists an extremely weak knowledge-base at country-level on who (local firms, regional firms, multi-nationals) is producing what products, where (in urban areas, peri-urban, nearby rural, or distant rural), and how (with what technology and at what scale). Even less is known about how this mix of who / what / where / how has evolved in recent years, how it is likely to change in the coming five to ten years, and what this implies about needed public policy and investment. These information gaps make it difficult to determine what steps government and development agencies need to take to ensure robust and equitable growth in this sector that serves the needs of consumers for a safe, nutritious, and high quality food supply while assisting local entrepreneurs to respond vigorously and competitively to these opportunities.
Work described below is designed to begin filling these gaps in five countries of Africa: Senegal, Nigeria, Ethiopia, Tanzania, and Mozambique. The work features a combination (with different relative emphases depending on the country), of processed food mapping at retail, and selection of one value chain that features substantial processing for more in-depth study.
Value chain analysis:
The FSP C 4b team has undertaken grain processing value chain studies in Tanzania and Mozambique, millet and sorghum value chain analysis in Senegal, teff value chain analysis in Ethiopia, and poultry sub-sector study and FSP Research Paper 22 in Nigeria. The analyses are based on conducting surveys of key players along the value chain, such as processors and retailers.
Building inventories of processed foods:
Such inventories have been developed for major cities in Tanzania and Nigeria.
"Stages of Transformation in Food Processing and Marketing: Results of an Initial Inventory of Processed Food Products in Dar es Salaam, Arusha and Mwanza." Feed the Future Innovation Lab for Food Security Policy Research Brief 8
Analysis of secondary data, to examine the trends in food production, trade and consumption patterns.
"Gendering Malawi's National Nutrition Policy using the integrated framework for gender analysis in nutrition policy." Feed the Future Innovation Lab for Food Security Policy Research Brief 18.

Policy engagement and outreach:
The team actively participates in various national, regional and global events to disseminate the insights gained from this stream of research to policy makers, donors, private sector partners, CSOs and other stakeholders. Such engagements are focused on sharing policy implications of changes occurring at midstream and downstream and how the agrifood system fits into the broader industrialization strategies of many countries.
FSP PowerPoint Presentations
Photo: Fish Market, Dar Es Salaam, Tanzania (credit: Elisabeth Paymal, March 2017)