Livestock Industries
The Livestock Industries certificate program is designed to provide students with skills and expertise in livestock production across a broad spectrum of applied coursework and hands-on education.
Students engage with leading professors, researchers, and future colleagues in ways that are directly applicable to managing a livestock operation. They also develop communication skills while bridging the gap between theory and practical best management practices.
Request information about the Livestock Industries program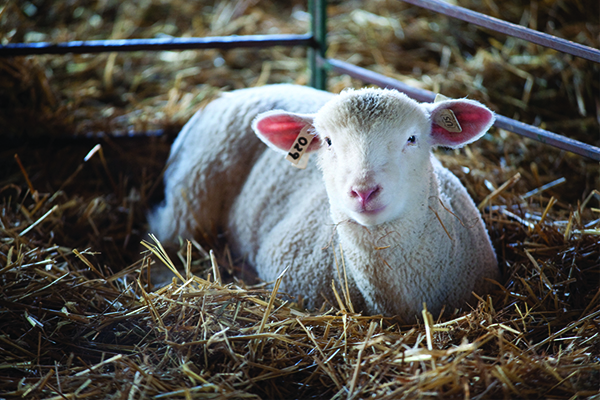 Area of study include:
Animal reproduction
Animal nutrition and feeding
Anatomy and physiology
Livestock management
Farm business management
Students can also get involved in a variety of clubs and organizations including Block and Bridle, Avian Science Club, Dairy Club and Rodeo Club.
---
Career Opportunities
Following graduation, students receive an MSU IAT certificate. If interested, students can also transfer into Michigan State University to earn a bachelor degree in animal science or another related major.
Graduates find careers in livestock industries and operations based on their interests.
Some career paths include:
Farm owner/operator
Herdsperson
Production manager
Nutritionist and feed specialist
Equipment sales/services manager
Pharmaceutical sale/service professional
---
---
Academics
The Livestock Industries certificate program is based in East Lansing on the campus of Michigan State University.
Program requirements:
48 credits
3-4 semesters of classroom instruction
1 semester off-campus, industry-related internship (typically during the summer from May to August)
Learn more about the MSU requirements and courses in the Livestock Industries certificate program.
Class sizes are small and students receive individualized instruction in addition to having access to Big Ten facilities and experiences. All students will engage in a clerkship experience at one of the MSU livestock farms on South Campus. These facilities are reflective of modern operations around the region, and allow students an up-close look at current livestock production practices.
Some learning facilities include:
---
Internships
IAT coordinators help students find and secure organizations to mentor them as part of their required certificate program internship. Not only does this provide immediate on-the-job experience, but internships also help with networking and industry connections.
Some types of internships include:
Beef feedlot
Beef cow calf
Swine farrow to finish
---
Request information about the Livestock Industries program