Contacts and Links
For assistance in identifying garlic mustard
Plants may be mailed or dropped off at MSU Diagnostic Services. Sampling and submittal instructions can be obtained from the website or by phone at 517-355-4536.
For local advice in Michigan
Michigan residents can also visit the Gardening in Michigan website and type a question into the Ask an Expert box to get an email response, or call the hotline at 1-888-678-3464
Please note if you are not from Michigan, you may want to contact your local Extension Service. Climate, laws and regulations, as well as pest management practices vary throughout the United States.
Questions about this web site
This web site is maintained by Joy Neumann Landis. Please send comments and questions about this site to landisj@msu.edu.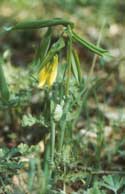 A wildflower grows in a Michigan woods.
Photo credit: Douglas A. Landis.
Additional links for more information
Information prepared by: Doug Landis, Jeff Evans, Department of Entomology, Michigan State University. Funding support: Michigan Department of Agriculture and Rural Development – Pesticide and Plant Pest Management Division, AgBioResearch, and MSU Extension.