Previous Charrette Projects
Stakeholder Input for Redeveloping Belle Isle Park Old Zoo Area (completed in 2022)
Bill Lennertz, former NCI executive director, managed charrettes for the following built charrette projects:
Michigan State University's School of Planning, Design and Construction (SPDC) has a long-standing partnership with the Michigan Department of Natural Resource's Parks and Recreation Division (DNR) wherein design studios allow Landscape Architecture and Environmental Design students to gain practical experience in proposing and creating solutions for projects identified by the DNR. For the fall 2021 semester, the DNR sought to receive some stakeholder input on a vision and design elements for the old zoo area of Belle Isle to inform the students' design work. NCI facilitated a vision workshop for a small group of stakeholders to develop six overarching and broad themes that were used as design goals by student design teams. NCI provided a facilitation guide and training to DNR staff and MSU students so they could facilitate a Stakeholder Input Session where participants identified specific design preferences, elements and criteria for the Belle Isle Old Zoo. NCI facilitated the students' final presentation and then developed and analyzed a survey to capture additional feedback on the designs by a more public audience.
Co-Creating a Chronic Wasting Disease (CWD) Education & Outreach Plan (completed in 2022)
NCI led a multi-disciplinary team to test using a charrette to develop an education and outreach plan around a wildlife disease issue. The charrette team worked with a diverse representation of viewpoints on a Steering Committee to develop the foundational pieces, then conducted focus groups and a mini- charrette that developed the plan. This project was significantly impacted by Covid-19, both in timing and scope.
From Planning to Adaptive Management: Natural Resources Decision Making in Response to the Allocation of Riverine Inflows in the Northern Gulf of Mexico (completed in 2022)
NCI was the boundary spanning organization on a NOAA Restore project that sought to bring together natural resource managers, scientists, and modelers to co-develop a framework for a decision-support tool. This work involved planning and facilitating a knowledge sharing event/conference, participating in a Toolbox Dialogue Initiative workshop, and preparing and conducting a 3-day virtual charrette to develop the framework for the tool.
Virtual Workshops for the National Capital Planning Commission (completed in 2021)
NCI was contracted by NCPC to provide initial training and facilitation services in online meetings for three events in 2021 led by different divisions of agency staff including the workshops for Public Space and Security – Farragut Park, AFRH/Capitol Crossing, and Penn Avenue 60% Concept. NCI advised on meeting structure and appropriate tools, provided technical support during workshops, and serviced as the overall meeting moderator to help ensure a sense of neutrality, allowing staff to participate and serve as subject matter experts.
Collection of Stakeholder Input for Urban, Indoor, and other Emerging Agricultural Production Research, Education, and Extension Initiative (completed in 2020)
The National Institute of Food and Agriculture (NIFA) within the U.S. Department of Agriculture (USDA) was requesting written stakeholder input to develop the fiscal year 2020 Request for Applications for the Urban, Indoor and other Emerging Agricultural Production Research, Education and Extension Initiative. In May 2020, NCI designed and hosted four, national, virtual, interactive input sessions for the Western Center for Metropolitan Extension & Research (WCMER), National Urban Extension Leaders (NUEL), and National Farm Bureau to collect stakeholder input and deliver coordinated comments.
Designing Safe Neighborhoods in Southwest Lansing (completed in 2019)
In February 2019, NCI, the City of Lansing, the MSU School of Planning, Design and Construction, and MSU Extension partnered to deliver the Designing Safe Neighborhoods design mini-charrette, bringing together residents, stakeholders, and decision-makers over the course of three days to learn about and co-create crime prevention and placemaking strategies for the Pleasant View neighborhood in Southwest Lansing, MI.
Strategic Plan Update, St. Mary's Food Bank, Phoenix, AZ (completed in 2016)
The National Charrette Institute used the NCI Charrette System to facilitate a top-down, bottom-up restart of the stalled strategic plan for the oldest food bank in the U.S. The result was not only an activation of a set of five initiatives, but also a transformation for how the organization's leadership and staff work together.
The Capital Corridor Plan, Lansing, MI (completed in 2015)
A vision plan for the 21-mile Michigan Avenue/Grand River Avenue corridor was developed as part of this project. The plan included seven jurisdictions a major hospital complex and Michigan State University. The Tri-County Regional Planning Commission adopted the plan on the last day of the charrette. Sparrow Hospital began a major expansion in accordance with the plan within months of the completion of the plan. With Dover Kohl and Partners.
Memphis Fairgrounds Public Engagement (completed in 2015)
The National Charrette Institute led a team to help the Memphis community come together to provide a voice to the ULI panel concerning the controversial repurposing of the Fairgrounds site. The NCI facilitated four public workshops across the city and created a website to gather public input. In total, more than 600 people participated online and in the events. The results were summarized in a report that was delivered to the ULI panel for use in their study of the Fairgrounds site. With PlaceMatters.
Center City Plan, Norman, OK (completed in 2014)
The National Charrette Institute was asked to facilitate a civil community process for a contentious debate over the form of neighborhood infill projects. The NCI was able to reestablish trust among the parties though a series of tours, meetings, interviews and a five-day charrette. The resulting Form-based Zoning Code was approved by City Council. With Opticos Design and Alta Planning.
Arapahoe Square Neighborhood Plan, Denver, CO (completed in 2013)
A neighborhood plan for the disinvested social services area north of Downtown Denver was developed as part of this project. The plan featured architectural and urban design strategies for integrating social services into a mixed-use neighborhood. The resulting plan became a component of the Denver Downtown Plan approved by City Council. With SERA Architects.
Contra Costa Transit Village, Walnut Creek, CA
A six-day charrette solved a 25-year impasse over the development of the 19-acre transit station site. The result was a master plan and Form-based Code, which has successfully guided the building of this award winning transit village. Lennertz Coyle and Associates, Architects and Town Planners.
Southern River Crossing Plan and Bridge, Bend, OR
A six-day charrette solved the highly contentious issue of creating a southern crossing over the pristine Deschutes River. The plan included the transformation of a defunct mill site into a riverside park including the design of the bridge, both of which were completed. Lennertz Coyle and Associates, Architects and Town Planner.
Shevlin Village, Bend, OR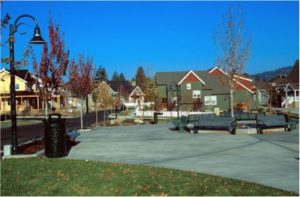 A 15-acre mixed-use pocket neighborhood along a new park on the Deschutes River. Four different developers built the project under a Form-Based Code. Lennertz Coyle and Associates, Architects.
Fairview Village, Fairview, OR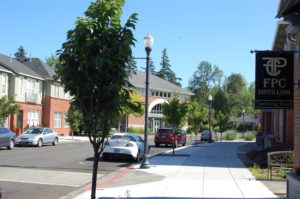 Completed in 1998. One of the first built New Urbanist projects in the Northwest. Fairview is an award winning 60-acre mixed-use village outside Portland, Fairview Village. A number of builders developed Fairview Village under a Form-Based Code, resulting in a neighborhood having a variety of compatible architectural styles. Lennertz Coyle and Associates, Architects and Town Planners.
Kentlands, Gaithersburg, MD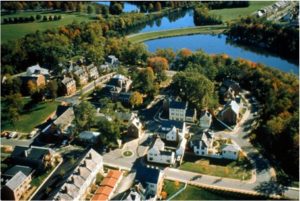 The first built New Urbanist project of its size, the 356 acres Kentlands is a fully mature series of neighborhoods that has become the urban center for the surrounding area. Kentlands was designed in a seven-day charrette made famous by New York Times and Washington Post coverage. Duany Plater-Zyberk & Company.