RFP Co-Writing Workshop
Get support to write an RFP with an accurate scope and budget that will achieve your objectives
What's the most effective way to write a Request for Proposal (RFP) using a charrette? How can you ensure an accurate RFP that will ease your review process? Work collaboratively!
The NCI can facilitate an RFP Co-Writing Intensive Workshop with your project team. The project sponsor, with the project partners, such as governing agencies, completes a series of assessment and organization exercises to establish high-level guiding principles which leads to a detailed project process roadmap.
The result is a draft plan for the project that includes who will be involved and how, a list of base data work, and a description of the charrette process and products. This plan is used as the basis for writing the request for proposal. This information defines a draft RFP scope that can be used to create a scope of work and estimated budget. The collaborative Intensive creates a focused team approach to project management that will guide it through the inevitable hurdles that it faces on the way to approvals and implementation.
This effective method builds cross-agency and partner buy-in and cooperation, ensures that your RFP is informed by the essential viewpoints, and – critically – ensures that the budget is aligned with the scope. By developing RFPs that solicit qualified proposals that are easy to compare apples to apples, we ease the proposal review process.
Contact NCI to discuss your unique needs or to request additional information.
Free NCI Charrette RFP Template
Check out our free RPF Template, your foundation to get your RFP on track.
Previous Workshops
City of Houghton, Michigan (2021)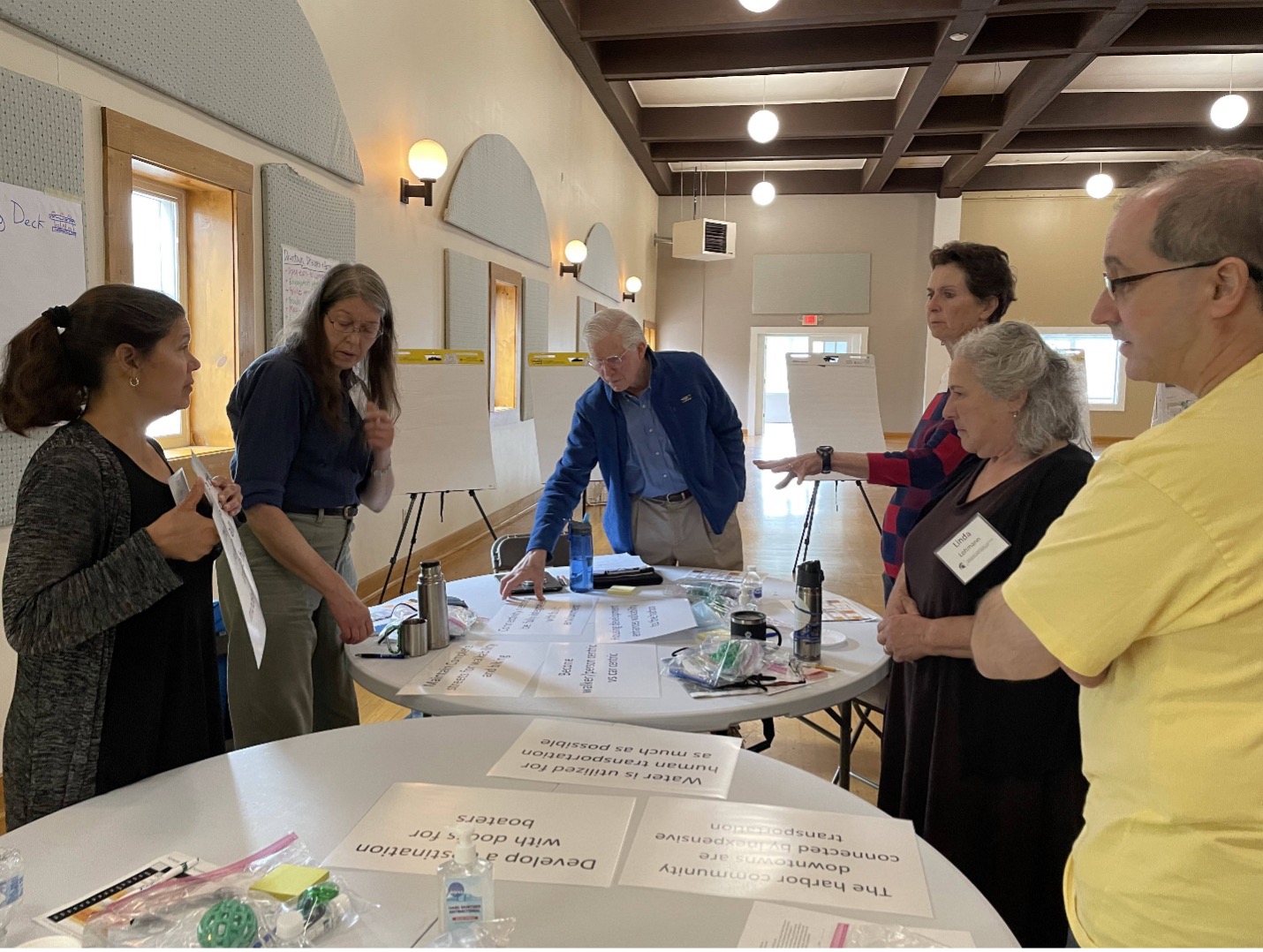 An aging parking deck along Houghton's scenic waterfront had been the topic of much discussion, redevelopment activity, and litigation for several years. Although some goals for this location had been expressed, there wasn't a clear vision communicated. In June 2021, NCI and MSU Extension facilitated a Charrette Ready Workshop in Houghton, Michigan, for a 13-person representative committee to co-create a community engagement process that could be implemented to develop a cohesive and shared long-term vision for downtown Houghton, including the parking deck, that is environmentally, socially, and economically sustainable.Steering committee members drafted the foundational pieces (Principles to Product Matrix, Stakeholder Analysis, Roadmap, Schedule & Budget) of the engagement process, and NCI then molded their process into an RFP to deploy it.
Twin Cities Harbor, Michigan (2018)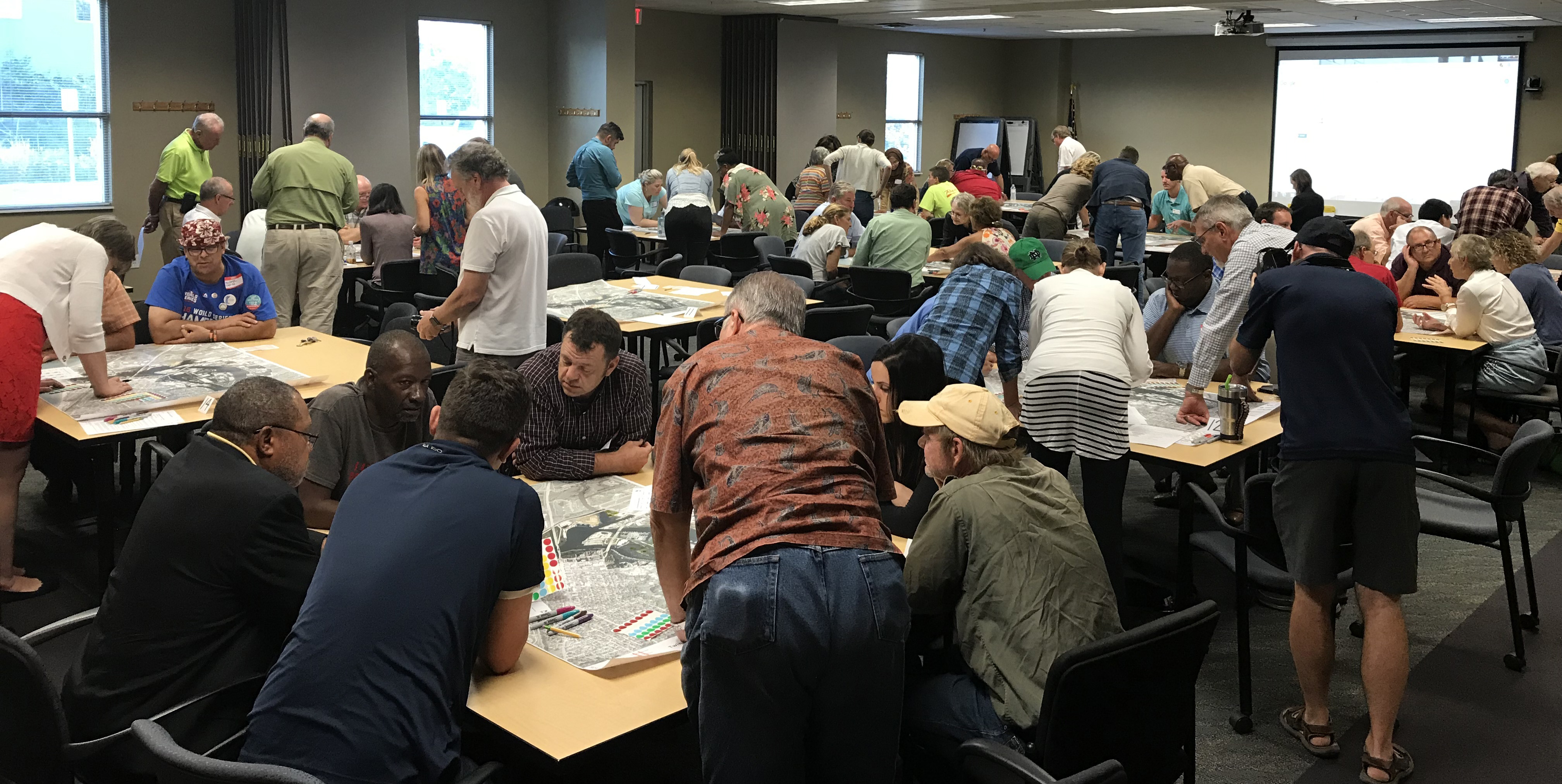 The Twin Cities Harbor is a deepwater port tucked between the cities of Benton Harbor and St. Joseph in southwest Michigan. In its heyday, the harbor bustled with activity, but today it is challenged by vacant land, empty buildings and underutilized waterfront opportunities. While there had been previous visioning engagement work done in the past, it was not representative of all the communities or stakeholders.
So when City and community leaders in Benton Harbor, St. Joseph and surrounding townships became interested in reviving and reimagining their common gem, they turned to the National Charrette Institute to help prime the communities for a wider-scale engagement based on the NCI Charrette System.
To prepare them for this work, NCI led a diverse set of decision makers, including city, township and county elected and appointed officials and staff; state agency staff; regional planners; developers; business owners; and faith leaders, along with the project steering committee in a 1.5-day RFP Co-Writing Workshop to assess and organize a joint visioning project for the harbor.
Their work began with shared learning and discussion about the harbor and past redevelopment and engagement initiatives. They then explored high-level guiding principles and identified stakeholders important to creating the next vision. At the end of workshop, they had defined goals and project area and a charrette schedule that they will be implementing this fall.
The pre-charrette work created a real sense of ownership among harbor leaders about the process to engage the larger community because they helped design it. More about the coming charrette is available at: Sustainable Small Harbors: St. Joseph-Benton Harbor 2018.
Traverse City, Michigan (2015)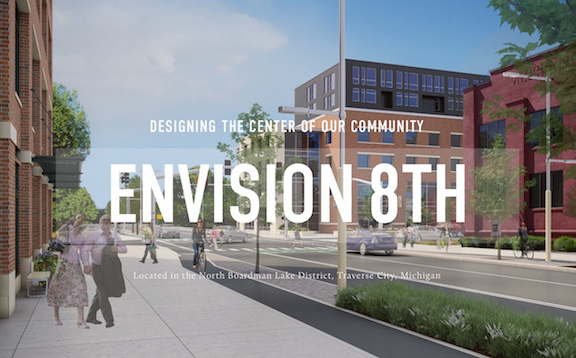 In 2015, the two planning directors for Traverse City and Grand Traverse County took the NCI Charrette System certificate training course to prepare for a series of charrettes following the City's adoption of a Corridor Master Plan. The 8th Street Corridor was the first project scheduled for improvements.
After the training, they engaged the National Charrette Institute to walk them through a Co-Writing Workshop to assess and organize the project for a RFP. Participating in the 1.5-day workshop were City and County planning and transportation staff, along with a member of the project steering committee.
Completing a series of assessment and organization exercises, their work began with high-level guiding principles leading to a detailed project process roadmap. The result was an agreed upon project purpose, stakeholder engagement strategy, scope of work, schedule and estimated budget. This information was fed into the NCI Charrette RFP Template to develop the language for the 8th Street Corridor Charrette RFP.
Following the workshop, the RFP was sent through the City's legal department and it hit the street two weeks later. The team received five proposals from qualified firms, all within $10,000 of each other.
The resulting five-day charrette successfully engaged the community in co-creating a vision, plan and form-based code for 8th Street. The project was approved in the City's six-year Capital Improvement Plan and will be implemented in phases over the next four years. The team plans on repeating the process as it moves forward to plan the remaining corridors under the Master Plan. To learn more, visit Envision 8th.