13th Annual Animal Science Graduate Research Forum
The 2018 Animal Science Graduate Research Forum included seven posters and 16 oral presentations.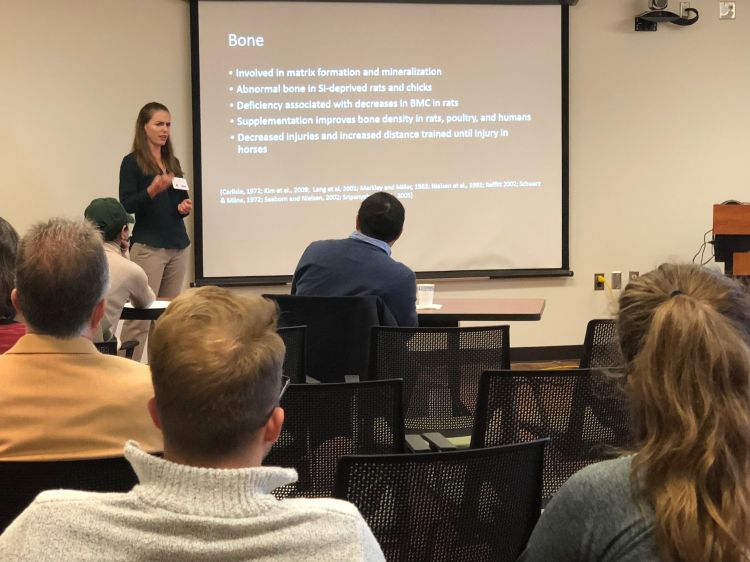 October 18, 2018, marked the thirteenth year of the Graduate Research Forum. This year's Committee was composed of Abby Pritchard, Maria Rising, and Alyssa Tomei. Dr. Almudena Veiga-Lopez was the faculty advisor. Drs. Tasia Taxis, Natalie Trottier and Ming Yuan Yang served as judges. Seven posters were presented and sixteen oral presentations were given. The event was sponsored by the MSU Council of Graduate Students and Department of Animal Science.
Drs. Cathy Ernst and Steve Bursian were recognized as the incoming and outgoing Graduate Coordinators, respectively.
Dr. Kelly Millenbah, Senior Associate Dean for CANR and Director of Academic and Student Affairs, started the program with an address. Dr. Ron Hendrick, CANR Dean, attended and said a few words during lunch.
Results:
PhD - 1st: Abby Pritchard. 2nd: Sai Zhang. 3rd: Crystal Prom
Masters - 1st: Emily Middleton. 2nd: Marin Western. 3rd: Sarah Maclachlan
New Student - 1st: Alycia Burch
Find more photos of the event on the Graduate Program pages.