2013 garden shows focus on "smart gardening"
Want to know more about becoming a smart gardener? Find out how by attending one of our two home and garden shows in February.
Michigan State University Extension's horticulture educators are embarking on a new campaign this year to help folks become "smart gardeners." Across A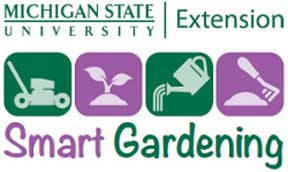 merica and even throughout Europe, people with a passion for gardening are hungry for ideas that will enable them to be more environmentally savvy, employ earth-friendly techniques and even save a few bucks. MSU Extension has had a long-time commitment of connecting gardeners to the latest research that de-bunks gardening myths as well as improves gardening techniques.
Launching this effort, MSU Extension horticulture educators will be presenting smart gardening in a variety of ways at two public shows in Michigan: the Novi Cottage and Lakefront Living Show on Feb. 21-24, and the West Michigan Home and Garden Show on Feb. 28-March 3. These garden shows will host a variety of free seminars, informational booths and be the site to "ask the experts" from MSU Extension about your gardening questions.
Greening your garden
Research shows that adults make decisions based upon numerous, repeated pieces of information. So for the MSU folks, smart gardening education will carry through all year long with informational factsheets, videos and more on the Gardening in Michigan website.
Central to the smart gardening initiative is a 40-year-old concept we know as integrated pest management (IPM). "It's more than IPM though," says Mary Wilson, MSU Extension horticulture educator. "Smart gardening begins with a thoughtful process followed by actions that reflect that process." Simply engaging tools such as a rain gage, drip irrigation or a reel mower may, in fact, reduce your cost, your impact on the environment and what is commonly being referred to as your "carbon footprint."
Wilson, also a tree-hugger in general, points out that even our choices of tree and shrub species can be "smart." For instance, European white birch trees are pest magnets and often require pesticide applications to stay alive. Consequently, this plant is not a good choice for a smart gardener. However, its cousin, the river birch, would be a better choice since it is not bothered by as many pest problems. Choosing plants that are native to our area can also be a smart choice, says Wilson, since they are naturally adapted to our local pest problems and climate.
So does this mean that when a gardener becomes "smart" they have to toss out all exotic or non-native plants? "Of course not!" says Gretchen Voyle, MSU Extension horticulture educator. Gardeners can and should enjoy many of the native and non-native plants they always have, but thoughtful selection and cultivation will help you be smarter. For instance, perhaps you have some plants that are "water hogs," she explains. Just grouping them in the same general area will allow you to back-off on water usage in other areas of your garden. "It's really just about thinking through the different inputs you provide each area," Voyle said.
For more information on a wide variety of smart gardening articles, or to find out about smart gardening classes and events, visit www.migarden.msu.edu. You can also visit us at the Novi Cottage and Lakefront Living Show on Feb. 21-24, or the West Michigan Home and Garden Show on Feb. 28-March 3.
Smart Gardening tip sheets