2015 World Food Prize Michigan Youth Institute: Youth excellence in global civic engagement
A showcase of youth leaders tackled food systems and global food security, one of today's most wicked problems.
On Monday, Aug. 10, 2015, just two days before International Youth Day, Michigan 4-H hosted the first ever World Food Prize Michigan Youth Institute (WFP MIYI). This event, targeted at eighth through 12th graders from the 2014-15 school year, was a success with over 50 people present. The core audience of the program was 12 youth participants and their seven adult mentors. Michigan State University faculty, community experts, and Michigan State University Extension youth development professionals made up the rest of the program participants.
Youth participants and mentors arrived on the campus of MSU in the morning to check-in and enjoy a casual breakfast reception with other participants and campus experts. This served as a time for youth to interact with one another while creating a space for them to expand their professional networks by talking with experts. Experts included faculty from MSU departments such as Plant, Soil and Microbial Sciences and Community Sustainability. Official programming opened with a welcome from event coordinators and greetings from Julie Chapin, representing Michigan 4-H and MSU Extension, and Randy Showerman, representing Michigan FFA and the MSU College of Agriculture and Natural Resources, the event's funding partners. The final partner, the World Food Prize, was represented by National Education Director Libby Crimmings, and with an opening keynote from 2007 World Food Prize Laureate Phillip Nelson.
The World Food Prize was founded by Normal Borlaug in 1986 as a way to reward phenomenal work being done in global food security and food access. One youth at the WFP MIYI described the prize as "the Nobel peace prize for agriculture." Shortly after Borlaug founded the World Food Prize, he also established the Global Youth Institute. In creating this event, Borlaug internationally recognized the importance of including young people in conversations and efforts around global poverty, hunger and food access. The World Food Prize Global Youth Institute (WFP GYI) allots seats to each participating state and provides the programming free of cost to youth delegates and their mentors from such states. Michigan has been a participating state for approximately five years, but never hosted an independent program to select its state delegates to WFP GYI until this year.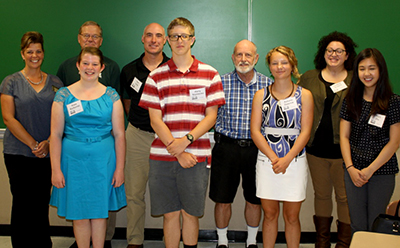 To participate in the World Food Prize Michigan Youth Institute, high schoolers were asked to meet the same requirements that are set forth for the Global Youth Institute: select a developing country and research that country's food system and food access challenges from the lens of a particular factor. One of the unique aspects of this program is that while it is about global food and food access, there are 20 factors a youth could select to examine such topics. These factors include but aren't limited to gender and equality, war and peace, community health, transportation and water quality. Because of the diversity in factors, this event can appeal to the interest areas of most youth. The end product of the youth's research are research papers that outline challenges and offer approaches and ideas for overcoming said challenges. The paper is a maximum of five pages and is the only investment required by participants – the program is offered free of charge.
After an uplifting virtual keynote from 2007 Laureate Nelson, a now resident of Michigan, participants split into pre-assigned round table groups where they presented the findings from their papers to their peers and round table experts. In addition to the MSU faculty previously mentioned, community experts from Forgotten Harvest, Michigan Voices for Good Food Policy and the Michigan Urban Farming Initiative joined youth for their presentations. This was an opportunity for youth to showcase the work they've done before the event while practicing their public speaking and presentation skills. These round table presentations, along with paper scores from World Food Prize readers, came together to inform the final decision of who would be offered a spot as a Michigan delegate to WFP GYI.
After round table report-outs, where selected representatives from each group shared any commonalities discovered by each participant in their group, the entire event went to lunch. In true pre-college fashion, participants and experts were invited to eat at Shaw Hall Cafeteria. As this event for many participants could be their first exposure to MSU as a post-secondary education option, coordinators wanted to be intentional with every bit of time available in the programming day. After youth got their lunches, they were encouraged to sit and talk about various departments and opportunities available to MSU students. Representatives from the College of Agriculture and Natural Resources, the Center for Gender in a Global Context, the Office of Study Abroad, James Madison College as well as Global Studies in Arts and Humanities were all available to talk with youth and mentors. After lunch, all participants were split into immersion experience groups. It was with these groups that participants were able to tour a facility at MSU and learn about the ways people on campus are working in food systems and global food security. Immersion experiences included a Plant, Soil and Microbial Sciences bean genetics laboratory, the Student Organic Farm, the Anaerobic Digester and the Dairy Plant.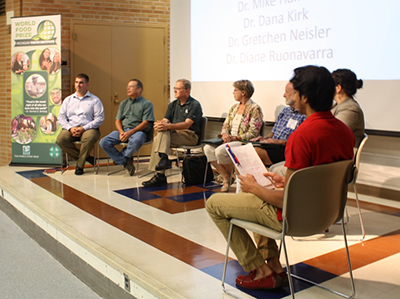 The day ended with a panel of MSU faculty members, facilitated by a 2014 MI GYI delegate, where participants could really see the diversity of perspectives on global food security topics. Overall, WFP MIYI showed participants there isn't one right answer to solving complex problems; the key is to bring people for varying areas of expertise to the table, so the best combination of approaches can be implemented. With final congratulatory remarks from Libby Crimmings of World Food Prize, participants received their Borlaug Scholar certificates and concluded the day.
On Oct. 15-17, 2015, an outstanding group of Michigan youth will represent our state at the World Food Prize Global Youth Institute. You can read more about these delegates in "What's next for the Michigan Youth Institute winners?" Next year's Michigan Youth Institute will be held May 2016. Please contact me at schul430@anr.msu.edu for more information on the 2016 program.