PSM undergraduate students win first place for MSU UURAF presentation
2022 MSU UURAF PSM Undergraduates take first place prizes for their presentations Several PSM students present research projects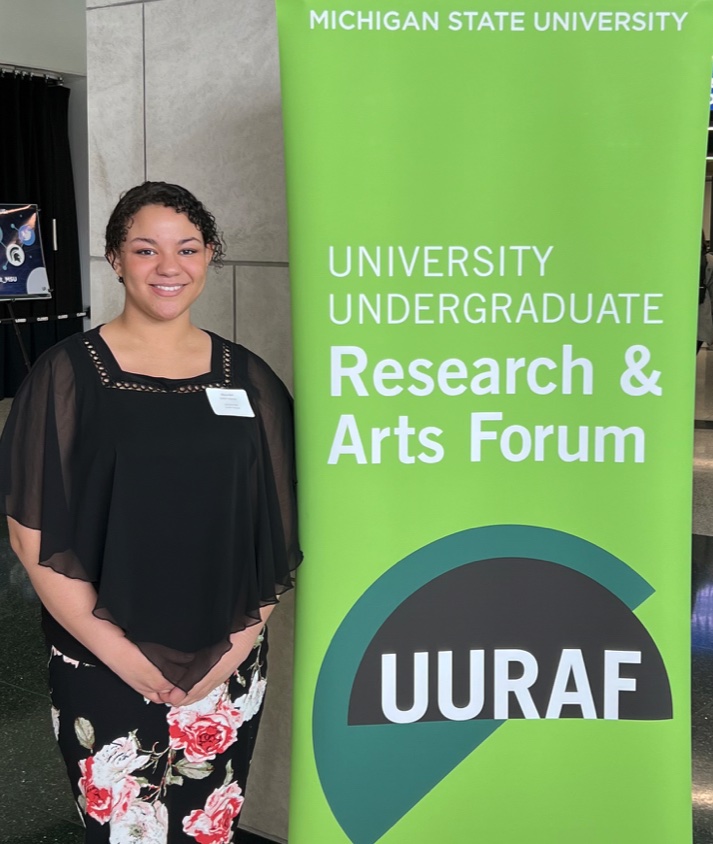 Several PSM students present research projects at 2022 MSU UURAF
"Biosorption of Heavy Metals by Fungi," an online presentation by undergraduate Alissa Ball, won first place in the Environmental Science and Natural Resources section at the 2022 MSU University Undergraduate Research & Arts Forum.
"I am so thrilled that I was able to portray how important environmental remediation is," Ball says.
Ball credits her success in this project to her diverse interactions in both the Zhang Lab and the Bonito Lab here in PSM. "Being able to communicate with my peers and with grad students in a couple different labs really helped me to brainstorm on this project and make it the best it can be," Ball says.
Ball seems equally passionate about soil chemistry and bioremediation. "I love putting a spotlight on the wonders of fungi and encouraging others to consider them as tools for the future.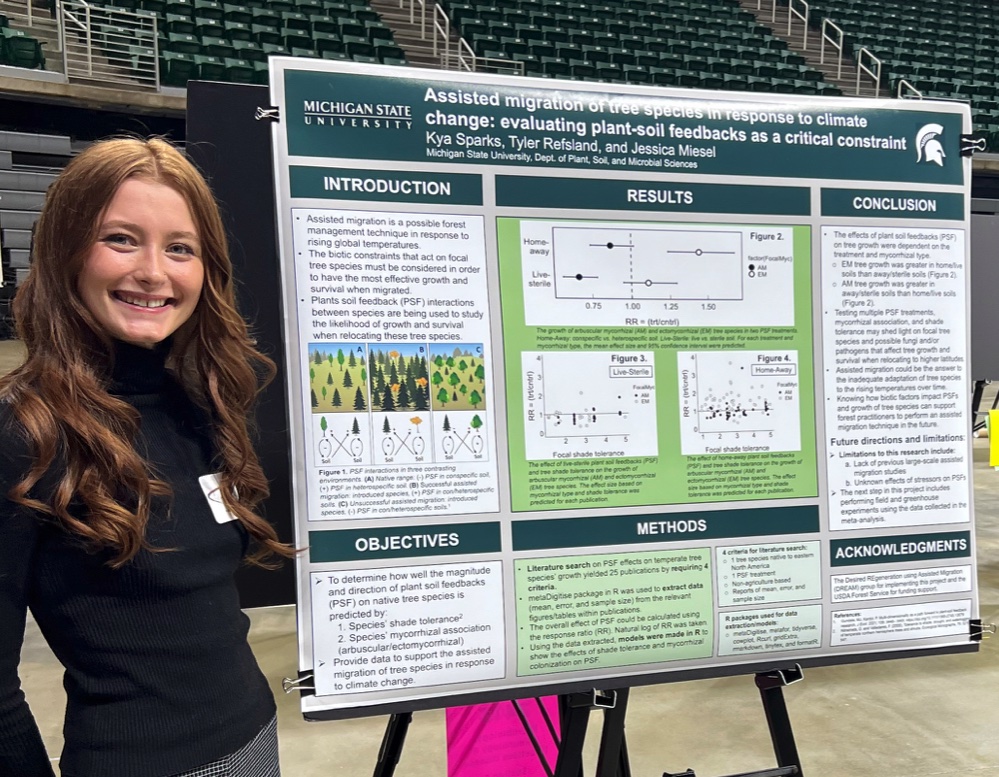 Graduating senior (May 2022) Kya Sparks presented her poster "Assisted migration of tree species in response to climate change: evaluating plant-soil feedbacks as a critical constraint." Kya says her favorite part of this project was being able to meet other knowledgeable researchers within the field of forest ecology. I also got to familiarize myself with the R programming language for data analysis which is awesome!
Mentor: Jessica Miesel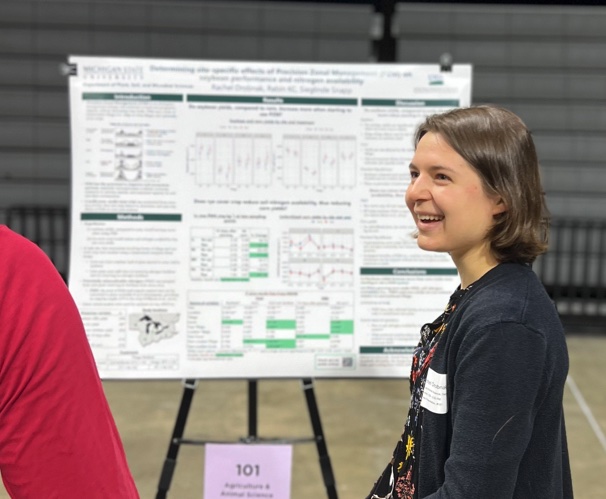 Rachel Drobnak; graduating May 2023 Mentor: Sieglinde Snapp
Poster Title: Determining site-specific effects of Precision Zonal Management (PZM) on soybean performance and nitrogen availability
""This project was my independent study and I wanted to challenge myself in data analysis, which certainly proved true! With the help of grad students in the Snapp lab, I became comfortable using R and finding the best models to look at large datasets. I love agroecology because it takes a practical approach to sustainable agriculture that tries to improve environmental quality while maintaining productive capacity. My favorite aspect of research is when it directly applies to and benefits farmers. This project specifically wanted to see if there was a productive and ecological benefit to using a combined ridge tillage and cover crop system in a corn-soy rotation across the Midwest."
Carolina Freitas also won first place for presenting her poster "Relating Leaf Area Index to sorghum canopy traits," based on work with PSM professor Addie Thompson, in the UURAF category "Agriculture and Animal Science."
"My favorite part of the undergraduate research experience was definitely learning from all my colleagues at the Thompson lab. I am privileged to work closely with someone as knowledgeable and invested in my future as Dr. Thompson, and learn from one of the best in the field/crop research. I got to learn all the way from collecting data in the fields to extracting meaningful information from that data.
In Thompson's lab, Carolina works toward a better understanding the genetic mechanisms in Sorghum that can in the future lead to important improvements to this crop, such as genetic control of biomass and productivity. Carolina's research was funded and supported by the US Department of Energy and the CANR Undergraduate Research Program (URP).