4th annual Michigan Chinook Cup
Hop Growers of Michigan members encouraged to save a brewer's cut sample for the competition.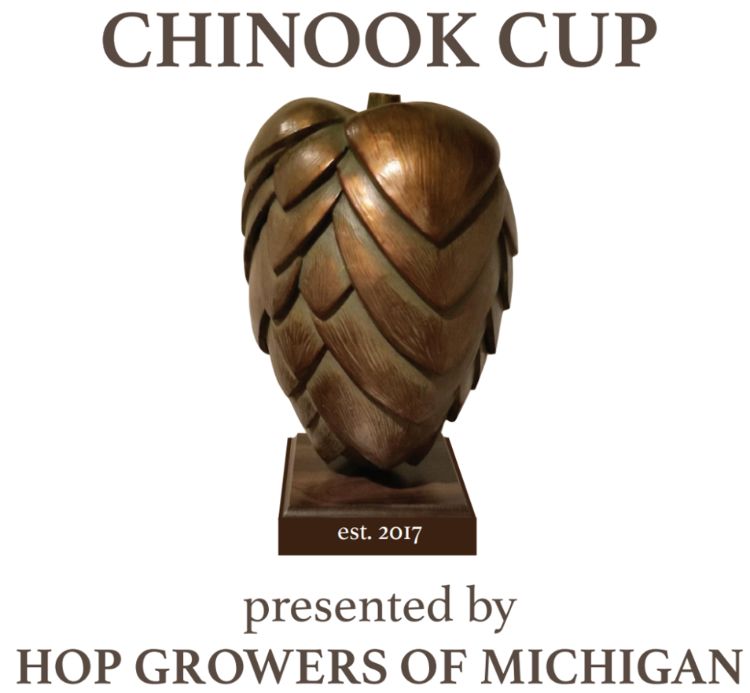 As Michigan hop harvest winds down, the Hop Growers of Michigan (HGM) is reminding members to set aside a brewer's cut of Chinook hops for the competition. The criteria for the competition is as follows:
Criteria for entry in the Chinook Cup competition
The Chinook Cup competition is open to either grower or industry members of the Hop Growers of Michigan provided they are in good standing for the most recent production year
Entry can be made for either the Chinook Cup or the wild card division but there can be only one (1) entry per member farm
Entry is made by completing an entry form available on the website of HGM and submitting a sample of whole hops before the cutoff date identified on the website
The specimen should be in a sealed bag that protects the hop specimen from light and oxygen and can be compressed or loose hops
The hops must be grown in Michigan during the most recent production year
A Certificate of Analysis (COA) must be included that is representative of the specimen submitted
The COA should be from an independent testing laboratory and should include, at minimum, the Alpha and Beta acid percentages as well as the Hop Storage Index for the specimen
The date and location of the judging and the date and location of the announcement of the winning entries will be posted on the HGM website
Modeled after the national Cascade Cup, the Michigan Chinook Cup is awarded to the Great Beer State's best Chinook hop grower as determined by a panel of expert craft brewers and hop producers through a series of "blind" tests. The samples are judged based on aroma, appearance, and analytical test results.
Why Michigan Chinook hops?
Although there are over 100 different varieties of hops used by craft brewers across the U.S., the top three hops have consistently been Cascade, Centennial, and Chinook. The Chinook hop, released in 1985, is the result of a cross between Petham Golding and a USDA male plant. Chinook are a "dual purpose" hop, used for both bittering and aroma. In contrast to Chinook grown in the Pacific Northwest that is generally known for its piney, spicy, dank attributes, Michigan Chinook is a cultivar that is increasingly recognized for its citrusy, clean profile.
For more information please visit: http://hopgrowersofmichigan.com/chinook-cup/.
Please continue to visit Michigan State University Extension's hop webpage or the MSU Hops News Facebook site for up to date information.