A local nonprofit builds community through bikes
Norte! is a Traverse City organization creating bike-friendly communities by inspiring its youth.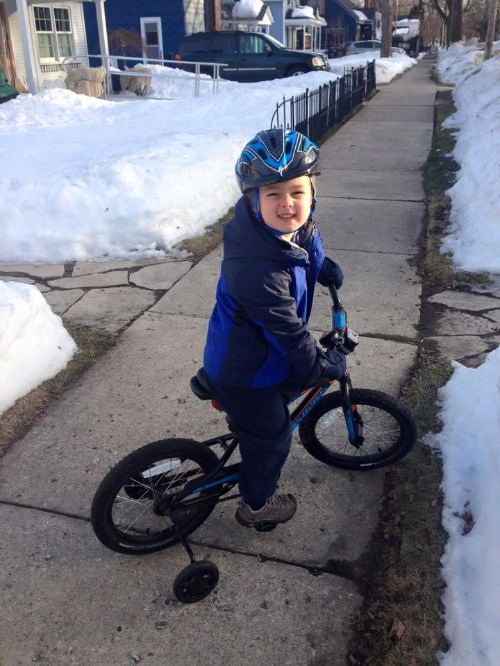 Spring has finally arrived in northern Michigan and it is a prime time to get outside. Active transportation, any form of human-powered transportation, is a great way to build physical activity into your day. Shortly after moving back to northern Michigan, I became aware of Norte! – a Traverse City-based nonprofit aimed at building a more bike-friendly community and inspiring young people through bicycling. Co-founders, Ty and Johanna Schmidt lead this youth-focused initiative. The two can be spotted wearing their bright orange Norte! gear around town. Ty Schmidt recently returned from presenting at the national Safe Routes to School conference in early April. I caught up with him to learn a bit more about Norte! and how this pedal-powered non-profit is getting more kids moving.
Sarah: Safe Routes to School is considered an international movement that makes it safe, convenient and fun for children to bike or walk to school. Can you briefly describe Norte's! "bike train" program and the inspiration to initiate this effort in Traverse City?
Ty: As part of The Great Traverse City Bike Train Experiment, a Safe Routes to School funded program, Norte! is building a Traverse City-wide network of Bike Trains to connect more Traverse City neighborhoods to area schools to allow for students to bike to school in a fun and safe environment.
Students biking to and from school together can build social connections, reduce traffic congestion/air-polluting emissions and promote a better-connected community. Research shows that biking to school with friends can increase a student's academic performance while making them happier and healthier.
My wife Johanna and I believe that bicycles are much more than tangible things or toys. We see bikes as powerful tools in promoting independence, freedom, confidence and stronger, better-connected communities. Whether it's commuting to work year round or riding to the library with our two boys, Carter and Jameson, bikes are a huge part of our family's life.
I grew up in Dauphin, Manitoba while Johanna is a Leelanau County native. After graduating from the University of North Dakota and the University of Southern California, respectively, we met in Tucson. Johanna and I spent several years in southern Arizona where they both fell in love with the Hispanic culture, the Mexican food and Sonoran desert.
We decided to move North (Norte in Spanish) to Traverse City in 2006 to be closer to Johanna's family. Upon arriving, we began to notice things: fewer bikes and longer car lines at school; like-minded parents who wanted to bike to school, but simply didn't have the time; unsafe riding by kids as they pedaled on sidewalks or didn't know how to signal or navigate a 4-way stop. As Johanna and I share a full-time physical therapist position at Munson Medical Center, we had the time and decided to try and address the issues we observed.
According to Norte!, over fifteen schools support a "bike train." How and where did you first launch the "bike train" and how did you bring more schools on board?
We began inviting neighborhood families to drop their kids off at our house so we could bike with them to Eastern Elementary where our boys attend school. I would lead the "bike train" in the morning and Johanna would pedal home with the group in the afternoon. At first, we had 2-3 kids join, increasing to 6-8 kids, and then it took off. Much more than just escorting, the bike train is very social and a lot of fun.
Johanna and I are committed to making every bike train trip a teaching moment. We take the time to teach the students about riding safely, courteously and predictably while they pedal to school. After seeing the success of our first bike train, we wondered if this could help it happen at all of Traverse City's neighborhood schools. Johanna and I reached out to some friends and talked them into forming their own trains and that's how Norte!, Traverse City's bike-centric, youth-focused advocacy organization, was born. Today, The Great Traverse City Bike Train Experiment boasts 18 bike trains which connect 9 different local schools to 12 different Traverse City neighborhoods.
How do you measure the success of Norte's Safe Routes to School initiatives?
We use a short online survey called BikeWalkRoll. The survey simply asks how students get to school. We also gather data from the surveys, such as the total number of student bike train riders, the number of neighborhoods served by bike trains, and the total number of miles pedaled by students to measure participation and success.
You recently presented at the Safe Routes to School national conference in Columbus, Ohio. What message did you share with conference attendees and what ideas, tools, or strategies did you take home?
At the national conference, I shared our success with the Traverse City Area Public Schools active transportation. Norte! was the only Michigan organization invited to present. It was a wonderful experience and very rewarding. I'm now more motivated than ever to make walking, biking, or rolling to school the new normal in Traverse City. However, I want to be more than just a cheerleader to the students. I need to do a better job of addressing barriers to kids getting themselves to school. I want to help fix gaps in sidewalks near schools and see more crossing guards. I would also like better enforcement of traffic speed limits near schools too. Every school is different and Norte! needs to do a better job of individualizing active transportation programs.
How can the community further support Norte!?
Norte! needs more advocates, more champions. We need elected officials, planners, healthcare professionals, business leaders, moms, dads, grandmas, and grandpas to be active transportation advocates. Kids getting themselves to school in a safe way should be a community priority. It will take a village to make this change. Norte! always needs more quality "big people" to help with our many programs.
I also encourage everyone in Traverse City to go by foot or bike more often. The more people on bicycles and on foot doing ordinary tasks like going to work, to the library, or to the store, will influence others to do the same, thus making active transportation more popular. Not only will it make for a stronger, healthier and better connected Traverse City but it makes us all – including the kids going to school - safer too. Drivers will expect to see us. They will slow down and give us adequate riding space and we will wave in acknowledgement.
There are many benefits to implementing active transportation within the lives of community members and Traverse City is ready to be a role model for other Northern Michigan cities in promoting healthy living.