A walkability paradox: Cars may improve the pedestrian experience
It may seem counterintuitive, but cars are needed to make most walkable urban retail environments successful. The key is how communities manage those cars to enhance the pedestrian experience and support business activity.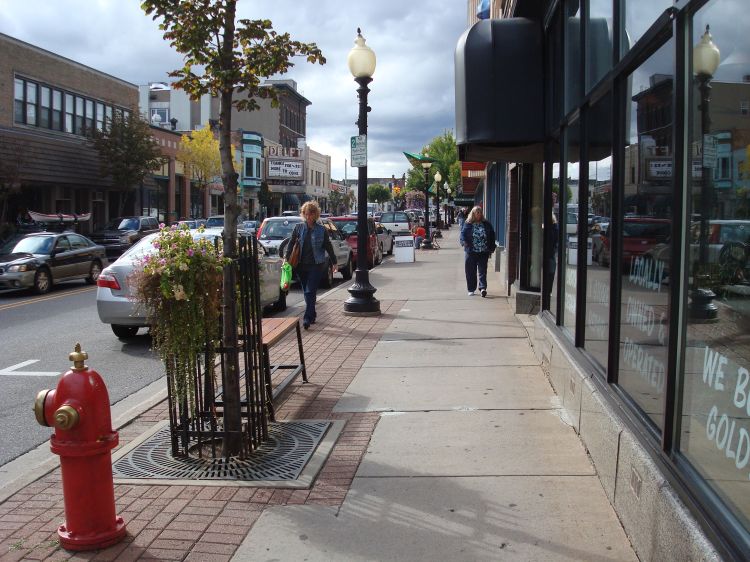 The first outdoor pedestrian mall in the U.S., created in 1959 along Burdick Street in Kalamazoo, Michigan, was eventually opened back up to cars. Why? The street needed cars to rejuvenate the pedestrian experience. Without convenient parking, business at stores along the mall suffered and storefront windows began to lose their interest and appeal, among other reasons. Today, the retail end of the Kalamazoo Mall is open to a single lane of slow-moving traffic. It has parallel parking on both sides of the street, many pedestrian amenities and a bustling business environment.
As it turns out, cars are needed in downtown retail environments. Actually, it is not so much the cars passing through downtown that are needed, but the cars that are coming to and going from on-street parking. On-street parking provides many important benefits for pedestrians. First, the safety barrier provided by a row of parked cars protects the pedestrian from moving vehicles passing by in the street. Second, combined with streetscape elements such as street trees, light posts and benches, a row of parked cars helps provide the enclosure to the pedestrian space that is so welcoming when it is flanked by a building façade of large glass storefronts with interesting things to look at on the other side. Third, and most important, on-street parking provides the convenience that many shoppers still desire for making a stop downtown. The additional business generated by automobile trips contributes to the economic success of the shops and restaurants along the street, helping keep those businesses alive and well for other shoppers who might arrive by non-motorized means.
It is important to note that not all on-street parking is created equal. In most downtown retail environments, parking that is without time limits will have a detrimental effect on walkability because there will not be enough turnover of vehicles to support local businesses. Struggling businesses along a city block provide little reason for pedestrians to visit. International parking expert Donald Shoup recommends that cities charge fair market prices for on-street parking with meters or other similar pay stations. Robert Gibbs, author of Principles of Urban Retail Planning and Development, estimates that on average, a parking meter generates retail sales of $50,000 per year. Not only do parking meters provide turnover and generate business activity, they also provide revenue for municipalities and downtown development authorities to maintain parking and other pedestrian amenities in the district.
Also, while cars are important to downtown retail environments, they should not dominate the landscape completely. Traffic calming measures such as narrow travel lanes, curb extensions and well-marked pedestrian crossings should be in place to keep cars moving slowly and compatible with other legal users of the roadways, including transit vehicles, bicyclists and other non-motorized users. This is the concept of complete streets in a downtown urban environment and it is not to be overlooked.
The other caveat is that there are certain streets in some communities where a complete closure to automobile traffic can be warranted and highly successful. Burlington's Church Street, Santa Monica's Third Street Promenade and Charlottesville's Historic Downtown Mall are a few of the notable examples. The commonalities between these successful pedestrian-only outdoor malls is that they are relatively small in size compared to the surrounding urban environment, they have substantial pedestrian amenities including outdoor seating, public art and activities other than shopping and dining, and they are well-served by cross streets with ample parking in the vicinity. So, this article is not to suggest that pedestrian-only areas cannot be successful, but to suggest that cars and pedestrians can coexist when urban environments are designed and managed properly.
For more information on parking, complete streets and placemaking, contact a Michigan State University Extension land use educator.