Adopting a wild horse or burro
Wild mustangs should be adopted by experienced equestrians with access to supportive health care and training professionals.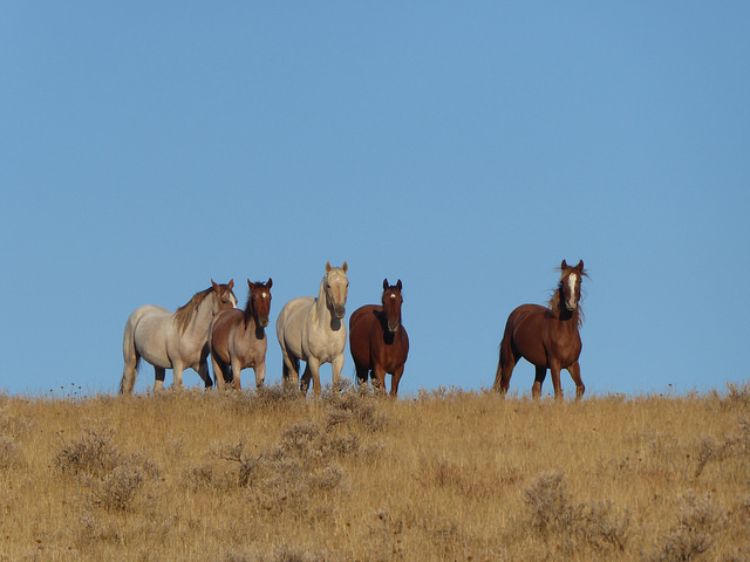 Wild horses have secured a place in America's Western Heritage. The Bureau of Land Management's new incentives to adopt a wild horse or burro have attracted a great deal of attention from horse enthusiasts throughout the country. A thorough appreciation for the unique aspects of wild horse ownership is important to ensure that both the animal's welfare and the prospective owner's safety are protected. Michigan State University Extension equine specialist, Dr. Christine Skelly advises, "People considering wild horse adoption need to have a solid understanding of equine behavior, expertise in horse management, appropriate facilities, and access to capable industry professionals who are willing to work with wild horses."
Equestrian Experience
Wild horses in the Western parts of the United States, also referred to as mustangs, and wild burros should be adopted by experienced equestrians that have owned and managed a variety of horses at different stages of training. Taking a horse from the wild and introducing them to captivity requires strong observational skills, timely responses, and problem-solving capabilities. Riding a newly trained mustang will also require advanced horsemanship skills mixed with lots of patience and an openness to learn new techniques.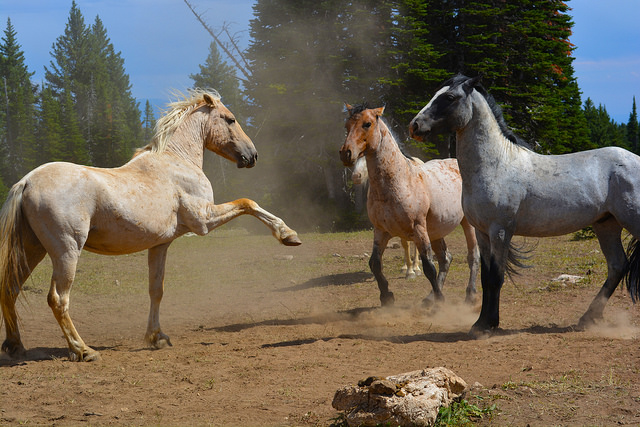 Facilities
If you have the skills and horse background to adopt a wild horse, evaluate your horse facility's suitability for wild equine. The Bureau of Land Management has minimum requirements for homing a mustang or burro which includes providing a corral that offers at least 400 square foot of space per animal. In essence, you can't bring a wild horse home and confine it to a 12 X 12 foot horse stall! In addition, piped, wood planked, or meshed wire fencing needs to stand 6-foot-high for untrained adult horses. Electric, barbed wire, or high tensile fencing is not permitted as it poses a hazard to wild equine unaccustomed to confinement. While shelter requirements are dependent on the unique climates of individual states, all equine should be provided protection from severe wind and precipitation as well as the ability to access shade. If you are planning on maintaining your wild horse on pasture, you'll need at least 2 acres per horse to support their nutritional needs during the grazing season without over stressing your land resource. In addition, there are special requirements for hauling a wild horse from the adoption site, with stock trailers being preferred over horse trailers with dividers and feed bins.
Health Professionals
It can be challenging to find local equine professionals who are willing to work with untrained wild equine. Locating and establishing a good working relationship with an equine veterinarian and farrier before adopting a mustang or burro is essential for their welfare. While your wild horse may have received initial vaccinations prior to adoption, they will require a booster series 4-weeks upon arrival to your farm. If your only intention is to let your mustangs roam free on pasture, they will still require annual vaccinations, parasite control, dental exams, and routine hoof trimming. If you adopt an adult mare, understand that she may be pregnant. It's nearly impossible to perform a pregnancy check on a wild equid and some new owners may end up with a two-for-one package. You should be prepared for the additional expenditures and time required to raise a newborn foal.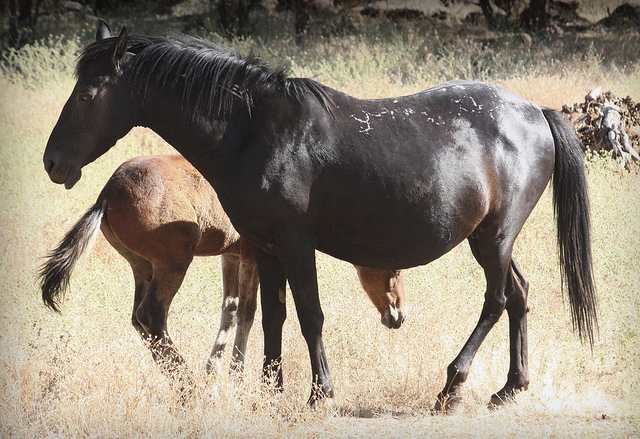 Training
Wild horses (especially adults) may respond differently to traditional horse training methods when compared to domesticated horses. For this reason, many professional trainers are reluctant to work with untrained mustangs. Finding a reputable trainer who specializes in wild horses can help you meet your equestrian goals and keep you and your horse safe along the way. Choose a trainer with an open-door policy during all training phases so that you can learn more about the nuances of working with your mustang.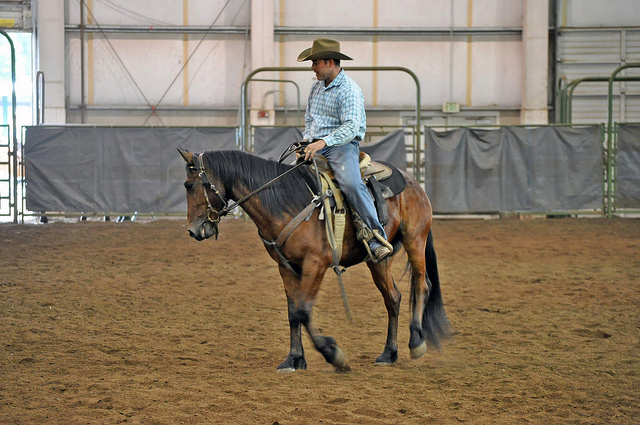 Before You Own
As previously mentioned, adopting a wild horse or burro should only be considered by experienced equestrians who have secured professional resources. First time horse owners should purchase a horse whose temperament and training aligns more closely with their skill set and experience level. Remember that annual horse costs are usually greater than the initial purchase price. The University of Maine estimates the annual cost of owning a horse averages $3,800 which includes feed, health care, boarding or facility maintenance, and some training costs. You should only pursue bringing a new equid into your life after careful consideration of 1) your equestrian skills and aspirations, 2) your facilities and equine professional networks, and 3) your time and money resources. There are many great educational opportunities to help you decide if horse ownership is for you, including the FREE online course Purchasing and owning a Horse 101 from My Horse University and a variety of FREE courses available through Extension Horses.