Adulting 101-Life skills series for teens and young adults
Each quarter Michigan State University Extension prepares students for adulthood with this FREE interactive series.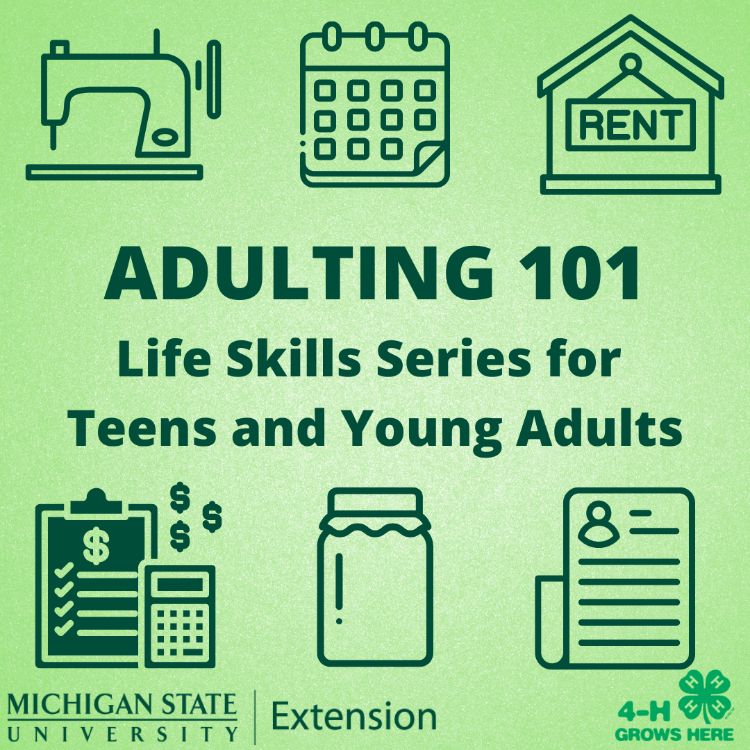 Are you ready to leave for college or be out on your own? Are you prepared to do the adult tasks of managing your finances, home, health, or finding a career? Michigan State University (MSU) Extension's Adulting 101 programs help teenagers and young adults demystify the obscure reality of being an "adult" through engaging educational sessions often not taught in the classroom. Four different sessions packed full of important life skills and tools necessary to live independently are offered each quarter (January, April, July, October) for FREE.
Since 2020, thousands of participants have attended the Adulting 101 program series. With over 20 different topics covered, there is bound to be a session of interest to those near or just entering adulthood. Ninety one percent of participants (N=140) who completed a recent survey, either strongly agreed or agreed with the statement, "Adulting 101 resources provided by MSU Extension are helpful." When asked, "how you will apply the information you learned in the future," some participants commented:
The information is useful for teens and young adults in everyday settings. Left my teen asking questions, googling for more information, and feeling esteemed!
I was clueless before, all of it will apply as I move forward to college and beyond.
I will apply the information I learned by preparing to rent my own apartment with the new tools and tips I learned. I will also sit down and self-reflect on ways to be more organized and efficient.
I already see food storage and handling very differently!
I will use the spending plan for the rest of my life.
I will definitely practice better spending habits. I now have a defined method for tracking spending and savings.
I will be more confident with sewing, cooking, and doing the laundry.
In addition to the Adulting 101 webinar series, MSU Extension offers many articles, resources, programs and videos to help youth develop a variety of life skills to better prepare them for the future. Stay informed of upcoming events, news, and more by signing up for a digest, following us on Facebook, Instagram, Twitter or checking out our website.