Advancing Great Lakes dangerous currents forecasting through field research and satellite analysis
New technology is being used to help forecast dangerous currents in Lake Michigan to help protect beach-goers and to save lives.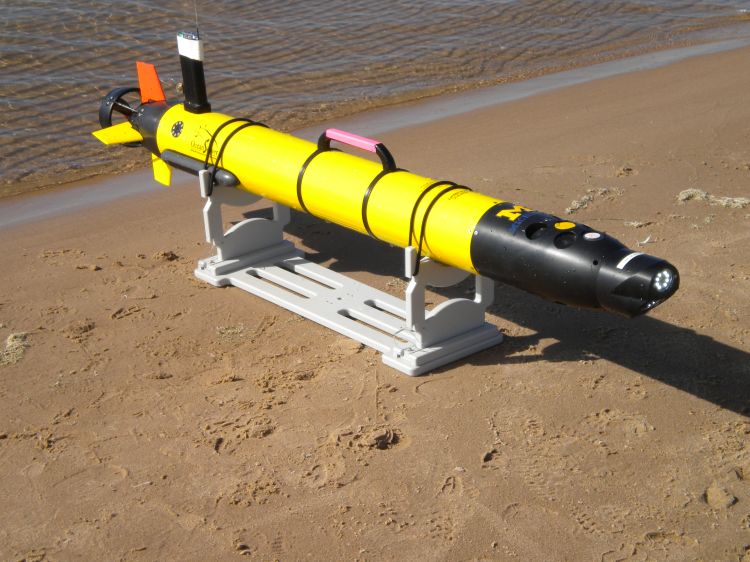 In the fall of 2012 and 2013, and the spring of 2013 and 2014, a team of researchers from Michigan Technological University, University of Michigan, Michigan Sea Grant, and the National Weather Service— led by Guy Meadows from Michigan Technological University—conducted a research project in Mackinac County along the northern Lake Michigan shoreline, and at Grand Haven and Holland State Parks in southern Lake Michigan. The project studied conditions after a strong rip current event to help prepare for a radar study of rip currents. The goal of the project was to develop a framework for the prediction and early warning of Great Lakes rip currents for the beach-going public. Funding for this project came from the Michigan Coastal Zone Management Program, Michigan Department of Environmental Quality, through a grant from the National Oceanic and Atmospheric Administration, U.S. Department of Commerce.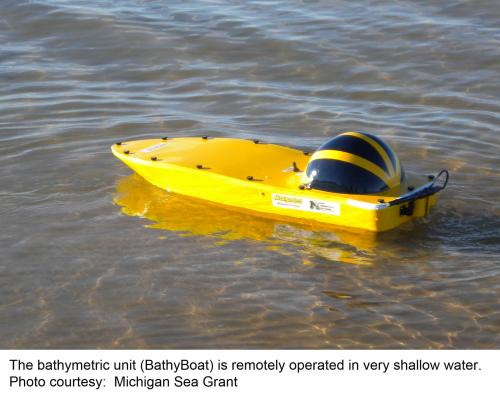 Newly developed technology used in this research project included a shipboard survey system; remotely operated, very shallow water, bathymetric unit (BathyBoat); and an Autonomous Underwater Vehicle (AUV) for nearshore mapping. The shipboard survey system was utilized for mapping the deep-water portion of the nearshore survey, while the BathyBoat was used to survey the very nearshore region where a conventional boat cannot navigate. The AUV was used to survey the region between the nearshore sand bars that run parallel to the shore. Combining all three sources of data produced a nearshore map of the area. Approximate rip current locations were determined using narrow band radar measurements. In addition, GPS (Global Positioning System) Trackers containing a GPS unit and satellite tracker were used to map the path of an object carried in nearshore currents. Several rip-channels were documented in this mapping, as well as longshore troughs that feed the rip channels between the sand bars. This combined system of longshore and rip channels can combine with wind and wave-driven flows to form dangerous nearshore currents. In many areas, it was determined that the rip channels present at the time of the preliminary field test are relatively permanent features of this nearshore region.
Satellite and aerial imagery were also used to detect rip current features. A compilation of existing sources of nearshore Lake Michigan imagery representing the 15-year period from1998 to 2012 was used. Threat level classifications of dangerous nearshore currents were determined for the beaches. For instance, Holland and Grand Haven State Parks have a threat level classification of moderate to high, while the northern Lake Michigan shoreline in Mackinac County has a threat level classification as high.
Michigan State University Extension reminds everyone that June 1 – June 7, 2014 is National Beach Safety Week and Rip Current Awareness Week. For additional information on dangerous currents in the Great Lakes, visit Michigan Sea Grant's Dangerous Currents website.