Ag engineering alum receives 2023 CANR Alumni Service Award
Keith Tinsey will receive the 2023 CANR Alumni Service Award during ANR Week.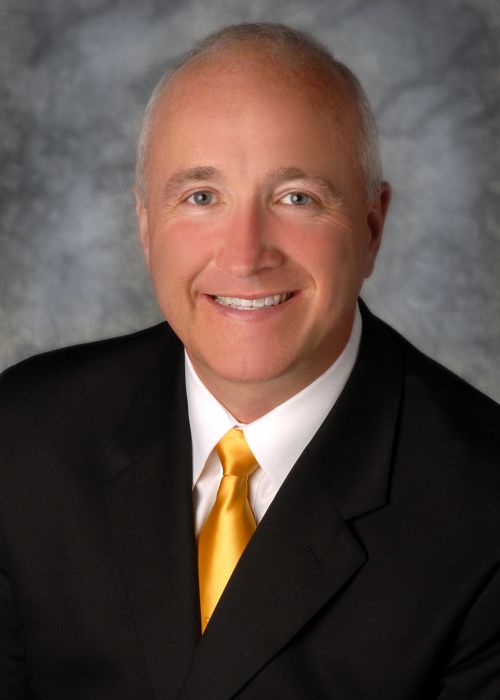 Keith Tinsey, of Grand Ledge, Michigan, will receive the Michigan State University (MSU) College of Agriculture and Natural Resources (CANR) Alumni Service Award at the March 10 ANR Awards Program.
The Alumni Service Award honors CANR alumni who have demonstrated continuing outstanding volunteer service to MSU, the CANR or meritorious public service on a local, state, national or international level. Candidates must possess the highest standards of integrity and character to positively reflect and enhance the prestige of the CANR.
Tinsey grew up on his family's dairy farm in Huron County and was a member of both 4-H and FFA as a youth. He then earned a bachelor's degree from MSU in agricultural engineering and a master's degree in biosystems engineering from North Carolina State University.
Today, Tinsey serves as director of operations for Black Gold Farms and is responsible for approximately half of Black Gold's potato production — including storage, shipment, and sustainability for chip potato and French fry potato production on 7,500 irrigated acres in Michigan, Indiana, and North Dakota. Current projects are new 14,000-ton storage environments, mechanized handling, seed depth/spacing monitoring, yield monitoring, drone-based phenotyping and spraying, integrated weather and irrigation systems, and robotic grading systems.
Previously, Tinsey was instrumental in developing one of the industry's premier potato production organizations, Walther Farms. He strategized, designed, and implemented systems to reinvent harvest and post-harvest storage and quality control processes. Tinsey was responsible for each phase in building and managing the supply chain, including creating logistical systems, growing the customer base, and leading customer support efforts. Under Tinsey's leadership, Walther Farms led the industry in developing state-of-the-art chip potato storage and management practices resulting in significantly increased demand for Michigan and Nebraska storage potatoes over Florida and Texas field potatoes. The increase created a major and sustained industry shift in sourcing. Tinsey's team enhanced storage capabilities to extend the availability of high-quality Michigan russet potatoes to the East Coast fresh market. It enabled year-round sourcing from Michigan versus conventional sourcing from the distant Central Plains and Pacific Northwest. The design or re-design and construction of over 90 storage facilities as the general contractor and technology engineer applied Tinsey's substantial engineering knowledge and skills. Total storage capacity increased by over 200%, while the capability to successfully store potatoes long-term increased by over 90%. Tinsey was a Walther Farms' Leadership Team member responsible for recruiting, training, and mentoring employees system-wide for talent development.
Outside of his farm role, Tinsey is instrumental in the success of the of the American Society of Biological and Agricultural Engineers (ASBAE) currently serving as president. The society is an educational and scientific organization dedicated to advancing engineering applicable to agricultural, food, and biological systems. Tinsey is responsible for presiding over the Board of Trustees and working with the ASBAE Foundation that directs the society, including programmatic activities such as meetings, publications, membership, standards, and finances. Tinsey is also the ranking dignitary and regularly meets with agricultural industry leaders and has spoken and presented awards at numerous conferences and student rallies across the United States. He led opening remarks for an international group at the recent ISO standards development meeting for crop protectant spraying standards at MSU's Southwest Research and Extension Center. Tinsey also represented ASBAE at the Agricultural Equipment Manufacturers Conference, the EurAgEng Land Technik 2022 conference in Berlin, Germany, and Commodity Classic, where ASABE announces the winners of the prestigious Davison Prize that celebrates extraordinary innovation and impact in agricultural, food, and biological systems.
Tinsey has been honored for his service with the ASBAE AE-50 award for the Michigan Agricultural Mapping Tool with Michigan-AgriBusiness Association and received the Techie of the Year Award from Techmark, Inc. in 1998. He was also named Supplier of the Year for Frito Lay, in both 2008 and 2012. Tinsey is also a licensed professional engineer in Michigan.
His professional service also includes:
Michigan Section Vice Chair for membership (2009-2011)
M-161 PEI Professional Engineer of the Year award selection committee chair (2003-2006)
Professional Engineering Institute (PEI) Chair (2006-2008)
Membership Development Council representative for PEI (2008-2010)
Meetings Council representative for ASABE Professional Engineering Institute (2004-2006)
A representative from ASABE to the National Electric Code (NEC) committee (2002-2005)
Member and secretary of IET433 Committee of ASABE for oversight of ASABE EP473 standard on
stray voltage and irrigation language in the National Electric Code (2001-2014)
ES-400 Electrical Code for Agriculture committee (2002-2019)
Member of IET 435 Electrical Code for Agriculture Committee
Vice Chair of ASAE IET-03 Standards Committee (2002-03; member 2001-2011)
Member of ASAE Standards Council representing the Information & Electrical Technology
Division (2001-02)
ES-300 Electrical Utilization and Energy Application 2001-2017
Engineering Week Committee 2019-20; coordination with FFA and judge for BEInspired videos
Alpha Epsilon (Agricultural Engineering Honor Society); initiation 1988
Oneida Township Board of Review member; 2005-Present
Oneida Township Board of Construction Codes member; 2005-Present
Potatoes USA (US Potato Board), 2016-17
Potato Industry Leadership Institute, 2008
Coach, St. Michael's Grand Ledge Men's Softball Team, 2001-2003
MSU Biosystems Engineering Advisory Board, 1998-1999