Forestry Undergraduate Student Spotlight – Andy Deleruyelle
Andy Deleruyelle shares his experience in forestry and environmental engineering.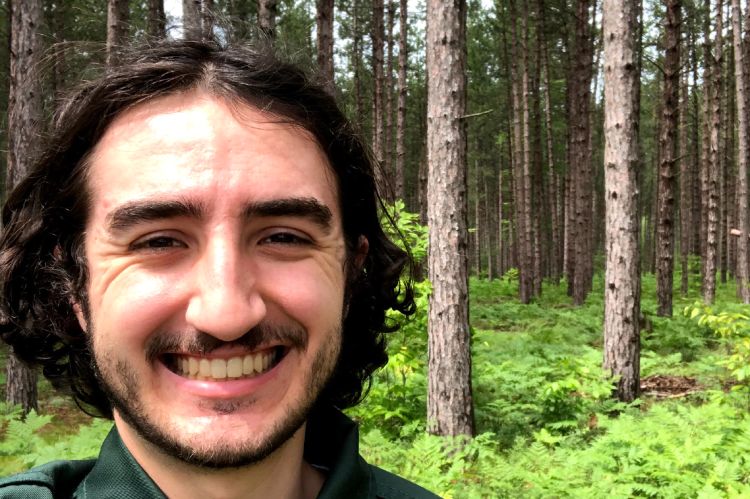 Hometown: Ann Arbor, Michigan
Major: Forestry in the Department of Forestry.
Expected Graduation: 2023
What are your favorite hobbies?
Writing, playing guitar, longboarding.
What are some interesting forestry experiences?
This summer [2021], I am working at Hiawatha National Forest and Grand Island National Recreation Area as a forestry intern in the Silviculture Department. Any time working on Grand Island is a blast—it's so rewarding to look onto Lake Superior throughout the day and seeing all the history.
Why did you choose Forestry?
For being a bachelor's of science based in biology, there were many relevant courses that included fields of study like public policy, GIS/data science and economics, which was a great fit for me.
The College of Agriculture and Natural Resources is also a tight-knit community that encourages the best in its students and faculty. Working jobs in any discipline of forestry can take you to some amazing places around the world.
What are your career goals?
I'd like to use my forestry and environmental engineering degrees to do work in soil remediation or hydrology, and possibly do work of that variety in Latin America.
Any advice for new forestry students?
If the weather is nice, study outside or in any forested area if you're studying for forestry, but especially if it's for a boring class. Just spend as much time outside as you can really.
Stay open-minded to the many career paths a forestry degree offers you because there are a lot, and you shouldn't rule any of them out without trying them.
When you learn dendrology, being able to identify trees at any time of the year is a great skill.