Arming Kenyan wheat farmers with disease-resistant varieties
Stem rust and fusarium head blight are two diseases known to plague cereal crops, including wheat in Kenya.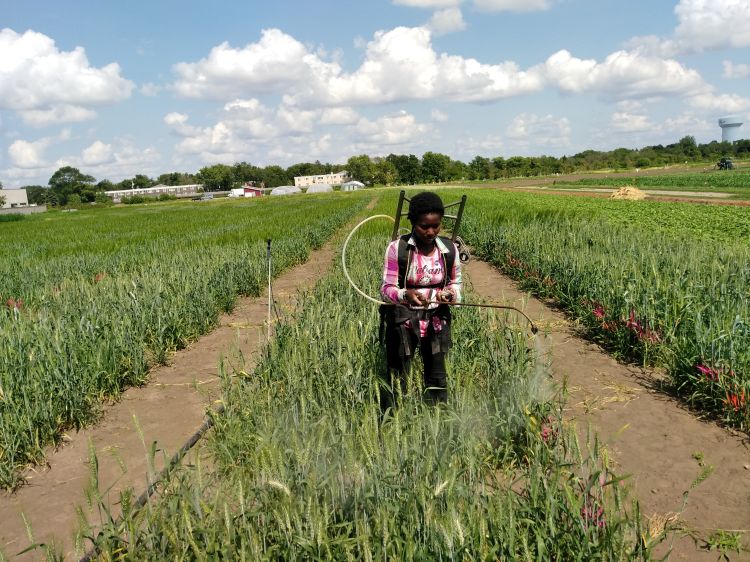 Stem rust and fusarium head blight are two diseases known to plague cereal crops, including wheat in Kenya. To combat them, Zennah Kosgey wants Kenyan wheat farmers to have access to disease-resistant varieties.
Originally from Eldoret, Kenya, Kosgey started her studies with the Borlaug Higher Education for Agricultural Research and Development (BHEARD) program in August 2015. Via BHEARD, she's seeking a Ph.D. in plant pathology at the University of Minnesota. Her research includes identifying and characterizing disease pathogens and the varieties that might be resistant to them. In order to come up with feasible disease management strategies, plant pathologists must be able to identify which pathogens cause which diseases. They also must understand the mechanisms pathogens use to overcome crop resistance, she said.
The goal of BHEARD, supported by the U.S. Agency for International Development, is to develop agricultural scientists and increase agricultural research capacity in its partner countries. The program is named after Dr. Norman Borlaug, an American biologist, humanitarian and Nobel laureate who has been called "the father of the Green Revolution."
Kosgey plans to return to Kenya in August 2018 to continue her research, and plans to earn her Ph.D. by August 2019. She will use her greater knowledge of plant pathology to achieve several goals: develop screening methods for fusarium head blight (both in the greenhouse and the field); identify fusarium species using morphological and molecular techniques; alleviate stem rust by identifying more effective resistance genes and developing markers to speed up the breeding process; and focus on race pathotyping of stem rust isolates.
At home, Kosgey is a research assistant at the Kenya Agricultural and Livestock Research Organization (KALRO). Her ultimate goal – with help from KALRO research scientists and agricultural universities – is to use the knowledge and experience she's gained via BHEARD to alleviate poverty in her home country.
– Matt Milkovich