Ataenius and cutworms feeding on golf courses
In the last week, both Ataenius grubs and cutworms have been observed feeding in Poa annua and creeping bentgrass putting greens.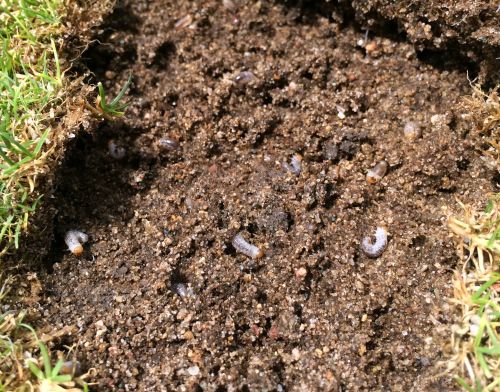 Ataenius grubs (Ataenius Spretulus) have been found causing significant injury on Poa annua greens that have recently recovered from winterkill. Due to the rather short root system of recovering Poa, it appears in some areas the Ataenius grubs are causing injury at lower than normal thresholds. The typical threshold for recommending a curative insecticide application is 40 grubs per square feet.
For curative insecticide applications use carbaryl or triclorfon. These insecticides need to be applied at the full application rate and watered in with 0.5 inches of water following application.
Cutworms (Agrotis Ipsilon) are also active on putting greens. Damage looks similar to an unrepaired ball mark. Cutworms will often chew the stems of grass plants around the entrance to their tunnel, leaving a yellow ball-mark patch. A "disclosing solution" consisting of 1 ounce liquid detergent in 3 gallons of water can be poured over suspected infestations to force the cutworms to the surface. In approximately three to five minutes, the larvae will come to the surface and will be very evident. Synthetic pyrethroid insecticides such as deltamethrin, cyfluthrin, bifenthrin, permethrin and lambda-cyhalothrin will work very well to reduce damage from cutworms. Safe alternative products include Bt (Bacillus thuringiensis) and insect parasitic nematodes.
Michigan State University Extension states that any insecticide applied to tees, greens or fairways may need to be reapplied every two weeks during periods of maximum cutworm moth activity because most of the insecticide residue is removed daily or every other day with the clippings.
Drs. Smitley and Frank's work is funded in part by MSU's AgBioResearch.