Bay Mills Community College offers Fundamentals of Sustainable Agriculture course
Registration is now open for Fall 2016 BMCC course, exploring production methods and philosophies involved in sustainable agriculture and food systems.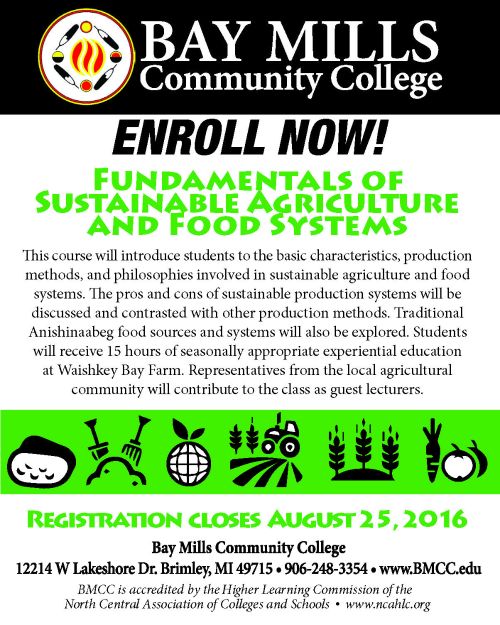 The Fundamentals of Sustainable Agriculture course will begin August 30 and is held on Tuesdays and Thursdays from 1:30 - 2:50 p.m. at Gitigaan Hall at the Bay Mills Community College (BMCC) in Brimley. The deadline to register is August 25, and additional registration information is available from BMCC admissions.
Students will explore potential careers in agriculture, as well as learn about where food comes from. Open to all, including individuals with no previous agricultural experience, the Fundamentals of Sustainable Agriculture and Food Systems course will cover the basic characteristics, production methods and philosophies involved in sustainable agriculture and food systems. Traditional Anishinaabeg (aboriginal peoples in Canada) food sources and systems will also be explored.
Students will receive 15 hours of seasonally appropriate experiential education at Waishkey Bay Farm, an educational farm operated by BMCC. Last winter when the course was first offered, hands-on activities included harvesting honey, starting transplants, testing soil in the classroom, canning strawberry rhubarb jam and incubating eggs. One of the students even took home some of the chicks the class hatched and is now raising her own eggs.
Previous guest speakers from the local agricultural community included local farmers, Waishkey Bay Farm staff, MSU Extension, Natural Resource Conservation Service (NRCS), Michigan Department of Agriculture and Rural Development (MDARD) and the Chippewa Luce Mackinac Conservation District MAEAP technician. The class took field trips to two local farms to see winter hoop house production and learn about integrating animals into the farm system to improve soil fertility.
"Agriculture education is my first love," said instructor Michelle Sweeten. "I want students to be able to make informed choices about what they grow and buy."
Sweeten holds a master's degree from Purdue University in Agricultural Education with a minor in Entomology. She teaches the class in addition to working on her family's farm. Having moved to the eastern Upper Peninsula in 2015, Sweeten expressed how much she has enjoyed learning about indigenous food systems from students and the broader community. This semester she hopes to expand the focus on Anishinaabeg foodways to include a visit to a local fish hatchery.
For more information, check out the BMCC Fundamentals of Sustainable Agriculture flier.