BHEARD scholar sheds light on papaya viruses in Bangladesh
Papaya is a crucial horticultural crop in Bangladesh, grown by both large commercial farmers and small subsistence farmers.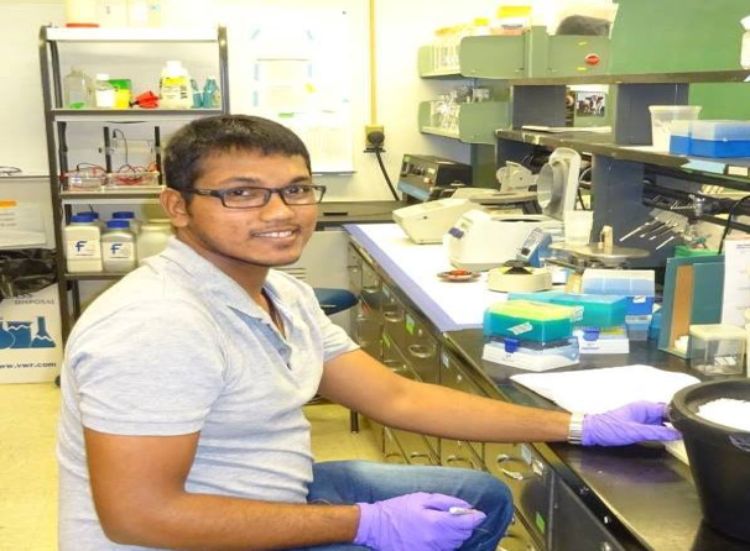 Papaya is a crucial horticultural crop in Bangladesh, grown by both large commercial farmers and small subsistence farmers. Rich in vitamins, nutrients and minerals, papaya is eaten fresh or cooked by consumers and used as an ingredient by the country's processed food, aromatic and pharmaceutical industries.
The major antagonists of Bangladeshi papaya production – capable of eliminating whole crops and threatening food security – are papaya viruses. These viral diseases haven't been reported or characterized on a large scale in Bangladesh. Because of this, control measures are practically nonexistent.
Islam Hamim, a scholar with the Borlaug Higher Education for Agricultural Research and Development (BHEARD) program, is studying ways to detect, characterize and manage papaya viruses in his home country. The goal of BHEARD, supported by the U.S. Agency for International Development (USAID), is to develop aspiring agricultural scientists like Hamim, as well as increase agricultural research capacity in partner countries. The program is named after Dr. Norman Borlaug, an American biologist, humanitarian and Nobel laureate who has been called "the father of the Green Revolution."
If Hamim's papaya research is successful, it will help preserve an important, nutritious crop in Bangladesh. It also will contribute to a USAID goal: encouraging people to consume a wider array of nutrient-rich foods in a country heavily reliant on rice.
Through BHEARD, Hamim is working toward a Ph.D. in tropical plant pathology at the University of Hawaii at Manoa (UH Manoa), under the supervision of plant virologist John Hu. His Ph.D. projects focus on molecular analysis of the papaya virome to facilitate an effective management model for viral diseases. He will return to Bangladesh in August 2018, and expects to earn his doctorate in August 2019.
Hamim has already done preliminary studies on papaya viruses, in collaboration with several scientists and professors in the United States and Bangladesh. Surveying Bangladeshi fields in December 2016, he found that a majority of papaya plants in different parts of the country were severely affected by viral diseases.
After collecting virus-infected papaya samples from several Bangladeshi growing regions, Hamim brought the samples to Hawaii (with U.S. government permission) for preliminary molecular study. He also developed novel systems for the collection, preservation, shipment and archiving of these samples.
Though his research is in its early stages, Hamim thinks transgenic virus resistance – a molecular approach he's observed in Hawaii – has great potential. His long-term objective is to use molecular techniques to develop a virus-resistant papaya variety.
After completing his Ph.D. program, Hamim plans to join Bangladesh Agricultural University (BAU) as an assistant professor of plant pathology, where his duties will include teaching, research and extension. He will teach plant virology and molecular plant pathology to undergraduate and graduate students, and will do basic and applied research in the detection, characterization and management of plant viruses, with an emphasis on food security.
Hamim will collaborate with BAU's plant disease clinic and seed pathology center to teach farmers the latest disease management technologies. He also plans to provide a diagnosis facility for plant disease problems, in collaboration with BAU and the plant virology lab at UH Manoa.
– Matt Milkovich