BHEARD scholars attend biotechnology workshop for women
The workshop brought African women involved in research and policymaking together to discuss innovations in agriculture and biotechnology in Ghana and sub-Saharan Africa.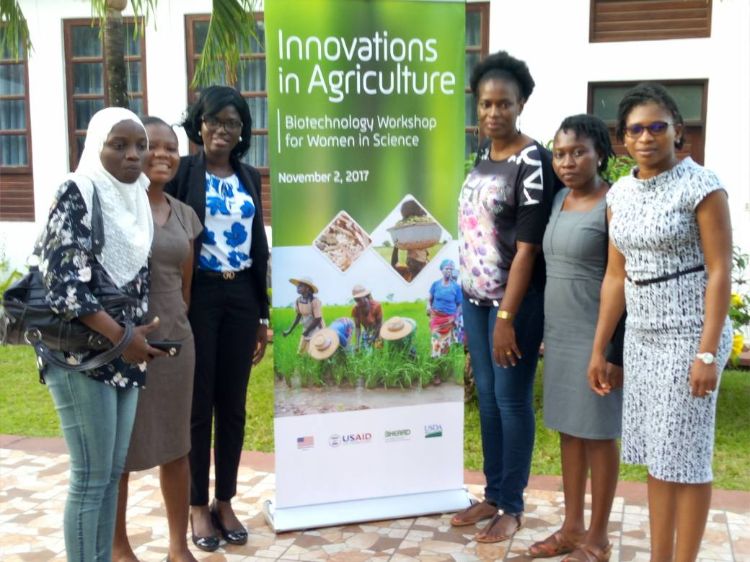 Six BHEARD (Borlaug Higher Education for Agricultural Research and Development) scholars recently attended the Innovations in Agriculture Biotechnology Workshop for Women in Science, sponsored by the U.S. Embassy in Ghana.
The workshop, held Nov. 7 at the University of Ghana's Centre for African Wetlands, brought together African women involved in research and policymaking to discuss innovations in agriculture and biotechnology in Ghana and sub-Saharan Africa. The BHEARD scholars attending were Mary Adjepong, Aminata Sissoko, Sanata Traore, Linda Coffie, Priscilla Obeng-Boateng and Clara Darko.
Workshop speakers included Eric Okoree, CEO of the Ghana National Biosafety Authority; Rose Gidado, assistant director of the National Biotechnology Development Agency in Nigeria; and Dr. Marian Quain from the Center for Scientific and Industrial Research.
Two of the BHEARD students shared what they learned at the workshop.
Priscilla Obeng-Boateng is studying seed science and technology at Kwame Nkrumah University of Science and Technology in Ghana.
This forum offered me the opportunity to receive firsthand information from scientists working actively in the field of biotechnology.
Africa's agriculture is faced with many challenges. The need to adopt new and better technological tools to improve its agriculture cannot be overemphasized. Biotechnology offers proven options to curb the challenges to food security.
Speaker after speaker explained the benefits of biotechnology and the need to use appropriate communication channels to clear up misconceptions.
The experienced women scientists, including Dr. Marian Quain and Dr. Rose Gidado, were inspirational. I found in them worthy role models to urge me on in my career path.
Aminata Sissoko is studying food science at the University of Ghana's Department of Nutrition and Food Science.
It was exciting news to be selected by BHEARD to be part of the conference. It was also an opportunity to meet eminent researchers, some of whom came from Nigeria and Ghana.
Rose Gidado gave the basics on biotechnology in Africa, with a focus on Nigeria. She highlighted the differences between traditional biotechnology (fermentation, selective breeding) and modern biotechnology (tissue culture, molecular genetics and genetic engineering).
I was impressed by the different applications of biotechnology in the health, environment and agriculture industries. I got the opportunity to learn that, for most developing countries, food insecurity due to poor agricultural and food production systems has led to economic and political instability, severe malnourishment, hunger and loss of lives.
The application of Recombinant DNA technology can create plants that are more drought resistant, more salt tolerant and more resistant to pests. Plant characteristics can be genetically altered for early maturity, increased transportability, reduced postharvest losses and improved nutritional quality.
Marian Quain shared Ghana's experience with biotech crops, which include cotton, cowpea and rice. I got to understand that genetic engineering is an example of biotechnology, creating genetically modified organisms (GMOs) involving the insertion or deletion of genes. It's also used by scientists to enhance or modify the characteristics of an individual organism. With the evolution of genetic knowledge, plant breeders of this century have accelerated crop improvement for increased yield and quality.
Human life is severely affected by three factors: the problem of food inadequacy, health problems and environmental problems. Food and health are basic human requirements, alongside a clean and secure environment. As the world's population increases at a higher rate, human needs are rising rapidly. Humans need safe food at reasonable prices.
Quain concluded that transgenic food plants are not a magic bullet to feed the developing world. We also need to improve infrastructure, to educate women and to end wars and corruption.
GMO crops can help feed food-insecure populations. It would be shameful if well-fed Westerners' issues (including trade) prevented this technology from helping to feed the poor. In that regard, I have read and studied about the active role women can play in biotechnology – hence women have to be more circumspect about current trends, and adapt to changes to ensure food security.