Blockchain and the pork chain - A strategy for both producers and consumers
Following examples of BeefChain, pork producers may have an opportunity to share their "why" directly with consumers.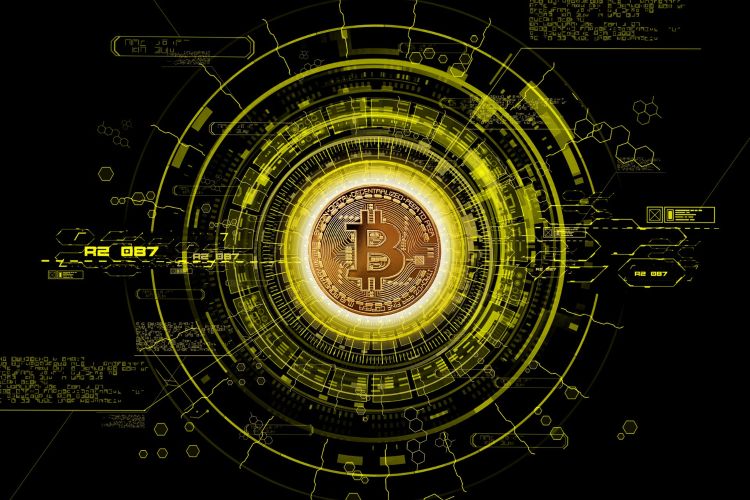 If you are not aware of the concept Blockchain, you may have heard or invested in Bitcoin, which is an application of it designed for e-commerce and banking functions. Bitcoin and other blockchains are electronic ledger technologies that are traceable and immutable. Once information is entered into an electronic ledger, it cannot be erased.
Dr. Candace Croney at Center for Animal Welfare Science and others have emphasized that consumers are looking for greater transparency in food production. Consumers want to know that their food is safe, high in nutrients, humanely raised with minimal use of antibiotics/hormones/GMOs/carbon footprint and grown locally. Bill Gutrich, senior director of global food industry engagement at Elanco stated in a video called Power of Positive Marketing, "We should be in a positive posture, not constantly defending". He notes the importance of understanding that people buy the "why" we raise pork, and recommends that producers should "determine the most important attributes of our product and then market that brand".
Blockchain definition and brief historical
Most press has focused on potential applications in banking and e-commerce with currencies like Bitcoin, but there are many others at various stages of development/implementation, including several food chains. Blockchain is an immutable, irreversible and permanent electronic ledger which allows information to be stored and shared among permitted stakeholders. Please see our interpretation of a Blockchain for pork in Figure 1.
Blockchain applications in the food industry
IBM Food Trust is a partnership with Walmart for food transparency, food safety and reduced food waste. Its importance includes reduced time to investigate the origin of foodborne illness. Walmart reduced the time required to track foodborne illness for mangoes from six days to 2.5 seconds. In addition, when they identified a food safety issue in leafy vegetables, they were able, through blockchain, to track contamination to a specific field, rather than wasting an entire load or day of processing, thereby reducing food waste. Key elements of this blockchain strategy: provenance (where the food came from), traceability (whose hands did it cross), trust (disease free) and efficiency (fast, no paper). If the consumer's "why" is food safety and reduced food waste, Walmart has an immutable story.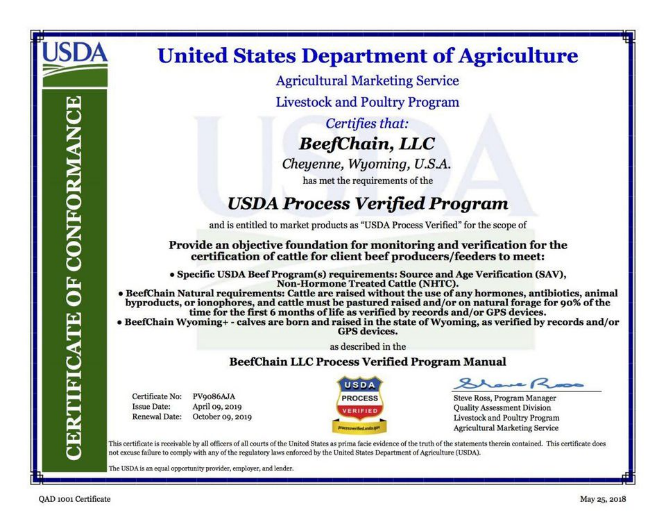 BeefChain, an initiative by the Wyoming Beef Task Force, is the first blockchain application to receive certification from USDA as a Process Verified Program (PVP) – programs in line with current USDA regulatory compliance (Figure 2). Started by group of Wyoming beef producers who wanted to add value in the form of information to their product, BeefChain includes two certified programs. First is "BeefChain Natural" which fits with the definition of "Natural" program, no antibiotics or hormones, plus grass-fed. The second program is "BeefChain Wyoming Plus" which relates to age and source verification. Using GPS technology and individual cattle identification, they are able to verify the cattle are pasture-raised. As per traceability, BeefChain allows producers to take advantage of production benefits to improve margins. In his blog, Benjamin Pirus notes that a calf born in Wyoming can be finished in a California feed yard as long as the yard is certified by BeefChain. The ultimate goal of BeefChain is to combine traceability with a digital record of health and digital marketplace for ranchers to tell their story while allowing a premium price for product.
Applications in pork production
Adoption of blockchain technologies by U.S. pork producers, distributors and even consumers is already well underway. Exposés such as animal abuse scandals, tend to paint food animal production in one stroke. Blockchain can provide immutable proof of our "why" based on the We Care Principles. Andy Brudtkuhl, National Pork Board shares strategic thinking around blockchain as an enabling component of its We Care framework, underpinning the stated six principles guiding U.S. pork production with a business to business focus on transparency and food safety https://m.youtube.com/watch?v=N6Bc-qlIHwI
We wonder, following examples of BeefChain, if there are good opportunities for pork producers to share their "why" directly with consumers. A producer's value statement might include, for example, a multigenerational family farm raising pigs with high welfare and environmental standards. Or perhaps the intersection between the producer and consumer are more closely aligned with cultural and religious values.
We are enthralled with the possibilities and expectations of blockchain applications for pork producers and for emphasizing trust in our product. Blockchain can provide proof and trust in food based on the We Care Principles that underpin modern pork production in the U.S.