Changes to setback distances for waste storage facilities
New language added to Siting GAAMPs on waste storage facility setbacks from the property line.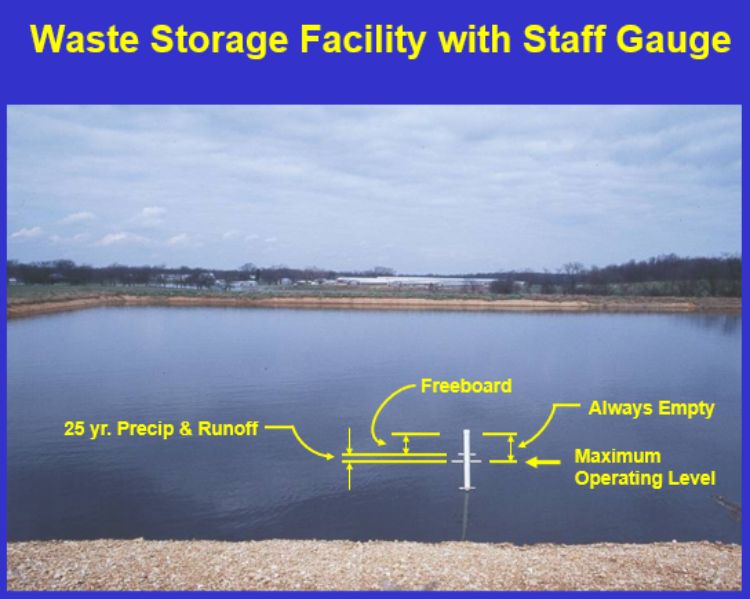 The Michigan Department of Agriculture and Rural Development (MDARD) recently announced changes to the Siting GAAMPs, in particular the property line setbacks for new or altered manure storages. If you are interested in siting on your farm check out Introduction to Michigan Site Selection and Odor Control GAAMPs for new or expanding livestock facilities.
What are GAAMPS?
The Site Selection GAAMPs provide guidance for identifying suitable locations that can help mitigate nuisance lawsuits and provide critical protection for your farming operation. Michigan State University Extension has more information about GAAMPs in various articles. The key to site selection is to maintain neighbor relations and minimize odor impacts to your neighbors.
What changes have been made?
In the past, manure storage structure setbacks only applied to offsite manure storage facilities and were based on the square feet of surface area of the manure storage when at maximum operational level. Operational volume is the maximum amount of manure storage capacity necessary to store manure, precipitation from a 25-year, 24-hour storm, and freeboard. The revisions change setback distance determination from surface area of a manure storage structure to the number of animal units, similar to other setback distances in the GAAMP.
Who will the changes affect?
The changes apply to farms that will be expanding existing manure storage structures or installing new manure storage structures. For a livestock facility with 50 animal units or more, the minimum setback distances from property lines are shown in the attached table. Livestock facilities that have less than 50 animal units are exempt from the setbacks in the table. However, this does not mean those facilities should not maintain a setback. Livestock facilities should maximize all setback distances to the extent possible to minimize odor impacts on neighbors.
1Established Setback Distance – An established animal production structure exists (a lot or pasture fence line is not considered part of this criterion)

| | |
| --- | --- |
| Total Animal Units (AU) | Property Line Setback Distances |
| 50-249 | 125ft or ESD1 |
| 250-749 | 200ft or ESD |
| 750-999 | 250ft of ESD |
| 1000 or more | 300ft or ESD |
Any reduction to the established property line setbacks for a manure storage structure change or installation will require a signed variance by the property owners who are within the original setback distance affected by the reduction.
Setback distance and variance documents
In addition to the property line setback, all manure storage structure changes or installations at an existing livestock facility with 50 animal units or more must be at least 250 feet from a non-farm residence or no closer than the established setback distance.
The established setback distance is based on the location of an existing animal production structure at the livestock facility such as a barn, equipment garage or existing manure storage structure as it is related to the property line or non-farm residence. A lot or pasture fence line is not applicable to the established setback distance criterion.
Should a variance agreement be necessary it can be retrieved from the Livestock Production Facility Siting Application Appendix C. It is also recommended that the signed variance be recorded on your property deed for any future change in neighboring property owners.
How can a structure be changed?
To stay in conformance with GAAMPs manure storage structure changes or installations must conform to the Manure Management and Utilization GAAMP's Construction Design and Management for Manure Storage and Treatment Facilities section.
Each year advisory committees to the Michigan Commission of Agriculture and Rural Development review all GAAMPs and update them so they continue to reflect best science and best practices for farm operations. Usually in January or February of each year, the Commission is adopting updated versions of the GAAMPs. Bookmark the webpage where current GAAMPS are made available and regularly checking that webpage is a good idea. Michigan State University Extension maintains a working relationship on GAAMP advisory committees so that we can help to maintain these science-based standards.