Leading Environmental Economics at MSU and Beyond
Chris Semrinec, Environmental Economics and Management senior and founder of the Sustainable Business Association at MSU, is helping make the new AFRE major known to the industry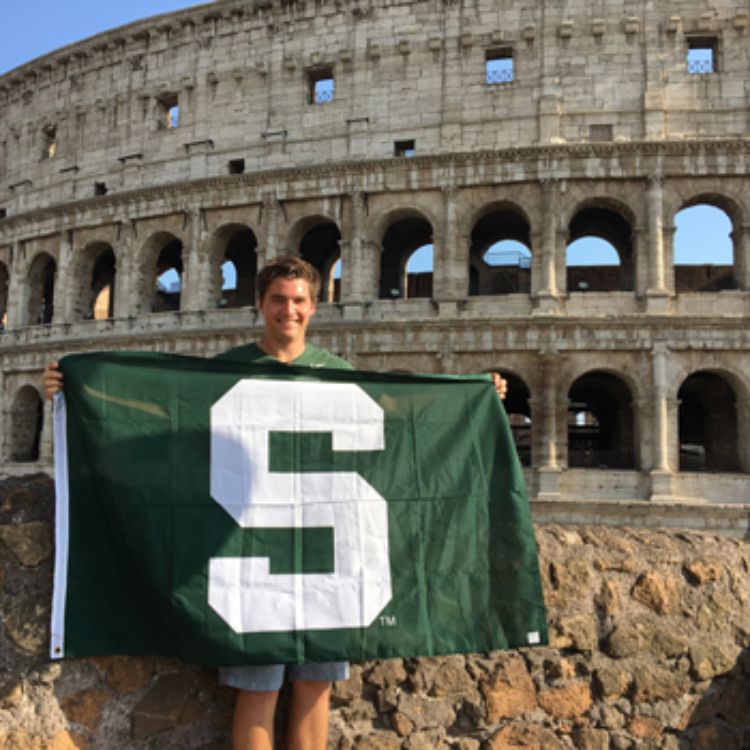 "Environmental Economics and Management is the best major on campus," says Chris Semrinec, Environmental Economics and Management (EEM) senior and founder of the Sustainable Business Association at MSU. Though he admits he's a bit biased, Semrinec has proven his experiences from EEM are invaluable, as he's applied and grown them around the world, down the street at Michigan's capitol, and right here within the department.
A Grand Haven native, Semrinec took a winding path to find his fit in college, first starting at the United States Air Force Academy, and then jumping around the College of Agriculture and Natural Resources at MSU. After a talk with one of our AFRE student advisors, Dale Elshoff, Semrinec knew he finally found his dream major in EEM.
"I always knew I enjoyed the field of economics and to know that I could utilize economic tools to help preserve the environment and other natural resources that I care so much about, made me beyond excited that I found this small but incredibly important major."
It didn't take Semrinec long to start taking advantage of the opportunities at MSU and AFRE, or to start making an impact for his fellow students.
A winemaking and viticulture study abroad in southern France and an international internship on an organic vineyard laid the groundwork for Semrinec to gain new insights into how the rest of the world views the importance of sustainably feeding the world's population. "From a student who has never stepped foot on a farm prior to this experience, I have gained an incredible amount of respect for all farmers in the world."
Creating the Sustainable Business Association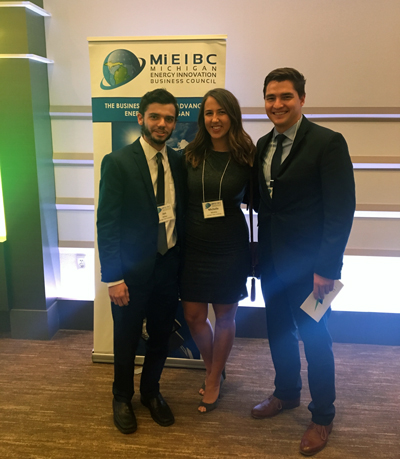 With this newfound perspective, Semrinec founded a club that could focus around any students interested in the growing area of environmental sustainability in the business world. He hoped the Sustainable Business Association (SBA) could serve as a resource for students in the fairly new major of EEM, to learn more about their field of interest and find places that they would be interested in working for following graduation.
"Being able to start and grow a club that will benefit the best major on this campus has been an incredible experience," says Semrinec. "And it continues to be one that gives me great leadership experience that I'll take with me into my professional career."
So far, SBA has had guest speakers, including the Executive Director of Michigan Trails and Greenways Alliance, an Environmental Quality Specialist from the DEQ, and the CEO of Land Grant Goods. SBA members were able to attend a clean energy in Michigan panel discussion at CMU, and attend the Michigan Energy Innovation Business Council Gala where they were able to network with all of the clean energy industry's leaders in the state of Michigan. They have also done work on campus, engaging in outreach and putting on campus clean-ups around MSU's beautiful campus.
Expanding Beyond East Lansing
In between classes and SBA, Semrinec also finds time to intern downtown, acting as a Cooperative Assistant for Consumers Energy in their State Governmental Affairs Office in Lansing, where he assists the State Governmental Affairs office by tracking environmental and energy related legislation through both the Michigan House and Senate.
Following graduation, Semrinec plans to make big waves in the environmental scene, focusing on Michigan and the Great Lakes. After a year abroad to pursue an International Masters in Sustainable Development and Corporate Responsibility in Madrid, Semrinec wants to attend law school in the midwest to obtain a J.D., M.B.A. and hopes to eventually practice environmental law or work on environmental legislation in Michigan.
"With industries and populations growing exponentially, the focus on protecting our environment and natural resources is more important than ever," says Semrinec. "With that in mind, and the first-rate education I have from AFRE, I know I won't have any issue finding employment in a position that I truly love."