Cold-water survival, marine and onboard safety classes to get boost from training
Michigan Sea Grant plans to offer Drill Conductor Training in Great Lakes region.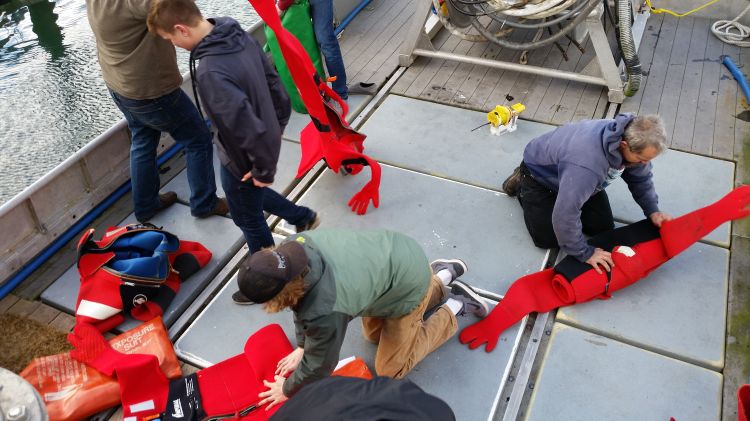 Michigan Sea Grant is planning on taking the lead role in conducting six Drill Conductor Training courses in the Great Lakes region this summer, directed at commercial fishing vessel captains. In order to teach the upcoming courses, I successfully completed a six-day Marine Safety Instructor Training Course in Seward, Alaska.
The U.S. Coast Guard-accepted, six-day, intensive train-the-trainer course, coordinated by the Alaska Marine Safety Education Association, is designed to train individuals to effectively teach cold-water survival procedures, marine safety equipment use, and onboard safety drills. The course also is designed for those wanting to teach cold-water safety and survival in a variety of settings for commercial fishermen, private businesses, or government agencies.
The Drill Conductor Training courses being planned for this summer will help Great Lakes commercial fishing vessel captain fulfill U.S. Coast Guard regulations related to instruction, drills and safety orientations, and onboard emergency instruction.
The Marine Safety Instructor Training course addressed preparation for emergencies and the "Seven Steps to Survival" (a priority listing of steps to take during an emergency), the role of preparation in dealing with emergencies, and survival kits. It also covered the types of personal flotation devices (PFDs), including advantages, disadvantages, and maintenance as well as cold-water survival techniques. Discussion and hands-on demonstrations and practice occurred with survival equipment (emergency position indicating radio beacons-EPIRBs, life rafts, flares, immersion suits, etc.), firefighting equipment, abandon ship procedures, vessel stability, U.S. Coast Guard-assisted evacuations, vessel orientation, emergency instruction, and station bills. This training section meets U.S. Coast Guard training requirements for documented fishing vessels, and included actual drills onboard a vessel.
Michigan Sea Grant is now awaiting approval by the National Maritime Center of the U.S. Coast Guard for authorization to lead Drill Conductor Training in the Great Lakes region.
Michigan Sea Grant helps to foster economic growth and protect Michigan's coastal, Great Lakes resources through education, research and outreach. A collaborative effort of the University of Michigan and Michigan State University and its MSU Extension, Michigan Sea Grant is part of the NOAA-National Sea Grant network of 33 university-based programs.