Considering a job or career in formal or informal education? – Part 2
Michigan Afterschool Partnership white paper supports enhancing the pipeline for credentialed out-of-school time educators.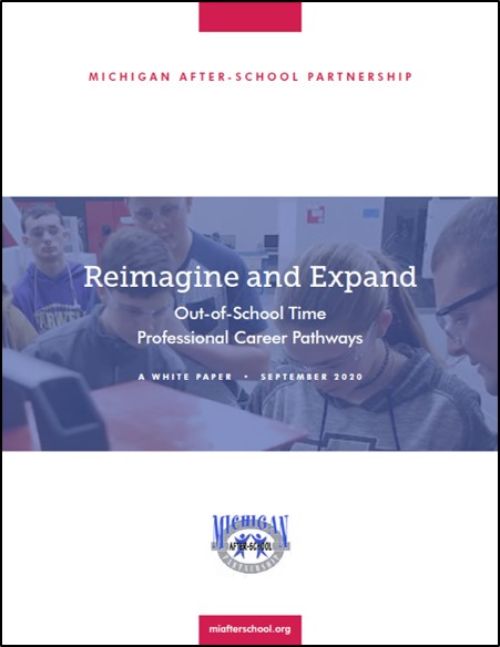 This is Part 2 of two articles regarding new and enhanced opportunities for individuals wanting to work in the Education and Training Career Cluster in Michigan. Part 1 introduced the Michigan After-School Partnership (MASP) and the role Michigan State University Extension has played as a partner at the table in writing the "Reimagine and Expand Out-of-School Time Professional Career Pathways" white paper released in December 2020. MASP's white paper was supported by grant funds from both the Michigan Department of Education and the Charles Stewart Mott Foundation.
Jobs and careers in education can be rewarding, whether through formal settings, such as schools, or informal settings, such as youth development organizations, after-school and out-of-school (OST) programs. Working in education or in support of education, where minds are inspired to learn, explore, grow and dream can be enjoyable while making a difference for others. The U.S. Bureau of Labor Statistics indicates that "employment in education, training, and library occupations is projected to grow 5% from 2019 to 2029."
Job and career opportunities exist in education yet giving the career pathway a boost and redesign is needed. Based on the research conducted by MASP, high turnover is a consistent struggle for many OST programs. In addition to the challenges created by the nature of the job, such as the short and odd working hours and the social-emotional demands of working with youth, low pay remains a significant barrier to the recruitment and retention of skilled OST professionals.
The "Reimagine" white paper addresses the need to rework the current pipeline of credentialed OST educators, including those that may begin in high school through career and technical education programs. There are other solutions suggested in this white paper. However, the timing for youth development organizations and the Michigan Department of Education Career and Technical Education to work together is now. Read more in "Reimagine and Expand Out-of-School Time Professional Career Pathways."
Michigan State University Extension and Michigan 4-H Youth Development helps to prepare young people for successful futures. For more information or resources on career exploration, workforce preparation, financial education, or youth entrepreneurship, email us at 4-HCareerPrep@anr.msu.edu.