Control alternatives for borer pests of tree fruits
Trunk-boring insects that infest fruit trees can be challenging to manage. With chlorpyrifos no longer allowed on bearing fruit trees, tools that remain need attention to timing and may not work for all borer species or be available for use in all crops.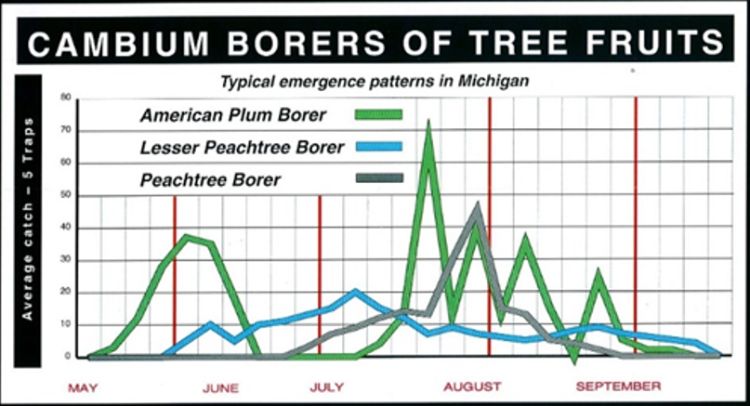 In this article, we provide a summary for Michigan tree fruit growers of alternatives to using chlorpyrifos on bearing fruit trees against dogwood borer and the borer complex that includes peachtree borer, lesser peachtree borer and American plum borer.
The dogwood borer (DWB), Synanthedon scitula Harris, can become a pest in Michigan apple orchards. DWB adults emerge in mid-June and begin laying eggs over a four-to-six-week period. Initially the dogwood borer larvae feed inside burr knots (adventitious roots) which can develop on the exposed above ground portion of clonal rootstocks, according to research from Howitt 1993. Feeding in the burr knot does little damage to the tree but if it continues below the bark, it becomes much more destructive and may eventually girdle the tree. Burr knots are aggregations of partially developed root initials that usually occur in clusters at or below the graft union; some rootstocks are more susceptible to the development of burr knots. Reddish frass on the surface of a burr knot is a visible sign of infestation.
The borer pest complex of stone fruits includes the peachtree borer (PTB), Synanthedon ecitiosa (Say), lesser peachtree borer (LPTB), Synanthedon pictipes (Grote and Robinson), and American plum borer (APB), Euzophera semifuneralis (Walker) (Howitt 1993) (Figure 1). The LPTB and PTB generally have a single generation per year in Michigan, with adults beginning to emerge following shuck-fall, and continuing through the summer months. Female LPTB primarily deposit eggs in wounded areas, thus problems tend to be most severe in previously infested orchards, or in sites with a high incidence of canker, winter injury or mechanical damage. LPTB larvae feed in the inner bark and cambium tissue of stone fruit trees, resulting in loss of production on injured limbs and tree death caused by trunk girdling. PTB larval feeding and damage is similar to that of LPTB, except the larval activity is restricted to the lower trunk and below ground line.
There are two generations of APB per year in Michigan, the first beginning in May and the second-generation adults flying July through August. APB larvae feed on the cambium tissues and are most problematic on cherries and plums where larvae enter through splits in the bark, from cankers caused by various pathogens, or for tart cherries those caused by mechanical harvesters. If not controlled the stone fruit borer complex can significantly reduce tree vigor/productivity and lead to death of trees.
Chlorpyrifos has been the commercial standard for control of borer insect pests of tree fruits, but the recent EPA final rule revoking all tolerances for residues of chlorpyrifos for all food and feed commodities after February 28, 2022, eliminates Lorsban use on fruit bearing trees. Note that there is an exception for non-food uses provided applications are made to non-bearing trees (i.e., trees without fruit present at the time of application and that will not bear fruit within one year).
For apple growers wanting to control DWB, the insecticide acetamiprid (Assail) was tested for control of Synanthedon scitula (Harr.) on burr knots of certain apple cultivars, according to research from Wise et al. 2004. While its performance was not equal to chlorpyrifos, control was sufficient for the registrant to add this use to the Assail label for apples. The label directions for use are for a first spray to tree trunks after adult DWB emergence, followed by a second application 14 - 21 days later. Assail is registered for use in stone fruits, but borers are not listed on the label. There are several older insecticides that list borers on their label, but we do not have supporting performance data to make recommendations.
One non-chemical approach for managing borers is the use of pheromone-mediated mating disruption. This tactic has proven to be effective for DWB, PTB and LPTB when orchards are of sufficient size (> 5 acres) and shape (square or rectangular). However, small or irregular shaped orchards, especially those adjacent to natural woodlands, are susceptible to borer injury from gravid females migrating into orchards and there is no pheromone mating disruption option for APB at this time.
A biological alternative is the use of entomopathogenic nematodes (EPNs), such as Steinernema carpocapsae, to effectively control PTB. Entomopathogenic nematodes are safe bio-insecticides that are produced and sold commercially by at least a dozen companies (and several carry organic labels), according to research from Shapiro-Ilan et al., 2020. However, the use of EPNs against PTB have been tested primarily on peaches in Georgia and have yet to be proven in Michigan on peaches or cherries. Also, the effectiveness of EPNs in controlling LPTB has been limited because EPNs are highly susceptible to UV degradation and desiccation. Recently a sprayable gel, Barricade, has been used to protect EPNs from harmful environmental conditions during applications against LPTB resulting in higher levels of efficacy, according to research from Shapiro-Ilan et al. 2010; 2016. However, the Barricade gel adds costs to the application and is not labeled for organic use. To date, the potential of using EPNs to control APB has yet to be established. Therefore, cherry growers in particular have very limited options to protect their orchards from the cherry borer complex.
Below is a summary of borer control options available for Michigan tree fruit growers to consider.
Control tool

Labeled crops

Borer pest listed on label:

Supporting performance data

DWB

PTB

LPTB

APB

Mating Disruption

Apples, stone fruits

Yes

Yes

Yes

No

Yes

EPNs

Stone fruits

No

Yes

No

No

Yes

Assail

Apples

Yes

No

No

No

Yes

Asana

Stone fruits

No

Yes

Yes

Yes

No

Sevin

Stone fruits

No

No

Yes

No

No

Lorsban

Non-bearing apples, stone fruits (excluding plums)

Yes

Yes

Yes

Yes

Yes