Corn stover harvest can help supply winter beef cow diets
Corn stover can reduce drought impact for beef herds.
For those producers involved with the feeding ruminant livestock, 2013 will likely be remembered as the most challenging year in a generation. Producers are scrambling to source adequate feedstuffs to meet winter feeding needs. Crop residues like corn stover should be considered very soon as a key feed ingredient. Producers short of hay or simply having the ability to feed some corn stover and market excess hay should be considering this decision based on economics.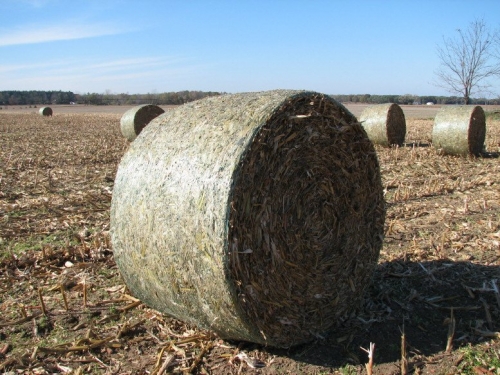 Harvested (baled) corn stover will cost between $40-60/ton. If we assume beef cow hay at $150/ton, we can effectively save $90/ton on feed cost for every ton of forage fed this winter. You may have additional protein cost for later mid-late gestation diets but those cost will be minimal compared to feed savings if corn stover is utilized properly. Be sure to utilize a good ration balancing program and sort cow groups based on age, size and body condition to be sure all cow classes get adequate nutrition.
Iowa State has a valuable bulletin covering the economics of pricing corn stover in the field for grazing or baling.
You can also visit the MSU Beef Team website and look under "hot topics" for corn stover harvesting and feeding webinars.
If you have additional questions about incorporating corn stover into your beef diets, please contact Kevin Gould.