CSUS alumna spotlight: Jennifer Jermalowicz-Jones
Pursuing a Ph.D. in CSUS helped Dr. Jermalowicz-Jones gain the scientific and social science skills needed to run a successful lake management business.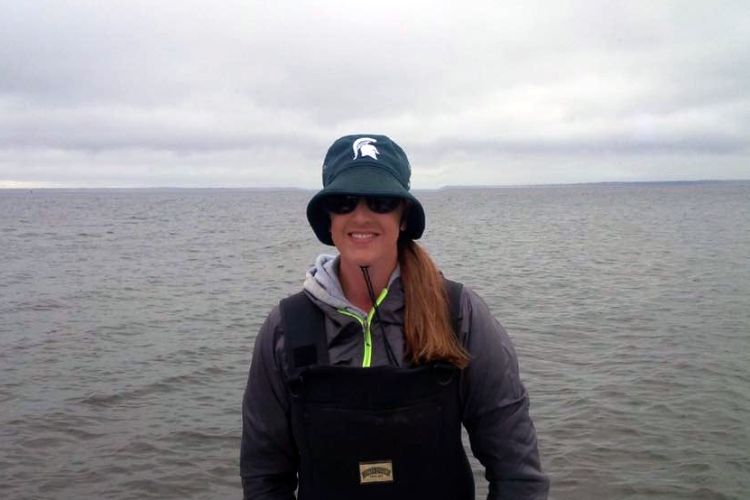 Starting a business during a doctorate program is no easy feat, but it's one of many accomplishments that MSU alumna Jennifer Jermalowicz-Jones has achieved.
A lake scientist and entrepreneur, Dr. Jermalowicz-Jones came to MSU in 2010 to take the next step in her career. In the process, she ended up starting her own business in 2012 called Restorative Lake Sciences (RLS). RLS works closely with communities to support sustainable lake and watershed restoration and management.
"It was about two years into my program, and I came up to my Ph.D. committee and said, 'I'm thinking about starting my own company,'" Jermalowicz-Jones says. "They were extremely supportive of it."
She worked on her coursework and dissertation alongside running her business for five years. Jermalowicz-Jones completed her Ph.D. in Resource Studies at Michigan State University in 2017.
"I will tell you that it was the hardest thing I've ever done in my life. It took everything I had to do both of those things at the same time," she says.
2022 marks the ten-year anniversary of RLS. Jermalowicz-Jones' hard work and passion for sustainable lakes has supported her success.
"It's the gratification from seeing a lake go from being extremely distraught to being much better," says Jermalowicz-Jones. "Seeing that progression is very rewarding for both yourself and the community."
Jermalowicz-Jones continually strives to push herself and her work forward. Her most recent accomplishment is receiving the Certified Lake Professional certification from the North American Lake Management Society. She is one of only two Certified Lake Professionals in the state of Michigan.
In the following interview, learn more about what it means to be a Certified Lake Professional, Jermalowicz-Jones' career, and how her experiences at MSU shaped her path.
---
Name:
Jennifer Jermalowicz-Jones
Degree and Program:
Ph.D. in Resource Studies in the Department of Community, Agriculture, Recreation & Resource Studies (now known as the Department of Community Sustainability)
Graduated:
2017
What inspired your interest in lake science (limnology)?
I started getting interested in this field when I was about four years old. We grew up on Cass Lake and I was jumping off the dock at six months old. I think my mom got me my first microscope when I was four.
When I was young and would go bike riding, I'd always go to a lake and check things out. I started to notice when I was in high school that some lakes were really having big problems, like invasive species, and we were starting to see water get murky. I knew that studying lakes was the path I wanted to follow.
Why did you choose your program and why MSU?
Being close to home in Michigan was a factor. There were a couple of other very significant reasons and one I discovered later.
I was at a mixer event, and I happened to be talking to two or three professors about different topics, and somebody told me that you've got to be on the same wavelength as your Ph.D. advisor or you're going to clash. So I was talking to different professors and finally the two that I was talking to said, "Well, I think Jon Bartholic would be the ideal advisor for you, because he's so into the kind of question that you're asking."
It turned out to be a really good fit because I think he was at a point in his career where he could be very open-minded and not have to focus on something that was bringing in a lot of funding. I got my own funding and that was an excellent opportunity.
What I discovered after I had been a student for about four or five years was the amazing number of resources that the university has relative to other schools I've attended. You know, the library, the mentoring, the group meetings, there was just so much there.
I graduated from Michigan Tech when I was in undergrad and attended Grand Valley State University for my master's. I could say, "I'm a Husky, Laker, and Spartan," but at the end of the day, I'm a Spartan and I will always feel that way. I felt the most welcome there and I felt like that's where I did most of my growing.
Tell us a little bit about what you do in your current work.
In limnology you typically do one of two things when you graduate: you go into academia, or you go into applied. Initially, I thought I was going to take the academic route because I was really interested in publications and doing research.
Then I started to think about all these lakes that I wanted to help. I realized that is really an applied demand, and so I knew at that point that I should shift my focus towards applied.
I worked for three different consulting firms before I realized that you can't have two great white sharks in the same tank. I didn't think I was growing to my preferred capacity when I was at these other companies.
It was about two years into my program, and I came up to my Ph.D. committee and said, "I'm thinking about starting my own company." They were extremely supportive of it.
In 2012, I formed Restorative Lake Sciences and I wanted to create a different business model. The dominant paradigm in lake restoration and management is to identify what's wrong with your lake. We identify it and then we help you get it fixed, and then you can either move on or we'll keep fixing it, depending on how many years it needs.
What I wanted to see more of was a sustainability approach. It was my exposure to all the coursework at MSU that opened my eyes. What if I died tomorrow? What if no experts were here to help you? How would you perpetuate keeping your lake in good shape?
A sustainable model requires a lot of interaction. It requires a lot of mutual trust. It requires a lot of meetings, and that started to shape what kinds of groups and communities I work with.
It can be a very difficult career path because there's a lot of politics involved. There's a lot of agendas and most of the time you have to try very hard to integrate those agendas with your plans and recommendations as a professional.
A typical day in my life would be a ton of emails, working on analyzing data, statistical analysis, writing reports, researching things, putting together publications and articles, and attending virtual meetings or in-person meetings, or both.
What does it mean to be a Certified Lake Professional?
The Certified Lake Professional program through the North American Lake Management Society is a continent-wide certification program.
It requires that you have a certain education background, in my case a Ph.D. The other requirement is that you have to have a significant leadership or business ownership role for an extended period of time. You have to demonstrate scientific competency, publications, things like that, and you have to submit all your transcripts.
I had kind of bashfully stayed away for a while because the requirements were substantial. But then there came a point where I looked at all the facts and said, "Well, I technically do have the qualifications to do it."
It means a lot because it keeps me reaching. You have to go for re-certification every three or four years and you have to have certain accomplishments in that time frame. It will always keep me pursuing conferences, presentations, research, and publications, things that are hopefully going to make me a better professional going forward.
What do you like most about MSU?
We have a beautiful campus. It was really nice during the days that I was there all day and in between classes, just walking around and looking at the gardens and interacting with people.
The thing I really liked about the particular program I was in was the flexibility to build my own degree and research focus. There were people in the program with backgrounds in agriculture, people that had backgrounds in sociology. Everybody was coming together to learn how to be more effective in their area and it was fantastic.
I could say, "I'm a Husky, Laker, and Spartan," but at the end of the day, I'm a Spartan and I will always feel that way.
Any thoughts or advice for current students?
I think you should always make time to be out in nature. Enjoy yourself.
When you're at a school like Michigan State, look at all they have to offer. If you need counseling, they have that. If you need help with your writing or with math, they have that. I would say, especially to new students, to get familiar with everything that that there is to offer. When you leave, you'll be grateful that you went to school with so many resources.
I think there's a huge need for lake science professionals. It is a growing field. It's still highly male dominated, which I think that is starting to change a bit. It's a field that requires a lot of broad knowledge: chemistry, biology, physics, and more. After you spend several years learning all of these integrated sciences, you can then hone in on what aspect of the field you want to specialize in.