Dairy Spotlight: Cora Okkema
5, 11, 1999. These three numbers were the beginning of my dairy story in Michigan.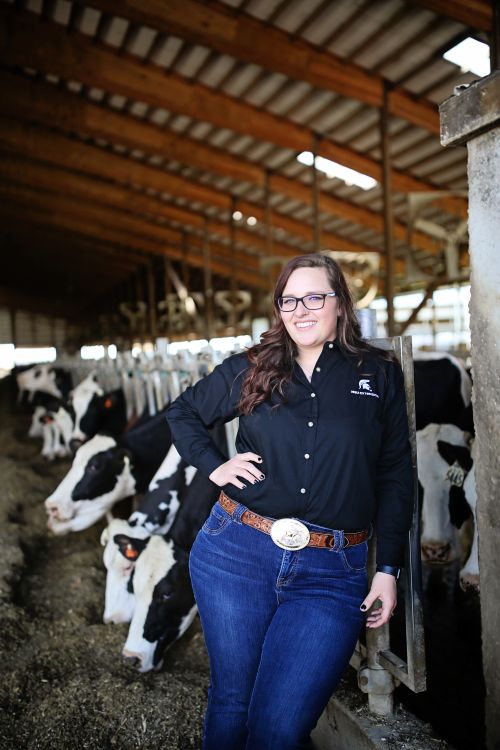 It was in 1999 that my parents made the decision to move our family of five from the Netherlands to Michigan to pursue their dream of building a successful dairy farming business. The farm started with 11 cows, all transported by boat across the Atlantic Ocean. Spoiler alert: we're still farming and boy, has the farm grown!
I grew up working on the family farm, learning many lessons along the way. A big one being that change, even though scary, is good, and that growing pains are a natural part of this process. Especially when it means progress and improved practices. This lesson has stayed with me throughout life as I pursued my own passions. Being a dairy kid, my senior capstone project in high school had to be related to farming. So, I learned how to breed cows. Seeing the offspring from that project in the milking herd today reminds me that our journey all starts somewhere. Once graduating, I moved to Northwestern Iowa for my bachelor's degree in animal science. I had incredible opportunities to see how other farmers manage their herds and meet farmers from across the globe, specifically in the Netherlands and in Romania. These experiences showed me the value of having a management team that respects one another and surrounds themselves with peers who are not afraid to discuss new ideas and provide valuable insight for where the dairy industry is headed.
Management was changing at the family farm and there was an opening for a herdsman. This was a massive shift from feeding calves, cleaning barns, and handing my dad tools. I am so glad I took that leap of faith. A passion for production dairy farming was ignited that I never knew I had. In two and a half years as herdsman, I leaned on the veterinarian, the nutritionist, the breeder, and countless others for guidance. Not only did I gain confidence in my abilities but learned that this management team is something I want to continue to foster. Their influence on my life led me to begin a Master's degree in livestock behavior and welfare at Colorado State University in 2019. My research focused on the prevalence of udder edema in dairy cattle and the impact the disorder has on parlor behavior in first and second lactation cows. As I was finishing up my degree, I was offered the position of dairy educator with Michigan State University Extension for Northwest and Central Michigan. I am honored and excited to be back home to serve my fellow Michigan dairy farmers to help them achieve their goals and problem-solve for maximum impact.