Decade in review of Michigan 4-H International Exchange Programs
States' 4-H International Exchange Programs celebrates partnership with Michigan 4-H International Exchange with a decade in review.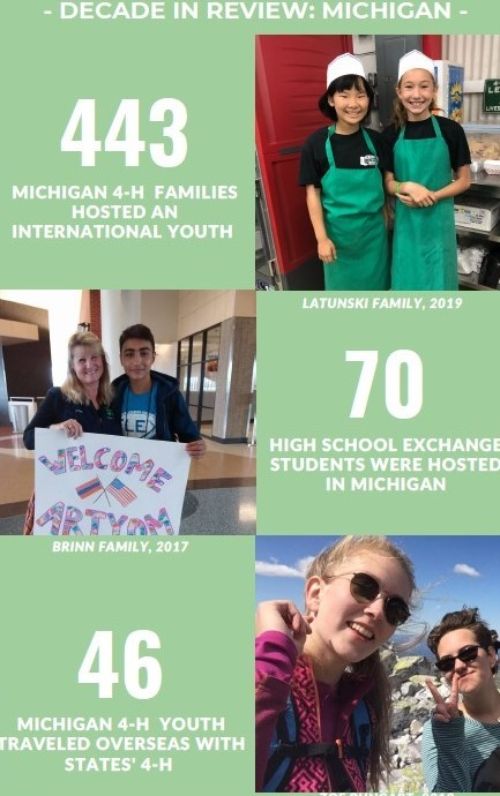 States' 4-H International Exchange Program has been offering international exchanges for almost 50 years. Michigan 4-H has partnered with States' 4-H International Exchange Program for over 47 years—learn more about this partnership. States' 4-H International Exchange Program started with LABO Foundation in Japan exchanging with the states of Washington and Idaho. Now the organization partners with 23 states in the United States and the program has grown to exchange programs with over 31 countries across six continents. Nearly 60,000 youth and families have been positively impacted through these international opportunities to learn about the cultures in our world.
In the last 10 years, Michigan 4-H has had great leadership for the international program starting with Michigan State University Extension educator Renee Applegate, then upon Applegate's retirement Janis Brinn. The last half of the decade was coordinated by myself, D'Ann Rohrer, but the success is due to the families who opened their homes to over 443 international youth. The majority of these youth participate in the month-long experience for 12- to 15-year-olds with limited English speaking skills. Our year-long exchange program has welcomed 70 high school students for an academic experience learning about Michigan public school systems and daily life.
Many of these teenagers are selected through the United States Department of State scholarship programs Future Leaders Exchange or Kennedy-Lugar Youth Exchange and Study. The students selected to participate in these programs are selected based on their leadership qualities, English competency and personality, which will contribute to a successful experience. Michigan 4-H has been very lucky to host these brilliant teens from so many wonderful countries. These delegates have enriched our 4-H programs by sharing about their cultures and way of life in their home countries.
The delegates also are encouraged to learn about volunteerism, community service and citizen responsibility during their time here in Michigan. Volunteering is one American value that is unique to our country.
Michigan has also encouraged youth to travel abroad and 46 Michigan 4-H youth have traveled to Costa Rica, Japan, Norway, Finland and South Korea in the last decade. This is where the learning about one's own culture really begins for these 4-Hers. Learning about another cultural accentuates your own. There is no better time to travel and live with a host family than during your teenage years. If you are interested in traveling in the future, start learning about our program at Michigan 4-H International Exchange Program Traveling Outbound.
The 2020 exchange year was nonexistent and will forever hold a place in history of a time of reflection on the many years of travel with States' 4-H International Exchange Programs. Looking forward to 2021, program coordinators are hopeful there will be a few travelers going abroad during the summer months. Michigan will not be hosting any international youth but look forward to 2022 to open this opportunity to host families in Michigan again. To learn more about our Inbound Program, visit our website and read through our testimonials.
As state coordinators, we look forward to supporting your family in this life changing 4-H experience and are anticipating another decade of connecting youth and families around the world.
4-H grows successful youth through positive developmental relationships. If you would like to learn more, visit the Michigan 4-H website. To learn more about youth development programs, contact D'Ann Rohrer at drohrer@msu.edu or 231-845-3361, or our civic engagement leadership team at MSUE.DL.4HLeadership@msu.edu.
To learn about the positive impact of Michigan 4-H youth leadership, citizenship and service and global and cultural education programs, read our Impact Report: "Developing Civically Engaged Leaders." Additional impact reports, highlighting even more ways MSU Extension and Michigan 4-H have positively impacted individuals and communities can be downloaded from the MSU Extension website.
Find other global educational opportunities on the MSU Extension Global and Cultural Education website. For more information about 4-H learning opportunities and other 4-H programs, contact your local MSU Extension county office.