Dehorning with pain mitigation: Get trained
Providing the medication for pain management when dehorning calves might seem challenging, but it can be easily learned.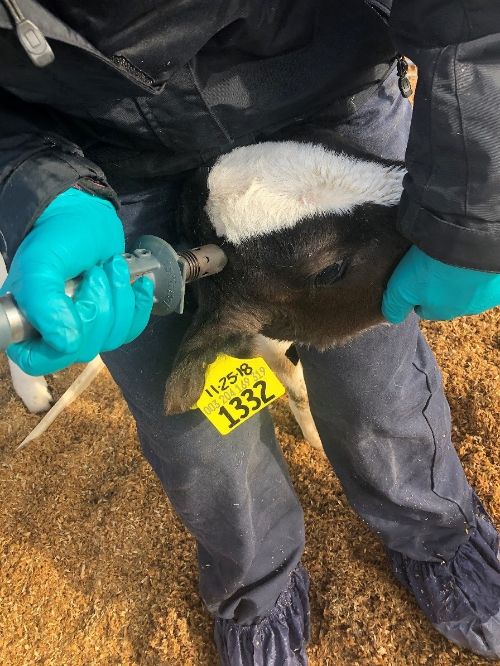 Dehorning is a routine procedure on dairy farms, and it's necessary for the safety of both the people working on the farm and the animals. All dairy calves should be dehorned unless they are polled.
Dehorning is a painful and stressful procedure. The physiological and behavioral response associated with dehorning has been reported in multiple studies (1, 2, 3), and thus, dehorning of calves represents a concern to animal well-being. However, there are tools available that allow mitigating the pain experienced by animals during and after dehorning. Acute pain is managed with the local anesthetic Lidocaine. Lidocaine blocks the cornual nerve and numbs the horn bud and the skin around it (2, 3). Long-term pain is treated with the nonsteroidal anti-inflammatory drug (NSAID) such as Meloxicam. Meloxicam acts as a pain killer and its effects last for up to 6-10 hours (1, 3).
Meloxicam is easy to administer since it can come in pills that are administered orally, but Lidocaine administration can be a little more challenging since it needs to be injected subcutaneously in an atypical location. Once the Lidocaine injection technique is learned, providing pain management for dehorning becomes an easy task. Farms that have not yet adopted the dehorning practices using pain mitigation have the opportunity to improve the wellbeing of their calves.
Michigan State University Extension has an on-farm training available for Michigan dairy farmers who're interested in starting to provide pain mitigation when dehorning calves. It is a hands-on training where all the participants have the chance to practice how to properly prevent pain using Meloxicam and Lidocaine, and for participants with no dehorning experience. Participants will learn how to dehorn with a hot iron dehorner. The training has no cost, and it can be taught in English and Spanish.
Both Lidocaine and Meloxicam require a prescription, so farms will have to have a conversation with their veterinarian to start using them when dehorning.
Farms that participate in the training will be given a dehorning protocol that can be updated to the conditions of the farm. Michigan State University Extension recommends that farms to review the document with their herd veterinarian.
The protocol and training provided by MSU Extension follow the recommendations made by the American Veterinary Medicine Association and the American Association of Bovine Practitioners and meet the requirements of the National Dairy FARM Program.
For more information about the training or this topic, contact Paola Bacigalupo at paolabs@msu.edu or 970-888-1356.
References
Allen, K.A., J. F. Coetzee, L. N. Edwards-Callaway, H. Glynn, J. Dockweiler, B. KuKanich, H. Lin, C.Wan, E. Fraccaro, M. Jones, and L. Bergamasco. 2013. The effect of timing of oral meloxicam administration on physiological responses in calves after cautery dehorning with local anesthesia. J. Dairy Sci. 96 :5194–5205.
Grøndahl-Nielsen, C., H. B. Simonsen, J. Damkjer Lund, and M. Hesselholt. 1999. Behavioural, endocrine and cardiac responses in young calves undergoing dehorning without and with use of sedation and analgesia. Vet. J. 158:14–20.
Stock, M. L., S. L. Baldridge, D. Griffin, and J. F. Coetzee. 2013. Bovine dehorning: Assessing pain and providing analgesic management. Vet. Clin. North Am. Food Anim. Pract. 29:103–133