Designing your outdoor room
Enjoy living space out-of-doors by re-thinking your home's landscape.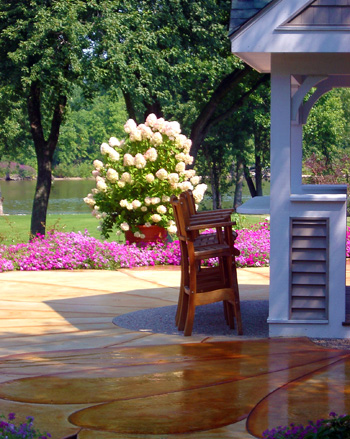 The overall goal of a landscape or garden design is to create an outdoor living space that is both aesthetically pleasing and functional. Simply planting a few trees and cosmetic shrubs along your foundation will not accomplish much if you enjoy grilling and eating outdoors, bird watching or hosting guests. The outdoor spaces you desire need to be identified by "function" (e.g., grill area, flower garden, quiet space) first, then the design process can begin. Combining basic principles such as scale, balance, repetition and dominance with artistic elements such as line, form, color and texture, you can then create a beautiful landscape canvas to enjoy for many years to come.
The science side - analyze
For you "techies" out there, landscape design can be challenging because it incorporates the science of horticulture (yeah—that's living stuff!) with artistic interpretation. This is what sets landscape design apart from other types of design. For those of us who have experienced losing favorite plants because we didn't have a full knowledge of the environmental requirements or a grasp on the site's limitations, you know what I'm talking about. So once you have decided on the spaces you want to establish, you need to analyze your site.

Outdoor living spaces can be defined by a patio, lawn or shrub border.
With clipboard and paper in hand, begin by walking around your home to determine existing natural or architectural features, terrain and soil type. Consider the location of walks, drives, utilities, overhead power lines, drip lines and major landscape features such as large trees, etc. The plan should have notations where underground utilities, septic and irrigation pipes are as well. (Michigan State University Extension recommends calling MISS DIG at 800-482-7171 to site any unknown wires or lines.) Note prevailing winds, drainage and particular problem areas such as a frost pocket. Examine sun exposure at different times of the day as well as shade from trees and overhangs. Sun and shade can be grossly underestimated from the spring season to the fall and will affect your plant choices later on.
Creative side – bubble diagram
The next step is to lay a piece of tracing paper over your site plan and start drawing "bubbles." Each bubble will define a space that houses one of the functions that you have identified. The point of this is to begin determining where one area begins and another ends. If you don't like what you have drawn, wad it up and start over. You can allow the bubbles to morph into different shapes to accommodate each need. Once nestled together, the bubbles provide spaces in between to start planning the planting areas of your landscape.

Identifying over-all functions of the landscape using "bubbles" will help you determine the planting spaces in between.
Take into consideration the need for open, grassy areas for children or games, vegetable or flower gardens, the need to screen utilities, etc. Definitely plan for quiet areas for reflection or reading if that's what you like to do. Small patios bordered by upright shrubs or grasses can create wonderful private screen between your outdoor rooms. If you have a member of your house that can't stand mosquitoes, perhaps you should plan a screen porch or gazebo. Does there need to be an area just for pets?
Happy trowels!
Now is the time to dig in and start planting. When choosing plant material, I encourage people to pull out a good reference manual and research whether or not your choices will adapt to the site or, heaven forbid, outgrow the location! Integrate evergreen materials with deciduous or herbaceous perennials so that you can enjoy the spaces through four seasons.
For more information on a wide variety of garden topics, visit www.migarden.msu.edu or Finneran's blog. You can contact the MSU Master Gardener Lawn and Garden Hotline at 888-678-3464 with your questions.
All photos: Rebecca Finneran, MSU Extension