Detroit River revival
Construction to begin in October at the Detroit River International Wildlife Refuge.
The Detroit River International Wildlife Refuge, administered by the U.S. Fish and Wildlife Service, is the only International wildlife refuge in North America. It includes nearly 6,000 acres of islands, coastal wetlands, marshes, shoals, and waterfront lands along 48 miles of Detroit River and Western Lake Erie shorelines.
Central to the future of the refuge are 44 acres located on the banks of the Detroit River in Trenton, Michigan, comprising the Refuge Gateway property. It is just north of the Humbug Marsh complex – the last mile of natural shoreline on the U.S. side of the Detroit River. The Humbug Marsh, itself, is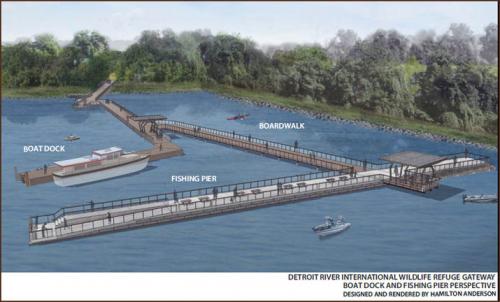 Michigan's only Wetland of International Importance, and is sheltered behind Humbug Island.
Beginning in 1946, the Refuge Gateway property was operated by Chrysler Corporation as a manufacturing facility. It was deactivated in 1990, and in 2002 the property was purchased by Wayne County to become the gateway to the international wildlife refuge and the future home of the Refuge Visitor Center.
Over the past six years, the Refuge Gateway has undergone a dramatic transformation from former industrial site to restored wildlife habitat. The goal is to restore quality coastal habitat, including wetland, prairie, and forest ecosystems, and build roads, parking, and trails required for full public access. Areas not receiving restored habitat or infrastructure will be used to construct the visitor center for the refuge.
As part of the master plan for the Refuge Gateway, a boat dock and fishing pier will provide accessible, shore-based fishing opportunities on the Detroit River. The project, open to the public and anglers of all skill levels, includes a boardwalk, fishing pier, floating dock, restroom facilities, seating areas, shade structures, and interpretive signage.
Construction of the boat dock, which will be made available for the Great Lakes Education Program and Summer Discovery Cruises – both sponsored by Michigan State University Extension and Michigan Sea Grant – will begin this coming October. This good news was shared by the refuge's manager, Dr. John Hartig, who was the special guest presenter for our recent Detroit River Revival Summer Discovery Cruise. On this cruise, John shared his insights on the incredible revival of the Detroit River, including its habitats, wildlife and fishery resources. Cruise particip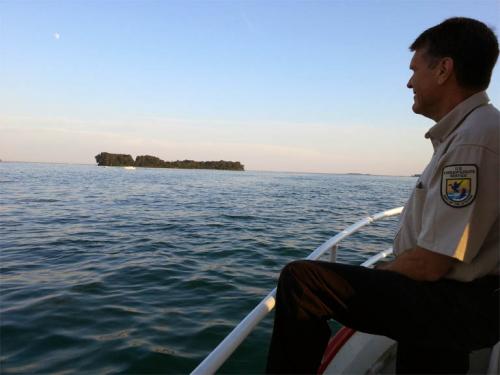 ants learned how this revival has been accomplished, who has contributed, and what's in store for the future. The cruise offers a great opportunity to celebrate the progress made while visiting Humbug Island and other gems of the "new" Detroit River.
Michigan Sea Grant Extension looks forward to expanding our partnership with the refuge as construction on our future vessel-based education dock moves forward. Stay tuned for more information about the future of the Refuge Gateway!