SPDC director's message 2019
It is a great honor to write this year-end message as I complete my first year of administration at Michigan State University's School of Planning, Design and Construction. This year has been full of change and transformation for both SPDC and MSU.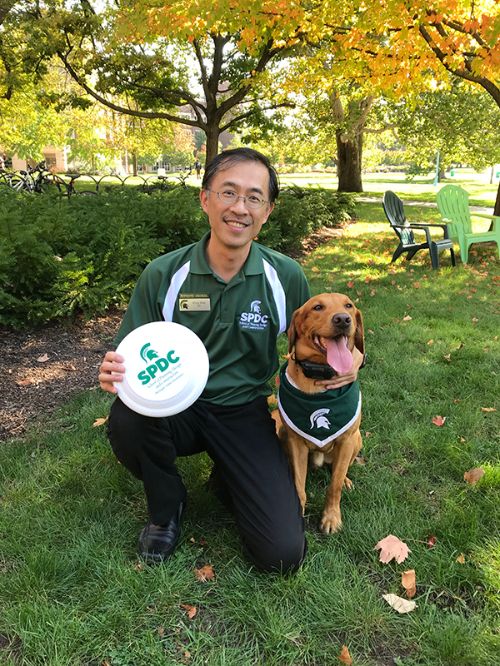 It is a great honor to write this year-end message as I complete my first year of administration at Michigan State University's School of Planning, Design and Construction. This year has been full of change and transformation for both SPDC and MSU.
The change began with the School leadership, and continued to the faculty and the staff team. The timing for the SPDC director change was planned.
As we all know, the University's most dramatic change in 2018 was ex-President Simon's stepping down after the sentencing of Larry Nassar, MSU's ex-physician who sexually assaulted many women in the past.
I still cannot describe how I felt in late January. What I have seen is that MSU has built a strong foundation since 1855. We have tremendous support from our alumni and stakeholders.
While all of us are saddened by the horrific acts of Nassar, I believe that the crisis has made us think harder, identify issues quicker and act more responsibly. We must continue focusing on what we are commissioned to do: Teaching, research, service and outreach, and help MSU fulfill its land grant mission. Our university will transform into a better version of itself through this unsettling time.
The year of 2018 to me is also full of learning: Learning about SPDC colleagues, students and alumni; learning about colleges and the University; and learning about the tri-county area around MSU.
Our School is relatively young, but our four accredited programs have existed for decades; one even longer than a century. What makes us resilient and relevant is each program's continuous efforts of maintaining accreditation and updating its knowledge base in curriculum, in research topics and for societal needs.
I learned that SPDC colleagues are eager to have more integration of the four programs to deliver higher level planning, design and construction education.
In the Fall, we conducted a strategic planning process, facilitated by Chris Peterson, PhD, retired faculty member from MSU. Although this process is still ongoing, it has helped me reaffirm the three priorities I want to focus on in upcoming years: 1) Learning environment, 2) governance and 3) stature.
As stated in early February, I will foster a school-wide culture that offers a safe, welcome and inclusive environment to all. In addition, our learning environment should be inspiring and fun. To achieve this, our members ought to be empowered to govern our School together.
Once the shared governance matures, our School's national and global stature will be elevated to the next level. Our next step in strategic planning is to form taskforces to lead strategic issues/directions identified. I foresee that each taskforce will be formed before the end of 2018 and will begin its charge in Spring 2019.
Our School has many gifted, talented and passionate members. I found working with them to be very much fun. We also hosted our first Open House in October, which proved to be a good example of teamwork. Not only did it help us draw outsiders to visit us, but also it let us (faculty, staff and students) learn about each other, an unintended benefit.
Another two events that resulted from voluntary teamwork included "Design & Build Day" at Impression 5, and MSU's College of Agriculture and Natural Resources' annual AutumnFest. Photos of these events are available to view on the School's Facebook page.
Challenges lie ahead and change is inevitable as our University is searching for a new president. The one particular issue concerning each academic unit is the management of resources and revenue sharing from instruction, research, contract works, etc.
During this time, I will do my best to inform you as much and closely as possible. Only when we know the reality and prepare ourselves to be adaptive and resilient, can we do well to address challenges.
Other areas where change is occurring is with our faculty. Professor Tim Mrozowki will be retiring at the end of this year after 37 years with the Construction Management Program, and I have mixed feelings. I am happy for him to open an exciting new chapter of his life; however, I will miss working with him.
Tim, a practicing architect, is a versatile teacher and respected educator whose expertise spans broadly over construction management subjects. He has taught numerous students over his career and many are doing extremely well in the industry.
His retirement will leave a huge void in the program and the School. I can only hope that he will continue to provide advice as Professor Emeritus in the future, although I know he will have more time to play hockey and golf.
Then, the unexpected loss of interior design professor April Allen a few weeks ago was devastating for our School. Her sudden death on Nov. 11 left me and my SPDC colleagues deeply saddened. Although time was too short for me to know her fully, I have learned that April was passionate about teaching, and cared for students and the people around her.
During this time of grievance, much love and support has been poured out to our School and the Interior Design Program. I am very grateful for your support and feel honored to have had known April. Let's remind each other that each day is a great day and cherish the people around us.
A unified School, while maintaining each program's identity, is my vision for "One SPDC." Through the Director's Interdisciplinary Research Initiative, an internal research seed grant launched in the fall semester, I see the promise of interdisciplinary collaboration across different programs.
I intend to continue the research initiative for three years to strengthen our interdisciplinary exchange, which in turn helps us recognize One SPDC.
Our School is truly a melting pot. Our faculty members come from everywhere (Australia, China, Colombia, Egypt, Germany, India, Jordan, South Korea, Taiwan, Turkey and the USA). Including our staff and students, we represent a big part of the globe.
I feel fortunate to be a part of this community, because of our passion and desire to create sustainable built environments. My appreciation of having this opportunity to join SPDC and MSU cannot be expressed easily, and I am happy to be working with such a diverse and talented group of people.
This newsletter only captures a glimpse of many accomplishments of the School in 2018. Please visit the SPDC website to learn more.
I wish you a wonderful holiday season and look forward to the year of 2019. Thank you.