East Michigan fruit update – June 2, 2020
Warmer temperatures have pushed a good amount of growth in all fruit crops. Apple growers are thinning aggressively. Strawberry growers need to keep a close eye on soil moisture levels.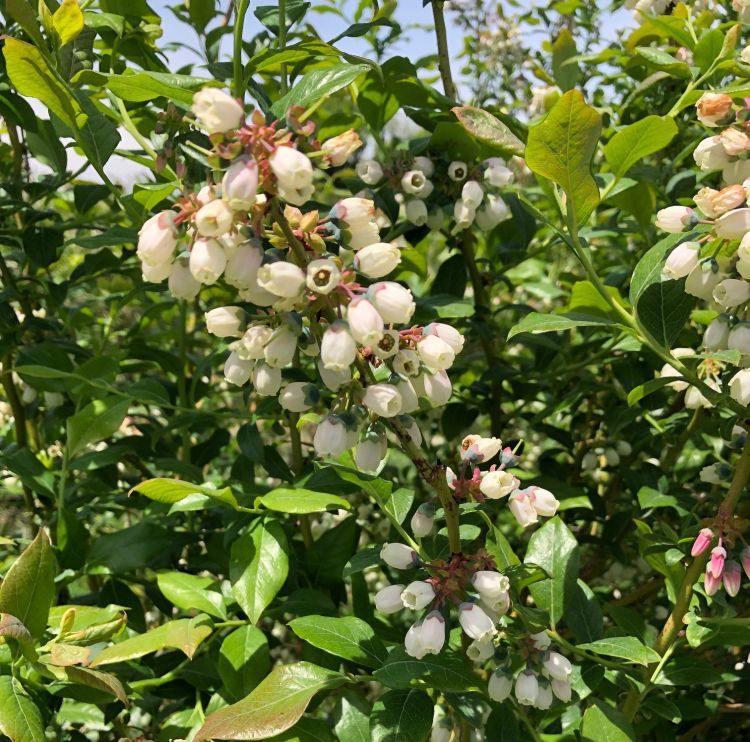 Weather
Another week of warm temperatures has made a big difference in the growth of all our fruit crops. We have seen a leap in growth in all our fruits, with rapid fruitlet development and a great amount of new growth. With the second week of warmer temperatures, we saw another big jump in growing degree day (GDD) accumulations. Most of our Michigan State University Enviroweather stations have seen a jump of 100 GDD base 50 accumulations. Our season is still running about three days behind normal, we have caught up from being five to seven days behind normal last week and almost 14 days behind normal two weeks ago.
A few growers have reported hail from the popup showers that have been numerous across the region in the past week. Most of the hail has been pea sized. Hail is never a good thing for fruit growers, but early hailstorms rarely cause significant damage to fruit crops at this time of the season, mainly because the apples and other fruits are so small.
Precipitation totals have varied greatly over the last week, mainly due to many popup showers that have moved over the region. Most apple growers saw enough precipitation to have an apple scab infection period and high fire blight risk.
Soils in many parts of the region are on the dry side, but here again this varies greatly over short distances. Strawberries may need supplemental irrigation at this critical time of fruit growth.
East Michigan growing degree day (GDD) totals for March 1 to June 1, 2020

Location

GDD42

GDD45

GDD50

Commerce (Oakland County)

672

528

334

Deerfield (Monroe County)

775

612

398

Emmett (St Clair County)

646

504

317

Flint (Genesee County)

758

602

389

Freeland (Saginaw County)

651

507

318

Lapeer (Lapeer County)

694

547

349

Pigeon (Huron County)

595

464

299

Romeo (Macomb County)

679

531

334
Tree fruits
Apples have moved quickly over the last week, with most being 6 to 12 millimeters in diameter. Most apple varieties have between 8 to 12 inches of new terminal growth.
Many growers have applied one thinner application and several have either applied their second application or are planning to so in the next two days. This second round of thinning is going to be much more aggressive than the first round, as growers are finding much more viable fruit than they anticipated two weeks ago from the three major freeze/frost events of this spring.
I have three new insect pests to report in apples this week. The first is finding plum curculio feeding damage in apples—the damage started to be seen last Saturday, May 30. The second is woolly apple aphids around old pruning scars, and the third is potato leafhopper on apple leaves. Late last week, most growers biofixed for codling moth, with some trap catches as high as 25 per trap. Last week, I saw my first rosy apple aphids, and this week their numbers have increased dramatically. Two weeks ago, I reported the first trap catch of oriental fruit moth, this week their number of adults in traps has declined. I am still not finding many predators in scouting that I did yesterday, June 1.
The fire blight model on Enviroweather has had very high (epiphytic infection potential) EIP numbers for the last week, and most growers have sprayed one to two more times to control it. Where growers have even had light amounts of precipitation in the last week, most on Thursday and Friday of last week, streptomycin applications have been needed to protect for fire blight infections. The many popup showers have made it difficult to plan these infection times. Now that bloom has ended, the risk of fire blight infection has reduced but is not over yet, as twigs can be infected in trauma events.
Most apple growers have had enough rain and wetting in the past week for a moderate to high apple scab infection period, again most last Thursday and Friday. While several models have predicted 100% of apple scab spores are now mature, we still need a few more rains or wetting events to release the spores. I continue to find a few new apple scab lesions on leaves. These lesions were most likely from the May 14 to 16 wetting event.
Yesterday I found even more powdery mildew infected terminals at most farms on mildew prone varieties. Protection programs need to be ongoing on mildew prone varieties.
Pears are mostly 9 to 14 millimeters in size. Most pear growers have thinned once and are anticipated going back with another thinner because there is such a big pear crop this season. Pear psylla adult numbers continue to slowly raise with warmer temperatures.
Peaches are between 8 and 12 millimeters in diameter, with fruit drop continuing due to frost damage on poorer peach sites. Some poorer peach sites have seen a good amount of damage, with the best peach sites having a full crop.
Green peach aphids are just starting to be found in many peach blocks. Carefully scout now to check for them and their levels. Peach leaf curl symptoms are common across the region. This has been disappointing for peach growers to see this disease for the second year in a row.
Sweet cherries are around 10 to 13 millimeters for the largest sized fruit, with a good number of fruits that are continuing to yellow and drop. Most growers have seen a good amount of fruit drop over the last two weeks, especially on larger sized trees, with younger trees having more crop. The crop potential is in the 10 to 20% range. I have seen several blocks this week with plum curculio damage in sweet cherries. Leaf spot and brown rot control programs need to be maintained at least for the time being.
Tart cherries are mostly 10 millimeters in diameter. As is the case in sweet cherries, I am finding a good amount fruit drop this week. Most blocks only have 10% of a crop remaining. As is the case in sweet cherries, leaf spot and brown rot control programs need to be maintained at least for the time being.
Plums are at 8 to 10 millimeters in diameter for European varieties, with Japanese varieties being 6 to 8 millimeters in diameter. I continue to find freeze damage in all plum varieties, but the percent of damage varies widely by variety.
Small fruits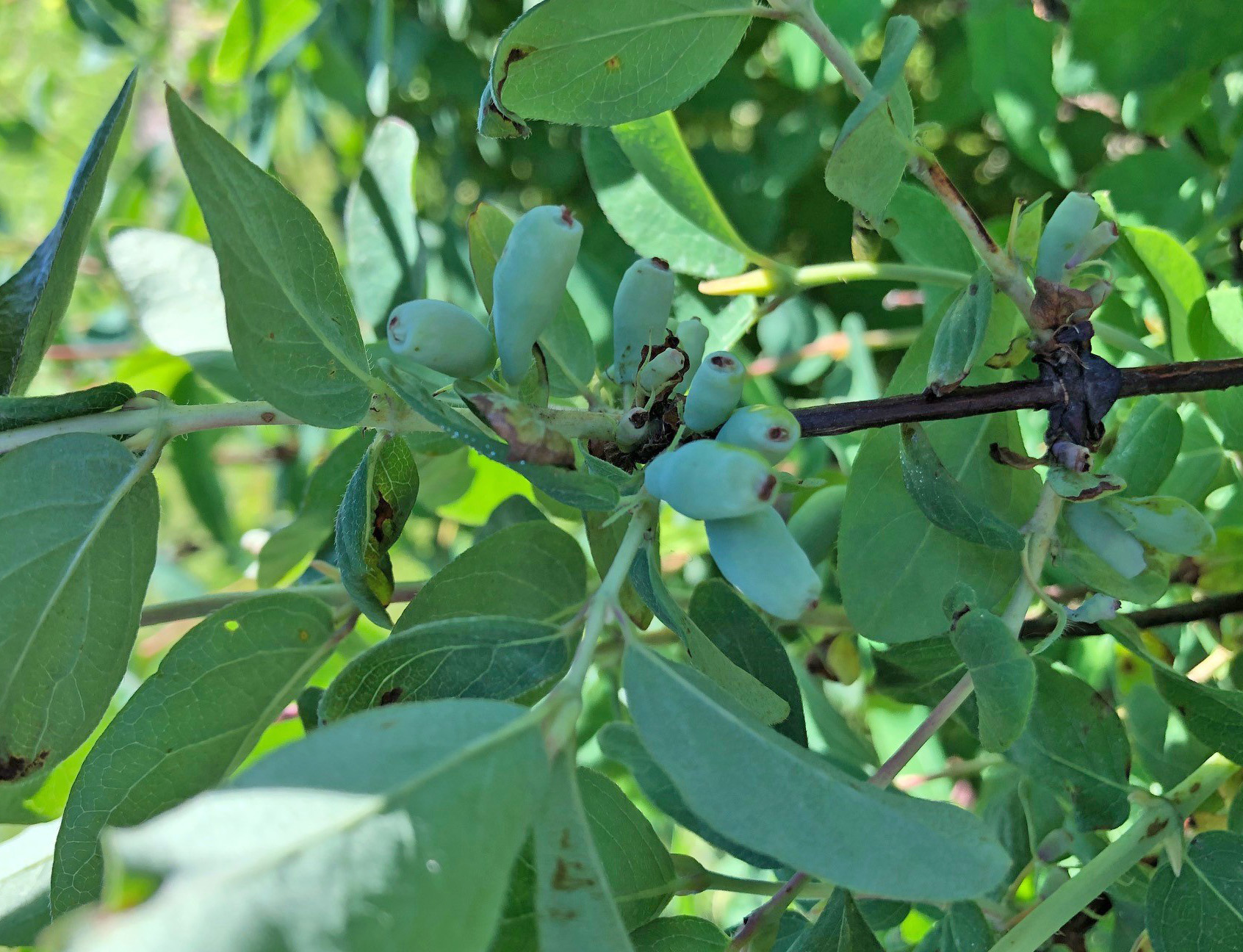 Strawberries are past full bloom to thimble sized fruit for most varieties. Again this week, their growth rate has progressed quickly. Many growers think harvest will begin in six to nine days. New leaves are looking more normal on fruiting plants. Newly planted strawberry leaves continue to emerge from the crown, with the first fully expanded leaves common.
Keep a close eye on soil moisture levels, as many fields are on the dry side. Developing strawberries need a good amount of soil moisture at the critical time to continue to have good second, third and fourth pickings in a few weeks. Berries need around 1.5 inches of either rainfall or irrigation at this time in order to have larger sized berries at harvest time.
Slugs are a new pest to be found in strawberries this week. Good scouting needs to be done. Low numbers of spittlebugs continue to be found. No strawberry clipper adults or damage has been found, but look out for adults or feeding injury to flower petals or flower stems.
Raspberry growth has really picked up again this week as a result of warmer temperatures. Many summer raspberries are in bloom, including summer black raspberries. Many summer varieties have canes that are now 10 inches in length. I have seen a good number of fall raspberry fields with new leaves that are slightly yellowed. I believe this is caused from herbicide injury, most likely from Sinbar. I think they will grow out of this injury nicely in a few weeks.
Blueberries are mostly at late full bloom to early petal fall for most varieties. Blueberry stem gall wasp adults are continuing to emerge.
Saskatoon fruit are 5 to 6 millimeters in size. New shoots are growing quickly, with most being 12 to 15 inches in length. Last week, I saw my first plum curculio feeding damage in saskatoons, and this week I continue to see more egglaying scars.
Grapes are moving quickly again this week, with most having flower clusters emerged. Many canes are 10 to 16 inches in length. Wild grapes are approaching bloom.
Haskap fruit are mostly 6 to 7 millimeters in diameter.