East Michigan vegetable update – May 30, 2018
Warm May temperatures have brought out some bugs. At least some of each type of vegetable crop will be in the ground by the end of the week as a transplant or seed.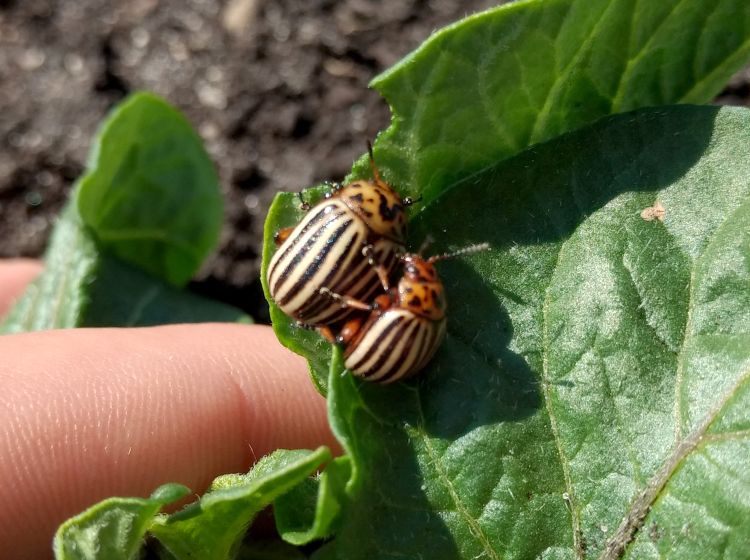 Weather
We are having one of the warmer Mays on record, which has doubled daily degree-day accumulations over the last week. The last time many areas received three 90 degree highs in May was in the 1970s.
It's been about one week since our region got any rainfall. Most areas received 1/10-inch last Tuesday, May 22, and some areas received another 1/10 over the course of the week. The rain predicted today through Friday, June 1, are remnants of tropical storm Alberto, which has sent tropical water vapor into our region that will condense into rain. Rains could be heavy, 0.5 to 0.75 inch, in our region.
A cooler Canadian air mass is predicted to come down after the rain and cool things off over the next week.
The following table are growing degree-days (GDD) and rainfall accumulations to date starting Jan. 1 from in the region.
GDD totals as of May 20, 2018

Location

GDD39

GDD40

GDD43

GDD45

GDD50

Rainfall (inches)

674.9

819.1

674.9

589.9

415.5

9.01

886.6

834.6

693.3

608.5

429.4

9.63

1009.7

950.6

791.4

695.6

491.8

9.66

923.7

870.9

726.0

639.5

454.2

8.00

894.2

840.9

697.4

613.7

434.2

8.52

920.2

865.2

715.8

627.1

441.2

11.72

842.8

791.4

650.6

567.7

394.4

10.54

891.4

838.7

692.5

606.7

426.6

6.84

984.7

927.3

770.2

677.3

480.7

9.86

829.5

778.9

641.6

563.1

400.6

8.62
Crops
Asparagus is up and at market in volume.
Rhubarb is at market, some as long as 30 inches.
Celery transplants are on their fourth leaf. Some were damaged by the wind storm a few weeks back.
Green beans have two to four true leaves, and bean leaf beetle was identified as a significant defoliator at one organic farm. These bugs act just like cucumber beetles, feeding on roots as larvae and destroying seedlings, defoliating older plants and scarring fruit/pods as adults. Control measures taken for cucumber beetles usually work similarly on bean leaf beetles. Treatments are warranted with two to four beetles per plant at two true leaves, three to seven beetles per plant at first trifoliate, and five to 11 beetles per plant at second trifoliate. The economic thresholds on older plants are 30 percent defoliation two weeks prior to bloom and 15 percent defoliation until pods are filled.
Brassicas are still going in and cabbage maggot damage has been reported in radishes our region. Lorsban is still the old standby for maggot treatment, but Capture LFR, Belay and Verimark are newer products on the market that performed nearly as well in a 2017 MSU trial. Chlorpyrifos (Lorsban) resulted in 66 percent undamaged turnips. Verimark resulted in 66-74 percent undamaged; Capture resulted in 61-63 percent undamaged; Belay resulted in 53-59 percent undamaged; Entrust resulted in 52-58 percent undamaged. Note, Entrust is an OMRI-listed product for organic production.
One treatment resulted in 96 percent undamaged turnips: unsupported fabric row covers 48 feet wide and 1,000 feet long, 0.5 ounce weight. The sheet was pulled over seeded beds and held in place by sandbags. It is important to have a clean bed area as the fabric can rip on corn stubble and sharp rocks. A heavier weight fabric would be more likely to survive multiple years of use.
Squash and pumpkin are going in by seeds and transplants this week. I was called out to look at a transplant issue that looked like it started in one variety and moved to a few other varieties packed close together. You should quarantine issues like this just as soon as you see an issue spreading.
Potatoes are still going in and others have been hilled once. I scouted Colorado potato beetle in the region. These are the first adult beetles, which were dormant over winter. They are now mating and egglaying will probably begin this week. There were 30 beetles in 800 feet of row. Note, the biofix for potato beetles is the day which eggs are found. Then, GDDs base 50 can be used to predict their development. It takes 185 GGD50 for eggs to hatch and 675 GDD50 to pupate into new adults.
I have seen potato volunteers coming up this year. These are potatoes that were missed, dropped or piled as culls. Winter temperatures were not sufficient to adequately kill these tubers. It is important to destroy these volunteers as they can host infectious diseases from last year, including late blight.
Carrots have three true leaves and cultivation has begun.
Seeded onions have their first true leaves and herbicide applications are going on. Transplanted onions are beginning to bulb with the longer days.
Hoophouse tomatoes are hitting markets.
Biological control
For those of you that are interested in biological control, a student at Cornell University started a blog, Biocontrol Bytes.
Meetings
The 2018 MSU Weed Day is scheduled for July 27 from 8 a.m. to 3 p.m. on MSU's campus. For more information, see the Weeds Day 2018 webpage.
The third annual MSU Agriculture Innovation Day: Focus on Fruit and Vegetable Technologies will take place June 28 at the MSU Southwest Research and Extension Center at 1791 Hillandale Road in Benton Harbor, Michigan. It will begin with registration at 8:30 a.m. and wrap up around 5 p.m. The event is free and includes lunch.
Need your water tested for the Food Safety Modernization Act (FSMA)? Check out the Michigan Ag Water Lab Map.
Please contact me at phill406@msu.edu or 616-901-7513 with questions, concerns, or to schedule a farm visit. You can also send plant materials to MSU Diagnostic Services.