East Michigan vegetable regional report – June 17, 2015
If not underwater, cool season vegetables are headed to market and warm season vegetables are flowering and setting fruit.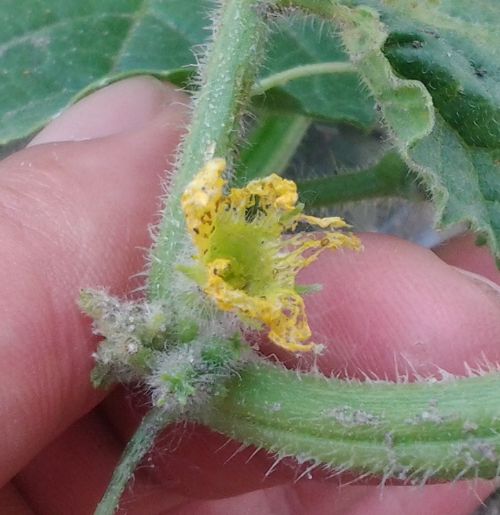 Weather
We received a lot of rain recently across the region, with some growers getting 3 inches in just two days. Overall, we are still generally just below our five-year average for precipitation, but it is not very useful when it comes all at once. If you enrolled in Noninsured Crop Disaster Assistance Program (NAP) insurance, this would be a time to submit records for potential losses due to dying crop or inability to access fields for harvesting.
Hurricane Bill weather should stay south of us, and the forecast for the week is a cold front bringing up to 0.5 inches or more precipitation and highs in the 70s.
Here are the rainfall and growing degree day (GDD) base 50 F accumulations to date from Michigan State University Enviro-weather stations.
Rainfall and GDD summary

Location

GDD (50 F, March 1)

Rainfall (inches, April 1)

611

7.15 (2.62 since last week)

694

7.3 (1.57 since last week)

711

7.9 (1.43 since last week)

699

9.38 (0.86 since last week)
Crops
Broccoli, cabbage, cauliflower, kale and lettuce are being advertised at some farmer's markets to be available within the week. Low levels of caterpillar pests are being found.
Sugar snap peas are going to be available at some markets within the week.
Table beets and radishes are ready to harvest in some locations, with others still sizing up.
Garlic scapes are being harvested. Keep an eye out for leek moths. These are invasive moths that were first introduced to Canada and have spread to New York. Their feeding resembles caterpillar damage in other crops; holes bordered by a mess of frass. Please report any garlic damage of this nature to your Michigan State University Extension county office.
Early potatoes are nearly knee-high with tubers about the size of a marble. Colorado potato beetle populations appear to be sporadic at this point, with higher pressure where potatoes are growing within 500 feet of last year's crop.
Many field-planted vine crops are flowering, including watermelon, cantaloupes and cucumbers. Striped cucumber beetles are right on top of them, and growers should make attempts to knock populations down in these small-flowered vine crops before they destroy too many flowers. The flowers of vine crops are like billboards for bees, and if they are mangled and chewed-up, they will not visit as frequently. Some growers are reporting Farmore seed treatments are not effective for as long as they used to be, and follow up with a foliar insecticide this time of year. Organic and conventional pyrethrins or pyrethroids have activity on these beetles and work better when rotated with another chemistry.
With this wet weather and warm nights, I would expect a spike in bacterial diseases and root rots in the next 10 days. Presidio banded on wet-footed vine crops may help prevent Phytophthora from taking hold, but phytotoxicity has been observed when it comes in contact with seeds in a furrow treatment. A rotation of a copper product and broad-spectrum fungicides are a good idea this week.
Field-planted tomatoes are starting to set green fruit, with some growers achieving six fruits already. Peppers are flowering in some areas. I have not seen many eggplants flowering. Pseudomonas bacterial speck is showing up in field tomato transplants, and I will be collecting samples of these this summer for the Hausbeck Lab to analyze for copper resistance at no cost to the grower.
Early-planted carrots and onions are 8-10 inches tall right now. Onions with six to eight leaves should be scouted for thrips on warm, sunny days. This rain should knock their populations down for the next week at least. Avoid spraying your Movento until you see one thrip per leaf. You don't want to use this very effective and expensive product as a preventative, but you do want it to be your first two sprays of the season. Lannate is no longer an effective product on onion thrips.
If you would like to support your farming community by hosting a MSU Enviro-weather station at your farm, please read about what you can do at Support Enviro-weather.
Please contact me at phill406@msu.edu or 989-758-2502 to pick up any suspected disease samples, or send the diseased plant parts to MSU Diagnostic Services.