East Michigan vegetable update – June 7, 2017
Many farmer's markets are opening up as cool season crops reach maturity. Some insect pests are appearing.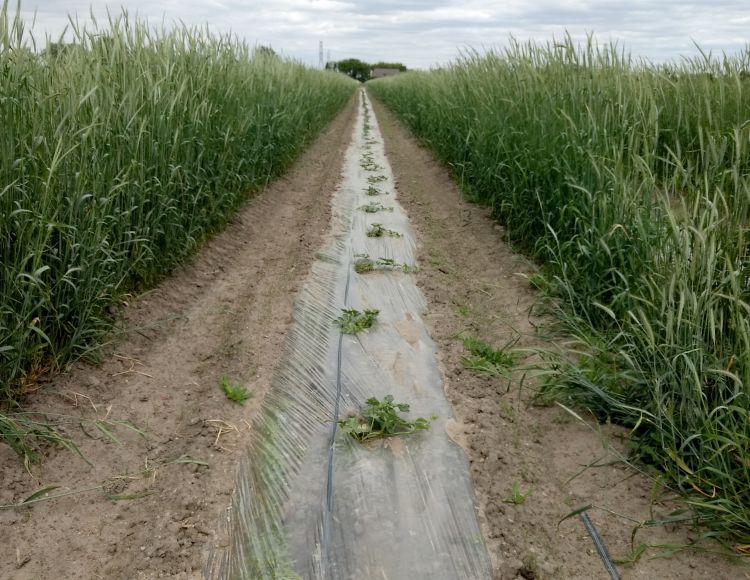 Weather
Growers will be remembering this as the windiest spring of all time. The impacts have been four-fold: wind-damaged plants and season extension tools (plastic, row covers, etc.), slow emergence from chasing moisture deeper with seeded crops, poor spray opportunities for weed control and poor pollination opportunities for bees in strawberries and tree fruit.
We did not gain as many growing degree-days (GGD) over the last week as we did the week prior, averaging 100 GDD base 50. We've slipped behind the five-year average with the cool, overnight temperatures over the last two weeks. However, the temperatures are predicted to increase the latter half of this week.
Rainfall was between 0 and 0.5 inch across the region and we're dancing over and under the five-year average.
The table below includes degree-days base 50 F since March 1, rainfall (inches since April 1) accumulations and soil temperature ranges (Fahrenheit over the last week) to date from Michigan State University Enviroweather stations in the region.
Rainfall and GDD totals as of June 7, 2017

Location

GGD (+ added from last week)

GGD five-year average

Rainfall (+ added from last week)

Rainfall five-year average

439 (+ 83)

508.9

6.89 (+ 0.11)

5.35

480 (+ 91)

518.3

5.38 (+ 0.14)

5.89

553 (+ 100)

575.9

8.96 (+ 0.19)

7.57

509 (+ 96)

548.6

8.06 (+ 0.30)

6.49

491 (+ 99)

538.9

6.92 (+ 0.09)

6.60

512 (+ 87)

561.4

5.19 (+ 0.09)

6.81

425 (+ 86)

479.5

9.96 (+ 0.42)

7.10

494 (+ 103)

536.6

7.45 (+ 0.32)

5.99

490 (+ 95)

544.3

6.66 (+ 0.00)

6.39

412 (+ 78)

483.4

6.61 (+ 0.26)

6.34
Crops
Sweet potato transplanting continued through last week.
Cole crops are being treated for diamond back moth and flea beetle pressure has been consistently visible in most fields this spring.
Sweet corn is hovering around the V4 and V5 stages with the early protected plantings now entering the tillering stage. Still, I see new plantings emerging. Cutworm populations are high in some parts of the state.
Some transplanted watermelons and cantaloupes on clear plastic are between their fifth and eighth leaf node and flower buds are forming. The clear plastic makes for a very strong weed population, too. More plantings are going in on plastic and in bare soil.
MSU Extension recommends for every four seedless watermelon plants, you need one standard seeded type nearby. If you're using rye windbreaks, mix in the standards with the seedless types between the same windbreaks and not across a windbreak. The bees won't transfer the pollen as well across a windbreak. Otherwise, consider cutting the windbreaks down when flowering begins.
Striped cucumber beetles are active and can be found in most plantings.
Pickling cucumber plantings continue in the Saginaw Valley.
Seeded squashes and pumpkins were going in last week and this week. We are right around peak flight for seedcorn maggots, and some of these seedlings may be lost to this pest.
Potato growers should be aware that volunteer potato survival this winter was high. Temperatures did not get low enough for long periods to kill off tubers. Take action to limit volunteers from becoming a disease vector for new potato and tomato plantings this year. That means killing them off in fields and cull piles.
Tomatoes are at various stages. Transplanted field tomatoes under row covers are at their first full flower truss and some large transplanted tomatoes have 2-inch diameter fruit. Heated hoophouse tomatoes are ripe and heading to market.
Peppers are still being transplanted. Those that already went in just parked. Some have flowered under stress. They do not like cool temperatures.
Seeded carrots and onions are now taller than the grassy nurse crop and most nurse crops are dead. The rows are very easy to spot now.
Transplanted sweet onions imported from Texas are reaching the fourth leaves, while some Michigan-grown sweet onions that were started in greenhouses are already at their 10-leaf stage.
Please contact me at phill406@msu.edu or 616-901-7513 to pick up any suspected disease samples from your farm or send the diseased plant parts to MSU Diagnostic Services.