Embrace your inner scientist on National Youth Science Day
Celebrate 4-H National Youth Science Day Oct. 7, 2015, by hosting your own event and inspiring the next generation of scientists.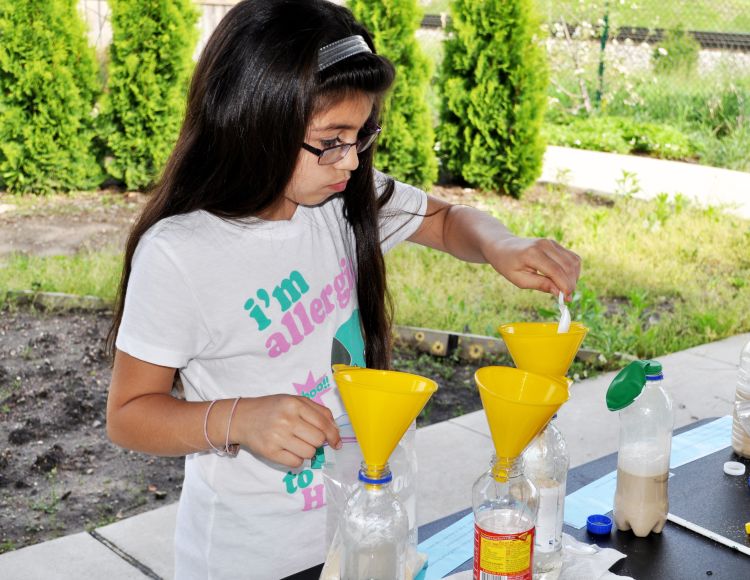 Are you curious by nature? Do you want to understand how things work? Do you want to be part of the world's largest, youth-led science experiment? If you would like to take part in a fun, hands-on, science activity, then 4-H National Youth Science Day (NYSD) is for you. On Oct. 7, 2015, millions of young people will participate in Motion Commotion, this year's NYSD experiment. Young people across America will come together to experience the joy of science, and you do not have to be in 4-H to participate. Everyone can join the fun, just find a site near you or host your own site to inspire the next generation of scientists.
The Motion Commotion experiment will combine a speeding car collision and a distracted driving demonstration in a simulated activity that investigates the physical and human factors of motion. With the help of physicists, engineers and safety analysts, the team created an experiment that uses science to evaluate stopping times and connects it with the dangers of distractions. Sound amazing?
In this experiment, designed by an Oregon State University Cooperative Extension team, participants will learn about the science of motion – physics, speed and safety. You don't have to be a teacher, science enthusiast or expert to be part of the fun – National 4-H has everything you need to make your 4-H NYSD event a success. The kit includes supplies, a facilitator's guide to help you lead with confidence and participants receive their very own experiment guide. This activity is designed for youth 10 and up and perfect for a classroom or afterschool group.
If this sounds like fun, consider hosting a science blast with your favorite club or group of children. You can work with your local 4-H program coordinator to find out about an event near you or host one of your own. If you are unable to reach local 4-H staff member, email 4hscience@anr.msu.edu. Register your event on the National 4-H website so that Michigan can be represented.
Not sure Motion Commotion will excite your group, or think you are ready to tackle more great science experiments? They are just a click away. Check out the guides and materials from past 4-H NYSD experiments.
Don't wait – start planning today so you and your friends are part of the fun. This great event and all of these resources are available to everyone and are perfect for those that homeschool, teachers who want to bring some excitement into the classroom, adults who want to explore science with their children and older teens who want to get younger kids excited about science. You could even start a science club in your neighborhood or school.
If you are interested in starting a club, becoming a 4-H volunteer or need more information about all of the programs 4-H offers, contact your local Michigan State University Extension county office. Embrace the scientist in you!